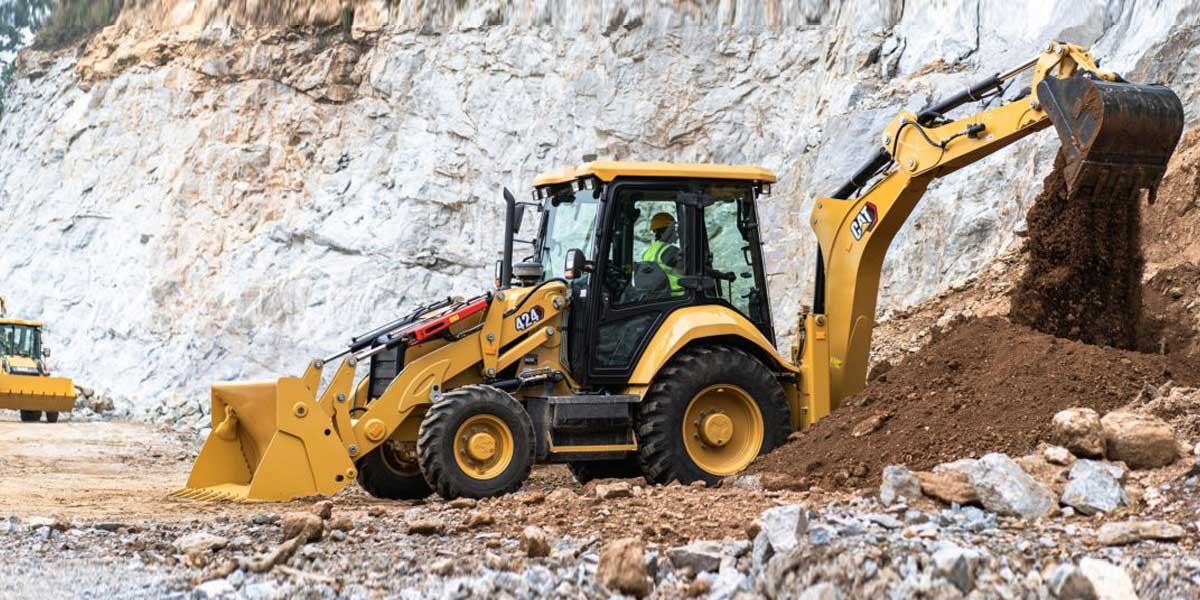 Top 10 Backhoe Loaders
25 Jan 2022 CW Team
In the construction sector, corporate goals are rigorously occasional and revenue oriented. Hence, contemporary construction machinery is critical in driving the industrial growth, ensuing national welfare. Compared to traditional equipment, modern construction machinery is extremely fast and efficient, and it boasts good convergence systems built into it as it has progressed over time. With its appropriate application, the equipment phenomenally enhances the project with respect to affordability, durability, security, efficiency, and most important-timeliness.
Some of the common construction equipment includes Backhoe loaders, Excavators, Cranes, Wheel Loaders etc. Backhoe Loaders are pretty common and almost everyone has seen it once in their lifetime at any random construction site. No construction takes place without a backhoe loader. Backhoe loaders are used for excavation work, ditch clearance, hauling goods, hoisting cargoes, and cracking asphalt. They're also great for excavating below the machine's level, which is normally at least 14 feet deep. Landscapers, hole diggers, and demolition workers can all benefit from backhoe loaders. Here we bring the top 10 backhoe loader manufacturers in India.
1. JCB Backhoe Loaders
Nearly four decades ago, the company had introduced Backhoe loaders in the Indian market. Currently, the company has grown its product portfolio to include around fifty distinct versions in eight unique product groups. It has its headquarters in New Delhi, and the facility is the largest across the globe to produce backhoe loaders. Backhoe loaders from JCB are extremely flexible to a variety of tasks and can be utilised in a myriad of infrastructure assignments. The product range include 2DX, 3DX, 3DX Plus, 3dx Xtra, 3DX Super, and 4DX.
2. Caterpillar Backhoe Loaders
Caterpillar is a global leader in construction and mining machinery, as well as diesel and natural gas engines, commercial turbines, and diesel-electric locomotives. The backhoe loader by caterpillar ensures durability and is known for its meticulously designed structure. From a 3.6 L engine with an optimum efficiency, the engine produces remarkable peak torque of up to 424 Nm. Once functioned in the new Eco mode, it ensures great fuel conservation, saving up to 20% compared to its earlier version.
3. Escort Backhoe Loaders
Established in 1994, Escort Backhoe Loader is an Indian based company. The firm is the leading name among backhoe loaders and other construction equipment. It offers wide range of products like Escorts Hydra Pick and Carry Cranes, Escorts Backhoe Loader, Escorts Rough Terrain Slew Crane, Escorts Forklift Trucks, Escorts Soil Vibratory Roller, etc. The backhoe loaders by the firm includes Escorts Jungli 4x4 Backhoe Loader, Escorts Loadmax II Backhoe Loader, Escorts Digmax - II (2 WD) Backhoe Loader, and Escorts Digmax - II 4 WD Backhoe Loader.
4. CASE Backhoe Loaders
For almost past 175 years, CASE has been in the industry encasing its strong value and skills. The range of equipment served by CASE includes Compactors, Crawler excavators, Crawler dozers, Backhoe loaders, Skid steer loaders, and Graders. The backhoe loaders by CASE has generation engine designed by Fiat Powertrain Technologies Industrial (FPT Industrial). It offers remarkable functionality like speedier convergence as well as close to 10% higher fuel efficiency.
5. Mahindra Backhoe Loaders
Listed on Forbes list, Mahindra is a renowned name in the industry that has its presence across 100 countries. Mahindra Construction Equipment is leading the charge to develop revolutionary solutions and products that will transform the Indian construction machinery market. With the deployment of Advanced NOVA-C, every individual component undergoes a series of rigorous and extensive quality control steps prior to actually being released. Mahindra EarthMaster is the backhoe loader by Mahindra. It is available in 3 advanced models namely, EarthMaster VX, EarthMaster SX and EarthMaster 4WD.
6. VOLVO Backhoe Loaders
Volvo Construction Equipment began the gentle transition of a line of self-designed backhoe loaders in 2002. The eagerly anticipated offerings were indeed a great asset to the business' product portfolio. The range of products includes BL71, BL71 Plus, BL60B, BL61B, etc. The products boast several enhanced features like durability, reliability, sturdiness, and adhere to every aspect of ergonomics.
7. Komatsu Backhoe Loaders
Komatsu has its Indian headquarters in Chennai, and was incorporated in 2007. Backhoe loaders from Komatsu come in rigid 2 and 4 wheel steering variants. Komatsu intends to achieve emerging business milestones with its long legacy of expertise and well-established expertise in the global backhoe loader sector. The product range for backhoe loaders by Komatsu includes WB93R-5, WB93S-5, WB97R-5, and WB97R-8.
8. Terex Backhoe Loaders
Terex Corporation creates, manufactures, and supports products for applications in building, servicing, production, power, resources, and materials management. Terex has a production plant in Hosur that manufactures Materials Processing systems for native consumption as well as outsource to nations in Asia, Africa, and the Middle East. Terex additionally supplies the Indian industry with Mobile Elevated Work Platforms (MEWPs), Tower Cranes, Rough Terrain Cranes, and other Material Processing machinery.
9. ACE Backhoe Loaders
CE Backhoe Loaders are used to excavate, relocate, grade, and load earth and other loose aggregates in the building and construction industries. Such equipment are also used in heavy industries and mining operations. The different types of backhoe loaders by ACE include AX124, PHANTOM, AX130, and AX124 NS.
10. Bull Backhoe Loaders
Over five decades old, Bull Construction Equipment is the leader in backhoes and loaders manufacturing. It implements the modern solutions such as SAP and CRM. Its construction equipment facility has a yearly production output of 3000 vehicles. 600+ distributors and 7 division sites across India form a global sales and service presence. 600+ distributors and 7 division sites across India form a global sales and service presence. Bull is an innovative company boasting a compelling R&D staff as well as a long list of patents to its name. Bull HD 76 4WD, Bull HD 76 2WD, Bull HD96 4WD, and Bull HD 100.