Sales and Marketing in real estate in current times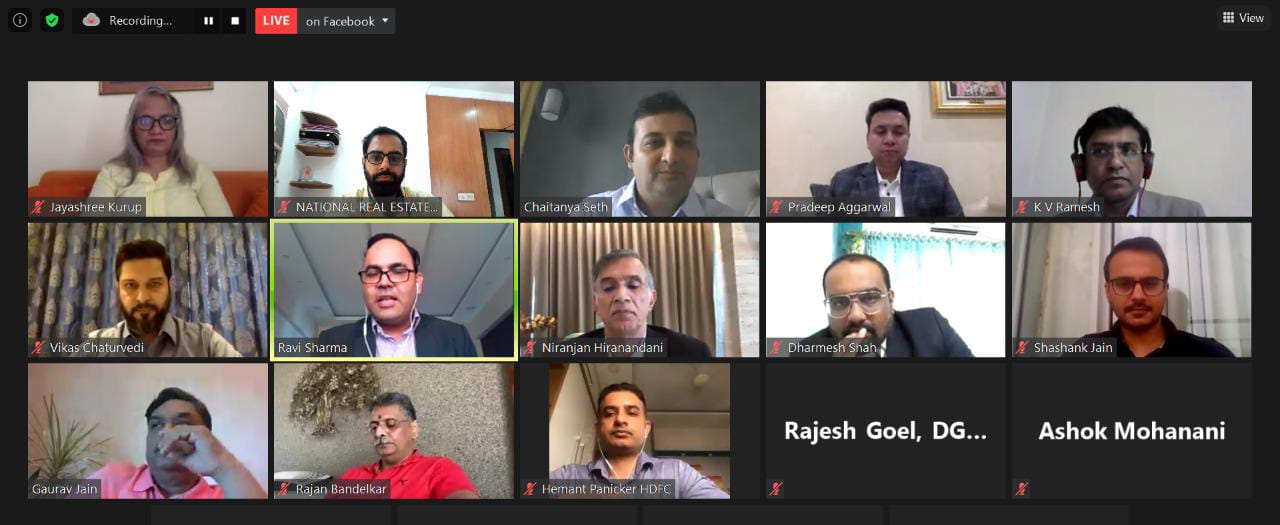 Sales and Marketing in real estate in current times
28 Sep 2020 Editorial Team
With an objective to boost the real estate growth and development, NAREDCO recently hosted a Workshop on 'Sales and Marketing in real estate in current times' along with EY (knowledge provider), on a common digital platform to shared ideas and experiences of all real estate stakeholders and come to a solution to increase sales considering the demand and requirements of customers in the post-pandemic era. 
Since COVID-19 has hit the country, NAREDCO has been consistently and actively engaging with developer's community and other stakeholders from banking, government agencies, technology experts and various real estate community players to find solutions to multiple issues relating to liquidity, lower sales numbers, consumers' sentiments, government policies etc. It has educated developers on several issues which have cropped up due to the pandemic and new trends which emerged during the last few months in the country. 
Today's workshop laid emphasis on 'Changing customer landscape and buying behaviour', developers response to the current changes, marketing strategy during this pandemic, digitalisation across the customer journey and accelerating sales velocity, measures taken by the government and RBI over the last couple of months.
NAREDCO President, Dr Niranjan Hiranandani laid lot of emphasis on adoption of new marketing trends and boost the sales number by up gradation and referred the year 1991 and changes some car manufacturing companies adopted and survived while those who did not were left behind. 
Dr Hiranandani said, "Sales and marketing has become extremely important in this COVID-19 era. There is an old story, I remember, but worth counting. In the year 1991, how some car manufacturing companies adopted to new changes and upgraded themselves and survived and hit a large sales numbers while those who did not were either left behind or vanished from the market. Changes took place in the real estate industry in the last few years due to demonetization, GST, RERA and now COVID. In real estate the paradigm has changed and the real estate works differently. NAREDCO has worked with the government for affordable housing, reduction in stamp duty charges, and banking institutions. Now the interest rates are the lowest ever in the history of India. Buyers are effectively paying about just 2% so this is the best time to buy a home. With Roti, Kapda have already taken care of now makaan has to be the focused area. This workshop has educated us in understanding how can we market and sale our products."  
Though the demand for residential units has always existed, but the uncertainty due to COVID-19 has created a significant disruption for developers, customers, financial institutions, and the associated eco-system. This has also presented a new opportunity and the way of working for the eco-system as a whole. Due to the pandemic lockdown, the marketing activities had totally come to a grinding halt and sales were also hit significantly. 
Now the demand has come back and customers are buying homes considering the requirements of work-from-home trends and they have a feeling that house is what they need during a time like this when a large number of people with no homes had to leave for their hometowns during the lockdown period. 
Hemant Panicker, HDFC, said, "From June onwards, we have seen an overwhelming customers response for housing loans. There is a pandemic experience and need to have a house in consumers. We have seen increased demand for ready apartments and larges houses where people can work from home and also meet the requirements of schooling and other things. Even during the lockdown, people were not able to visit the sites but the interest never died down. They were searching for homes. Now we are almost at the 80 per cent level and in this month we are expected to come back to 100 per cent level."
In the workshop, developers highlighted that how customers have already returned to the market and they want to take advantage of the lowest home loan interest rates, reduced stamp duty charges and various other offers available in the market. Festive season is expected to boost the sales considering buyers are now getting multiple benefits for owing their own house.
NAREDCO (West) President Rajan Bandelkar said, "The confidence of buyers has increased now and their queries are also increasing day by day. Whatever launches happened in that we could deliver ready products on that basis. Now is the time for under-construction products. Developers need to market their products properly and avoid over-committing. Let's change our rules of the game, we have to upgrade in this e-governance and social media age." 
In today's NAREDCO workshop, all opportunities which have been created due to COVID-19 have been discussed by developers community and other panelists. The emphasis was laid on how adoptions to new requirements of customers and developers can be accommodated into an existing real estate ecosystem to draw demand for both ready-to-move-in and under-construction real estate inventories.
As the festive time is already knocking the door, developers have laid emphasis on how consumers demand have come back to a pre-COVID level now and they need to tap it by offering virtual tours to customers and provide them digital mediums to take their buying decisions.  
Pradeep Aggarwal (chairman) Signature Global added, "Developers will have to invest in their teams as if our teams do not become tech-savvy then we will be left behind. Customers will also adopt to digital change when you start sharing information with him We need to work on lead management system and social media which plays a big role. We need to reach to people, who feel renting is a better option than buying and investing their money in equity or mutual funds, and tell them that buying a house is more important. 
NAREDCO members have shared their experiences with an insightful discussion on how the industry, customer (needs, buying behaviour, purchase journey), developers go-to-market (marketing/sales channel mix) has evolved since the break-out of the pandemic, and outlook on the festive season ahead. The role of digital technologies in accelerating sales velocity was also discussed by the real estate body members.