Urgent need for painstaking management of C&D waste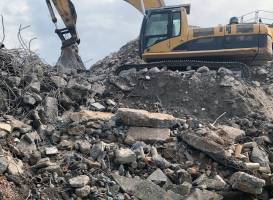 Urgent need for painstaking management of C&D waste
Sep 24 2020,12:09 PM Editorial Team
The construction projects are on the rise with the government giving a constant boost to the construction sector in India by creating pipelines for infrastructural projects. While this perpetual churning of new and iconic construction projects is expected to put India on the map and strengthen its growth, it is bound to have some negative consequences on the other hand. Recently, there has been an increased emphasis on sustainable and environment-friendly construction practices. One such practice includes Construction and Demolition (C&D) waste management.
Piling C&D waste
C&D waste generated during the construction, preservation and demolition of various structures like bridges, roads, flyovers etc. C&D, when left without proper management, contributes to environmental degradation. This waste is omnipresent and is left unmanaged by the roadside, in the landfills or water bodies.

It is a fact that untreated C&D waste is toxic. Many steps have also been laid down to address the issue like Construction and Demolition Waste Rules and Regulations of 2016. These rules outline the duties and responsibilities of stakeholders like waste generators, local authorities, utility service providers and their contractors etc. Even Swachh Bharat Mission underpins the importance of C& D waste management, but India continues to lag significantly.
The built-up area in 2030 is expected to stand at 104 billion sq ft which is almost five times of what the built-up area was in 2005. With the increase in the built-up area, the Construction & Demolition waste will increase parallelly without a doubt.
C&D waste generated during construction, demolition and Repairs
According to the Technology Information, Forecasting and Assessment Council's, or TIFAC's, thumb rule if a new construction generates 40-60 kg of C&D waste per sq m, then taking an average of 50 kg per sq m, India has already generated 50 million tonnes (MT) of C&D waste in 2013. Over the last eight years, India would have produced 287 MT of this waste.
As per TIFAC demolition produces 300-500 kg of waste which is 10 times of that generated during construction. If it is assumed that five per cent of the existing building stock gets demolished and rebuilt completely annually, then about 288 MT more of C&D waste would have been generated in 2013 alone because of demolition.
TIFAC also says building repair produces 40-50 kg per sq m of waste. Assuming that one-third of the existing building stock underwent some sort of repair or renovation in 2013, India must have generated an average of 193 MT of C&D waste just from repair and renovation in that year.
No estimation of C&D wastes
The problem is not just with proper disposal of the waste it lies with the fact that India does not even have any estimates for C&D waste. Keeping in mind that we have no organised method of determining the gravity of the situation the problem becomes even more terrifying. According to a study by Centre for Science and Environment (CSE), India manages to recover and recycle only one per cent of its C&D waste.
According to Building Material Promotion Council (BMPTC), India generates 150 million tonnes of C&D waste annually whereas unofficial estimates put the number at three-five times more
The country has a recycling capacity for only about 6,500 tonnes per day which is just 1.3 per cent of the total C&D waste generated
By 2017, 53 cities were expected to set up recycling facilities to recover material from the waste; only 13 cities have done it till date
There is no uniform method among cities for quantifying and characterising C&D waste to know what and how to segregate. Also, the existing broken systems do not take into account the new age construction materials
Architects should design for waste mitigation during the pre-construction stage
Waste management facilities should be set up in every city
There is a need for efficient construction management practices to minimise waste like the use of recycled content, on-site segregation, and collection and disposal system.
Taxing the stakeholders for unsafe disposal of the waste
Another initiative that can create a positive cascading effect is the division of the annual city ranking parameters equally between management infrastructure and waste processing efficiency under Swachh Survekshan 2021. This initiative requires cities to have a C&D waste collection system.
Delhi is a pioneer in implementing C & D waste management in India. In 2010 a pilot plant was developed under public-private partnership (PPP) with the capacity to process 500 tonnes of waste per day in Delhi, later the capacity was increased to process 200 tonnes per day (TPD). Delhi works on Design-Build Operate Finance and Transfer (DBOFT) model. This model can be replicated by other cities as well.