A Man Used Beer Bottles & Soil To Build A Home Just For Rs. 6 Lakh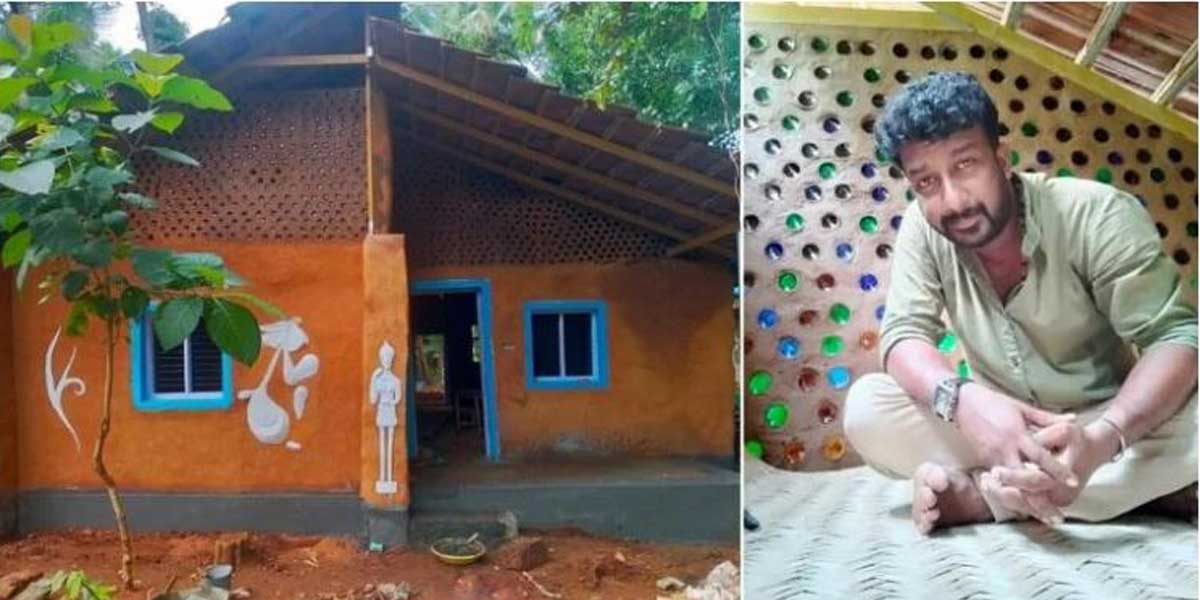 A Man Used Beer Bottles & Soil To Build A Home Just For Rs. 6 Lakh
16 Sep 2021 CW Team
Aji built a mud house on their 1000 sq ft property in six months with the aid of family and friends for only Rs 6 lakhs. The entire edifice was built using mud bricks made from subsoil taken from his allotment and recycled resources, including 2,500 beer bottles.
Aji, a Kannur native of 36 years, owns a clothing store, and his wife is the Vice Principal of a private institution. Their family, which included two children, was living in their ancestral home as part of a joint family.
Aji, on the other hand, has always wanted to build his own house.
With additional time on their hands in 2020, the pair thought it was the ideal moment to pursue their dream project. They did not, however, want to spend too much of their funds. As a result, they sought assistance from Aji's cousin Akash Krishnaraj, a final-year architecture student at the School of Planning and Architecture in Bhopal.
"He suggested a variety of solutions to follow that could help us keep construction costs to a minimum. His primary suggestion was to use the earthbag method to build the entire structure, as it creates a sturdy structure and is followed by many in flood-prone areas," says Aji.
Aji had acquired all of the essential materials by January 2021, when the lockdown limitations were lifted. This comprised 850 metres of plastic bags used as bricks for bagging the subsoil, barbed wires placed atop the soil bags to keep them from moving, and beer bottles, bamboo canes, and coir utilised as filler material between the walls and roofing.
While some plastic bags were recycled, Aji claims that others had to be purchased in order to keep the bricks consistent in size. "The process began with levelling the plot to create the base and digging tanks, including the water and septic tank. The subsoil was dug out and collected in one area. Since there was other construction work going on around our property, and we even used the subsoil they dug out from their land," says Aji, adding that the digging work was done by his friends and family, even his children.
You have 2 FREE Article(s) left
Access Unlimited Content with

Subscription
Opinion Poll
Question : Recently there was a report about BMC availing of the services of urban design consultants to make the city's streets pedestrian friendly and aesthetic looking.
Do you think that this is feasible?