Adani Shantigram's 'Haven' styled by Shaily Ganatra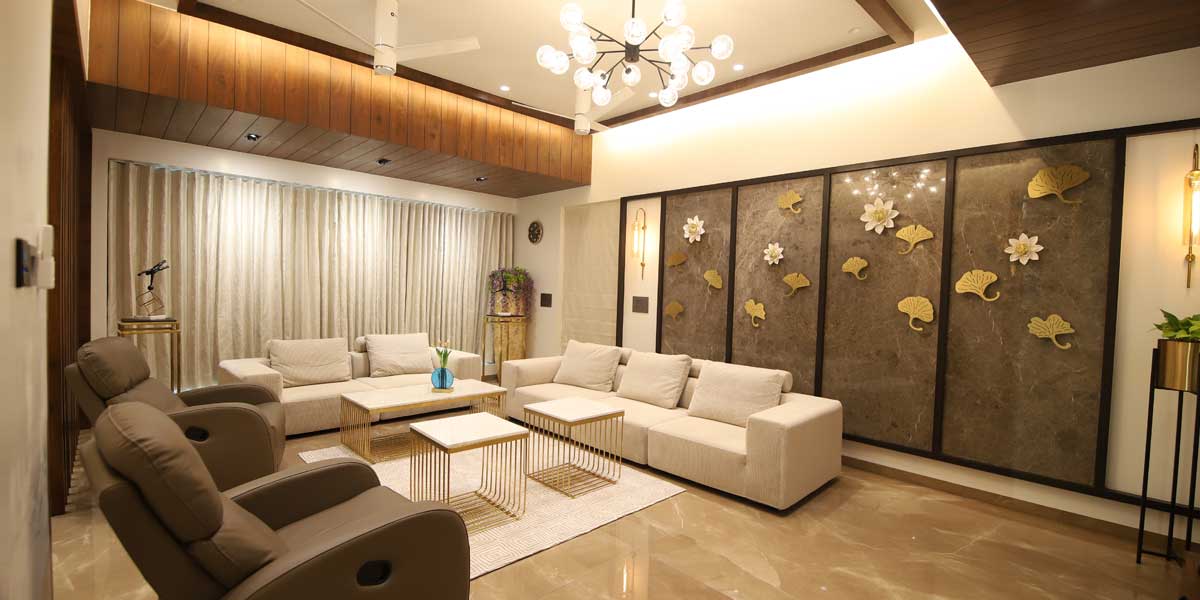 Adani Shantigram's 'Haven' styled by Shaily Ganatra
05 Apr 2021 Editorial Team
Amidst the luxurious 600 acre integrated and contemporary township Adani Shantigram dwells a life full of possibilities. Supplemented with top-notch amenities and facilities, this township hosts a group of residences and bungalows that have been envisioned to be opulent with the posh taste of the illustrious group as well as its inhabitants.
Shaily Ganatra, Interior Designer and Founder of The Auura Interior Design Studio was aware of the magnanimous scale and chose to adhere to a modern theme for this residence, which was spread across 5,500 square feet. This bungalow named 'The Haven' comprises two floors that are a vision of tasteful color and elevated ambience.
Tones and textures
The house opens up to an entrance lobby that holds a set of artifacts adorning the wall. Proving their literal mettle, these artifacts are made of black metal. Keeping up with the uber-luxe vibes, a grand chandelier provides illumination to this beautiful foyer.
The living room boasts a stunning accent wall with carefully executed stone carvings of golden flowers on a backdrop of muted brown marble. The lighting in this room comprises accent lights, a small asymmetric chandelier and a vintage-inspired fixture that adds extra oomph to the living space. The room is neutral-toned, and the sofa is upholstered with a subtle pinstripe cream fabric while the recliners are of an earthy brown. Planters are added to this space to make it seem more inviting.
Next to the living room are the kitchen and the dining area. A modular kitchen is a perfect fit for any contemporary home, and the one at The Haven also has an inbuilt microwave and oven, two refrigerators, and a pantry. 
The marble and leather clad dining table and chairs impart a sense of luxury to the space. A sleek kitchen island made of white porcelain is lit up by a light panel installed in the structure itself.
Personalised spaces
Traversing the first floor, there are three rooms on the level – the guest room, the children's room, and the master bedroom. The master bedroom with wooden flooring and a marble wall, conveys a rich aura. This room has a liberal use of browns, beiges, and creams with a dash of colour added with an armchair and the bedspread. The exquisite golden figure artifacts circumscribed with a solid black ring designed and placed on the wooden panel hold centrestage here.
The children's bedroom uses an eclectic and bright palette for the bedspread and furniture. Tiny bird sculptures of birds on the wall add the perfect touch of quirkiness to the room. Lighting in the room consists of accent lights, and two geometric fixtures next to the bed.
The Haven, crafted by The Auura Interior Design Studio, is an ultimate concoction of stunning design elements, executed with perfection.