Exquisite bathrooms by Essentia Environments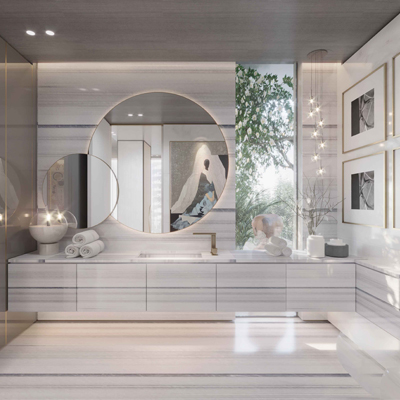 Exquisite bathrooms by Essentia Environments
29 Oct 2021 CW Team
Crafted using exotic stones, these bathrooms offer a serene and immersive environment. Minimal décor heightens the natural beauty of the finest materials, at the same time draws attention to itself.
Serene. Subtle. Beautiful.
Designer marble flooring in white and grey forming the overall palette of the space seamlessly blends with the console. With a minimalistic approach, the large round mirrors define the space. These mirrors have light at their back forming a crescent around them adding to the aesthetics of the room.
A transparent vertical glass at one end of the console goes up to the ceiling allowing a little bit of the outside to come inside. Wall mounted hanging lights and abstract modern art add to the beauty of this bathroom.
Bathroom with a touch of the outdoors
Crafted with dark textured marble on the walls and the center island create a look of the woods in the bathroom. A mosaic designed marble floorings adds to the contrast of the space. A large mirror is placed on the marble wall is illuminated with a backlit light fixture and modern ceiling mounted lights adds to the aesthetics of the room. The transparent glass on one side of the bathroom creates an infinity look in the bathroom allowing the scenery of the outside to be visible from the inside. Addition of the indoor plants brings a breath of freshness to the bathroom.
Dark themed bathroom
Dark marble tiled with abstract designs line the bathroom from floor to ceiling creating the illusion of a large space. Transparent glasses give this space an infinity effect. Modern light fixtures and spotlight focus lights on just the right spots in the bathroom adding to its aesthetic appeal.
A marble lined bathtub at the center of this bathroom is characteristic of this space, breaks the monotony of colour and is the focus centerpiece of the space. This bathtub is placed to give views of the lush outdoors and create an environment of relaxation and tranqulity.
Bathroom flooded with natural light