Taliesyn: A step towards developing a conduit of design expression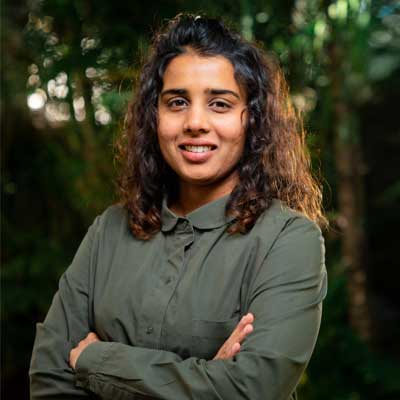 Taliesyn: A step towards developing a conduit of design expression
06 Oct 2021 CW Team
She has a degree in interior spatial design, and jointly heads the design practice of Taliesyn.
Shalini Chandrashekar
has worked on residential, commercial and hospitality projects through her work life and the company is a reflection of her design principles.
CW DesignBuild
speaks to Shalini about interesting facades, design, vision and more.
What is your vision for Taliesyn – Design & Architecture?
Taliesyn as a practice was started very organically back in 2010. Our
Co-Founder Ar.G.S. Mahaboob Basha
and I delved into independent professional practice while collaborating over a design opportunity from a mutual acquaintance. While being colleagues and collecting invaluable architectural wisdom under the umbrella of a renowned creative professional, we realised our design ideologies resonated with each other's and decided to unite on the opportunity at hand.
When we initiated Taliesyn, our design vision was simple:
To conceptualise Architectural and Design solutions that inherently fulfil the sole intention of creating meaningful and appropriate spatial interventions - deeply rooted in the landscape and respond to the vernacular paradigm of the site and the materiality. Over the last decade, we have continuously striven to abide by this vision and have attempted to curate eco-friendly built environments with each of our projects.
How do you approach making every façade interesting and unique?
Our approach to designing facades evolves from the most important part of design and development – the plans, sections and intended user experience. Though in focus in the later stages, the design of façades and the materiality is driven mainly by the original conceptualization and the client brief. Therefore, as a result, the output of the facades remains true to their plans and original intent – a Taliesyn process.

What are the key challenges you face while designing and executing designs across commercial properties?
Our key challenge in designing commercial spaces with a biophilic approach is enabling cross ventilation and privacy to the users. This is because of the usual geography of commercial properties. In order to enable cross ventilation, fenestrations are strategically planned and designed, keeping in mind the site context and climatic factors. Interestingly, there are times the sites themselves allow us to accommodate the required but sometimes need special focus.
How would you define your style of design? How do you ensure that your projects bear your signature?
Design has always been an intrinsic part of who I am as an individual from the get-go. Be it the penchant for artistic forms of expression or an innate need to solve everyday challenges through design. Design's omnipresence in every facet of our lives is something that has intrigued me right from a young age. It is a hybrid of artistic nuances and the science of engineering, making it a discipline that weaves together a way of life for all the people who inhabit a space. Delving into architecture has just been an extension of my inclinations towards the art of creation.
Co-founding Taliesyn was a step towards developing a conduit of design expression that allowed us to create at our pace, ideating spaces that bore our signature of design and understanding of spaces and language. Taliesyn is the nucleus of our endeavours. We wanted to work towards creating the ingenious, driven by a desire to give back to the community by collaborating with fellow curious minds inspired by the same values.
How do you approach design to accommodate aesthetic and functionality in commercial projects?
At Taliesyn, we design workspaces that identify and respond to the needs of the inhabitants. Our holistic approach towards workspace design recognizes the user-kind and the associated functionality to create an environment of productivity. In consideration of the most waking hours spent in such spaces, it is vital for us to design spaces that reflect energy and provide motivation. We attribute the aesthetics and materiality of workspaces to factors such as the site, surroundings, and the users. The result is curated office spaces that weave together an engaging and elevated working environment that lets contemporary design assume a pivotal role in defining a workspace of today, that caters to the future.
Tell us more about incorporating the reflection of the geography of a space in the design. How do you incorporate sustainability in your work?
Our primary approach to design is to create a built environment that would belong within its context – one that would blend, harmonise, and inspire, rather than shock and dominate. The design intervention, therefore, ensures minimum deviation from the existing landscape, while providing a space with limitless opportunities for the users to thrive in.
As we begin to act on the idea that our choices and design have a huge impact on climate change, our approach towards sustainable design has been inclined mainly towards employing local vernacular methods and processes of building. We contribute on minimizing carbon footprint by using local materials transported within short distances. Equally crucial to us is the choice of eco-friendly materials and the manufacturing process of materials. An example would be the Adobe brick, a composite material manufactured right on site with the earth available there. Or in sustainability terms, the site contributes to itself. In terms of natural ventilation, we strategically design fenestrations in places that enable efficient cross-ventilation and in proximity to water bodies that help cool down the micro-climate of the building.
In our recent weekend retreat project Ksaraah, stones were sourced locally from nearby quarries; waste stones were recycled into furniture. Solar energy powers the entire building. To reduce the need for mechanical air conditioning, unwanted wall envelopes are negated and are instead replaced with plants and trees. The pool without any filtered or added chemicals doubles up as a storage tank for the vegetation around. Wastewater from the household is recycled and channelled towards farming activities, nurturing the plantations of chikoo, mango, and banana trees on the site. Sculptural trees and flowering species are braided into the existing flora, densifying the greenery that will eventually thrive.
Tell us about the projects you are working on currently.
Location:
Thrissur, Kerala, India
Project Type:
Residential
Taliesyn 123, Our Design Studio
Location -
Bangalore, Karnataka, India
Project Genre -
Commercial & Workspaces
Location:
Bangalore, Karnataka, India
Project Type:
Residential
What are the key changes you have observed in the design industry over the last decade?
I believe contemporary Indian Architecture can be more sensitive towards its context- the prevalent climatic and socio-cultural background of a place needs utmost attention while curating spatial experiences. Today, western influences have inspired fanciful architecture that most of the time seems alien to its location. Being true to our roots and crafting an interplay of vernacular materiality and responsive built volumes has become crucial.
Amid the prevalent technocratic paradigm, where we have resourcefully restructured all aspects of earthly life, environmentally responsive architecture that holistically engages the senses and lets us express our affinity towards nature might become a game-changer in the near future.
A holistic and detailed approach is required towards sustainable architecture and design. This should reflect in our planning, details and materials – with a clear belief that we definitely can make a positive impact on the built environment and the surroundings. It is important to realize that our actions today can have a ripple effect over years and can affect future generations. The stakeholders of the community must come together, take this seriously, and design and build in ways that are more relevant. Sustainable design approach is the need of the hour and we must realize that there is just no other way.