These new launches will elevate your interior decor with panache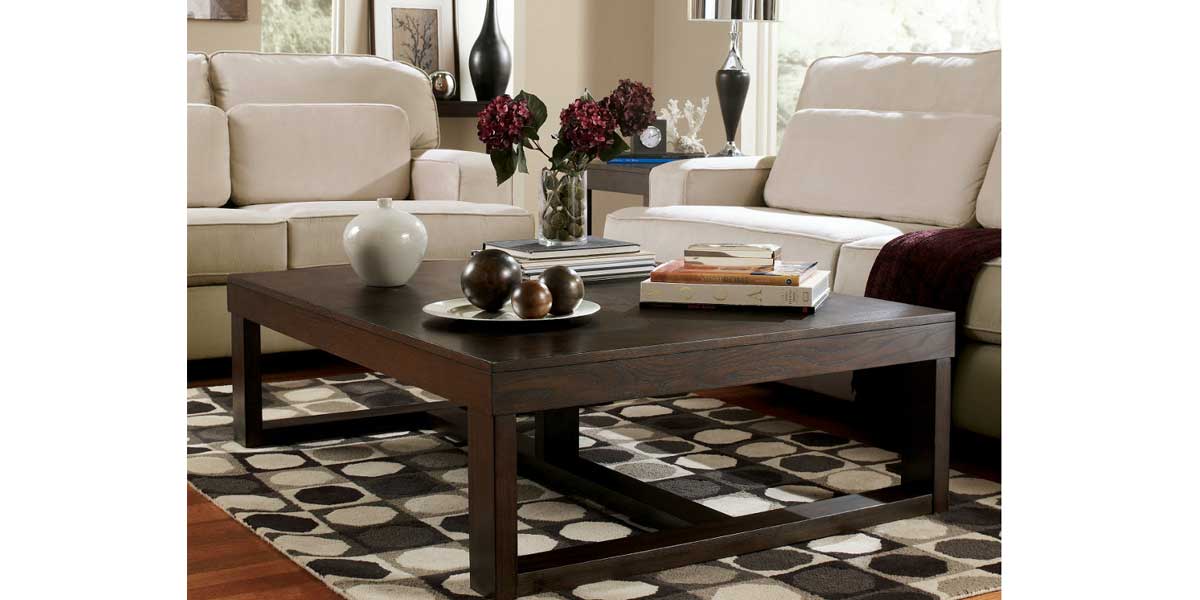 These new launches will elevate your interior decor with panache
26 Jun 2021 CW Team
Stylish Coffee Tables by Ashley Furniture Home Store
Watson Coffee Table:
The Watson rectangular coffee table dishes up substantial modern flair with its huge surface area. It takes inspiration from the clean lines of mid-century design and adds character with oil-rubbed distressing. The Watson accent table collection's rich modern design adds a great feeling of refinement to any home's décor, with sharp edges and clean lines. The rustic charm of the ash veneer is enhanced with a dark brown stained finish, creating a warm and inviting ambience that is ideal for any living space.
Budmore Coffee Table: Roll with the ease of a farmhouse-style coffee table on casters. The smooth sliding barn doors, faded rustic finish, and black metal embellishments on this rectangular Budmore table draw attention. You'll like the extra storage space provided by the concealed storage behind the barn doors. You want to stay close at hand. If you need to relocate this table, the casters make it easy—what a great feature!
Branbury Coffee Table: It's simply stunning, but it's also really detailed. The Branbury coffee table is stunning in this way. A striking tabletop with butterfly veneer layup complements its clean-lined design. In a rustic grey tone with touches of old metallic, this colour is incredibly complex. The oval form is unique. On the double drawers, hardware in a patina silvertone finish completes the design. This coffee table is made of wood. It has two smooth-gliding drawers and is composed of veneers, wood, and engineered wood. Easy movement is provided by dovetail construction, a fixed base shelf, and casters.
Danell Ridge Coffee Table: The Danell Ridge coffee table has fared considerably better. This coffee table has a distressed finish with light wire-brushed texture and dark iron-tone brackets and is composed of veneers, pinewood, and engineered wood. It has a simple, uncomplicated profile that is packed with excellent features. A sophisticated treatment with grey and brown colours has been applied to pinewood. Featuring an industrial look with an iron tone. It's full of character and potential, with brackets and a unique display shelf.
Haroflyn Coffee Table: The Haroflyn coffee table, with its butcher-block type top, is a great mix of contemporary flare and rustic comfort. Its driftwood-like finish is a complex grey with a lot of tonal diversity. This stylish coffee table is composed of acacia wood with a rustic grey finish. It has a rustic chic finish, which adds to its attractiveness.
Cross Island Lift Top Cocktail Table: This beautiful coffee table has a lift-up tabletop that may be used as a standing workstation or a table. It's multifunctional and has a nice rustic look to it. With its distinctive rustic finish and unusual design, this coffee table stands out. The Cross Island Lift Top Cocktail Table quickly improves any space's interior décor.
Ikaria, New Collection of Fabrics by Alhambra 
Ikaria, the latest collection, is named after a peaceful island off the Turkish coast in the Aegean Sea. This Greek island, defined by the sun and the Mediterranean climate, is ideal for relaxation, serenity, and a little adventure. As a result, Ikaria textiles convey the same laid-back mood, as well as vibrant colours and a sense of freshness. The Ikaria collection offers an unique mixture of elegant and rustic looks, thanks to its natural appeal and delicate colours and textures. There are light linens and fabrics that have a raw and carded wool feel to them. Natural textiles that are thick and have beautiful patterns. The textures eerily evoke the tranquilly of the Mediterranean.
Elegant Table Linen Sets by Ellementry
Pearl Grey linen collection :
The dining table seems more presentable and classy thanks to the collection's general pearl grey tone. This timeless assortment is ideal for preventing water stains, food stains, and heat damage on the dining table. A set of six placemats and a table runner are included in the Pearl Grey linen collection.
Elevating Blue linen collection: The Elevating Blue linen series ensures a regal dining experience. The set includes six placemats, six napkins, and a table runner, all made of sturdy cotton.
Highland Flex linen collection : This set will bring a relaxing ambiance to your dining table throughout the day, whether you're getting up early for a morning meal outside or having a cosy evening indoors. Highland Flex's summary appearance and feel will go well with it and provide you a revitalising experience with your dishes and utensils The assortment include a table runner, table mats, and napkins
Mango Mojito linen collection : Mango Mojito is a tribute to mangoes and the summer season, as the name suggests. The mango-hued border on the tablemats is not only gorgeous, but it also serves as a plate placement indication. The collection also includes a table runner.
Teal Blue linen collection: The Teal Blue linen set would be great for someone who enjoys refreshing and peaceful table settings. The set (which includes a table runner and tablemats) aims to provide the perfect backdrop for your regular meals.
Bespoke Walk-In Wardrobes by Alsorg 
Alsorg is an Indian furniture business situated in Gurgaon that produces premium and customised furniture, kitchens, wardrobes, and millwork solutions. The firm is well-known in the industry for its walk-in wardrobe assortment. APERTO is a warm material palette open wardrobe idea. Alsorg created this walk-in wardrobe to open up your bedrooms and combine them with your dressing area. The island wardrobe, which is totally built of European metal profiles encasing a brown tinted glass, is the only boundary between the two areas. To maintain the space, all vertical dividers inside the wardrobe area have been left open or made with see-through glass. The back panels of the wardrobe are lacquered in a textured metallic finish, with sucupira veneer on the shelves and drawers. A spherical mirror and a dresser have also been included. Each section of the wardrobe is well illuminated, allowing you to reach it as needed. The only thing that separates the two areas is an island wardrobe, which is totally formed of European metal profiles and houses a brown tinted glass.
Living Room Furniture by Alsorg