12 MoUs to be signed at Bengaluru Tech Summit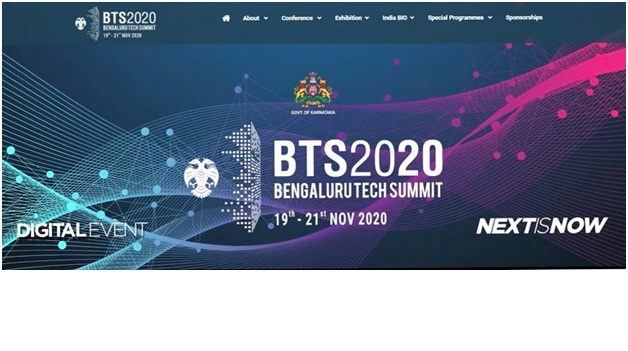 12 MoUs to be signed at Bengaluru Tech Summit
Nov 19 2020,09:11 AM Editorial Team
Twelve memoranda of understanding (MoUs) will be signed with partner countries of Global Innovation Alliance (GIA) at the Bengaluru Tech Summit, which got underway today.
Like most other events during the Covid-19 pandemic year, Bengaluru Tech Summit has gone virtual this year. With a theme "Next is Now", the summit was inaugurated this morning by Prime Minister Narendra Modi, and will be held over three days, November 19-21. Touted as "the global platform for innovation", the event had been held at the picturesque Bangalore Palace grounds in previous years.  
In his inaugural speech via videoconference, Modi said that through technology, "we have enhanced human dignity". He also said that thanks to Digital India, launched five years ago, our nation "has witnessed a more human-centric approach to development."
Predictably, a sizable chunk of this year's e-summit's conference with over 250 speakers focuses on what it calls "crystal-ball gazing into the world in the post-pandemic era", including several discussions on the ecosystem that will bring the Covid-19 pandemic under control. Over the past week, global pharma companies Pfizer and Moderna have announced the completion of their vaccines. Now, the mammoth task of the distribution of these vaccines is taking the foreground of debate. In special focus will be the logistics of cold chain. In addition, the technological ecosystem around the new work-from-home policies that have impacted all industries including those around infrastructure and construction has been in highlight for the past several months. The summit's conferences over the three days are discussing the research, technology, logistics, innovation, cybersecurity, and policies that are pivotal to fighting the pandemic.

Of particular interest to the industry will be discussions on e-mobility and electric vehicles in select European and Asian countries, urban sustainability and smart cities development, and, inevitably, the "post-Covid economy". Artificial intelligence and robotics, which have both enthused and spooked the world with the scope of work and also the scope to replace human workforce, will also be in spotlight. The topic of innovation will span across the sessions.
Australian Prime Minister Scott Morrison and Swiss Confederation Vice-President Guy Parmelin will be guests of honour at BTS. Twenty-five countries and more than 100 start-ups are participating. The event expects to attract a virtual footfall of over 20,000. Indian industry leader Anand Mahindra is the keynote speaker on the first day.
Organised by the Government of Karnataka, along with Karnataka Innovation and Technology Society (KITS), Karnataka government's Vision Group on Information Technology, Biotechnology and StartUp, Software Technology Parks of India (STPI) and MM Activ Sci-Tech Communications, the summit has reinforced Bengaluru's preeminent position as the hub of innovation in IT, biotechnology, and start-ups.