Realty majors use first construction labour PM platform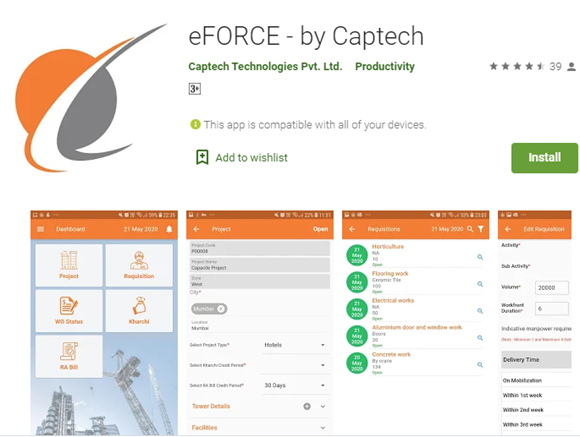 Realty majors use first construction labour PM platform
Real estate majors Tata Projects and Oberoi Realty signed an agreement with Captech Technologies to utilise the country's first construction labour marketplace. The was launched in June by construction tech company Captech in a bid to bridge the gap between developers and migrant labour workers.
The multilingual technology platform is explicitly made for project management and the deployment of labour. The construction tech platform finds quality labour on time by bridging the gap between the engineers, the specialised vendors and the migrant labour contractors. This platform is likely to boost the pace of work and ensure the timely completion of the projects amid the Covid-19 emergency.
The app is compatible with both the android and iOS platforms. The labour marketplace has bagged recent contracts form the Tata Projects and Oberoi Realty.
Using data analytics and artificial intelligence (AI), the eForce app acts as a facilitator in the unorganised construction market and connects the developers with various labour contracts. The developers can choose amongst various features provided within the app to access thousands of labour contracts. They can also find specialised vendors, by filtering to choose contractors in terms of needs, experience and bandwidth.
The platform plans to sort out the unorganised labour market situation in the construction industry. The app can also deploy more than four lakh labours through myriads of general contracts. This helps the developers moderate the deferrals in the undertaking and mobilise the projects rapidly. Previously, the Captech eForce platform has been used by the City and Industrial Development Corporation of Maharashtra for the on-site infrastructure development at Navi Mumbai and several other construction sites across the nation.
Opinion Poll
Question : As we enter FY 2021-22, a report estimates a 11% GDP growth. What is the most critical investment the construction and infrastructure sector needs to make this year?