APCO, DRAIPL, HG Infra bag honours as fastest growing construction companies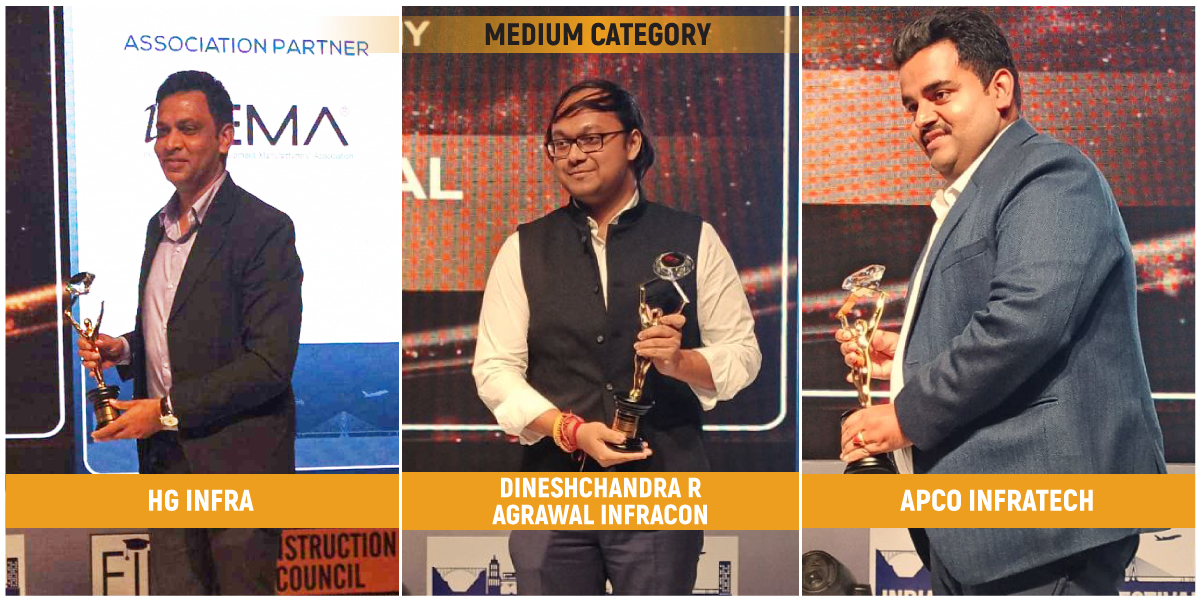 APCO, DRAIPL, HG Infra bag honours as fastest growing construction companies
22 Oct 2021 CW Team
APCO Infratech, Dineshchandra R Agrawal Infracon (DRAIPL) and HG Infra Engineering were announced and awarded as India's fastest growing construction companies in the 'Medium' category at the 19th edition of the CONSTRUCTION WORLD ANNUAL AWARDS (CWAA) – a calendar event for all industry stalwarts – held this year on October 22. The awards are organised by CONSTRUCTION WORLD, the largest circulated construction business magazine in India.
Further, the data that led CW to its winners – India's Largest and Fastest Growing Companies– has been collated and compiled by FIRST Construction Council (FCC) that engages in researching information and ranking construction and infrastructure companies.
The CWAA was part of the 7th INDIA CONSTRUCTION FESTIVAL (ICF) organised by FCC, an infrastructure think-tank set up in 2003, focused on providing latest updates on the construction industry in India, and dedicated to promoting its causes and needs. FCC provides a platform to promote the adoption of best practices and to be the torchbearer for all policy initiatives that are needed to enhance the importance and welfare of the construction industry and the industry's unified voice.
The winners
India's Fastest Growing Construction Companies
– these companies have been selected on the basis of their financial performance.
Construction companies have been categorised as under:
Large with revenue >Rs55 billion.
Medium with revenue >Rs20 billion to
Small size with revenue Rs2 billion.
This year, there was a tie for the 1st rank for the Fastest Growing Construction Companies in the Medium Category.
1st rank: APCO Infratech and Dineshchandra R Agrawal Infracon (DRAIPL) won the 1st rank for the Fastest Growing Construction Companies in the Medium Category.
APCO Infratech: One of the fastest growing mid-sized companies in the Indian infrastructure segment, APCO Infratech has many milestones underlining its growth journey. It has made its presence felt in segments like highways, energy, tunnel, irrigation, urban infrastructure and industrial development. The company offers comprehensive value-added services for design, EPC and DBFOT projects, ranging from idea to implementation. Little wonder then, that the company's clientele includes industry leaders like NHAI, Power Grid, IOCL, HPCL and BPCL among others. With an ethos to focus on quality growth, the company has formed a systematic strategy and is seeking opportunities in core areas, such as the power sector. The company's order book has witnessed healthy growth over the years and stood at Rs.11,912 crore as on January 1, 2021, as against Rs 6,914 crore as on January 1, 2019. The current order book position translates to 3.70x of FY20 revenue, thereby providing medium-term revenue visibility. Apart from the current unexecuted order book, the company is also the L1 bidder in orders amounting to Rs 2,525 crore as on January 1, 2021.
Some of the positives emerging for the company include an increase in scale of operations by about 15 -20 per cent on a sustained basis in coming years while maintaining healthy operating profitability; continued maintenance of the order-book position with revenue visibility of 3.5-4.0x with quality counterparties; healthy cash accrual generation sufficient for increase in working capital requirements, thereby leading to healthy debt coverage ratios in excess of 1.5x on a sustained basis; and monetisation of operating BOT and HAM projects developed through SPVs, resulting in a substantial inflow of funds, leading to improvement in the capital structure with gearing less than 0.5x on a sustained basis.
Dineshchandra R Agrawal Infracon (DRAIPL): One company that has created its own niche despite cutthroat competition and the impact of the pandemic is Dineshchandra R Agrawal Infracon (DRAIPL). The company has been operating successfully over four decades in the Indian infrastructure sector. DRAIPL's revenue grew to Rs 27,82 crore in FY21 (FY20: Rs 27,39 Crore) despite COVID-led disruptions, owing to which the construction sector witnessed subdued project execution in 1QFY21 and lower scale in 2QFY21. Further, the company demonstrated a strong revenue growth trajectory with a CAGR of over 19 per cent in FY17-FY21.
We expect DRAIPL to witness a 10 per cent year-on-year revenue growth in FY22, backed by a healthy order book (4.12x of FY21 revenue). EBITDA margins remained almost stable at 10.4 per cent in FY21 (FY20: 10.5 per cent) on account of reduced subcontracting and the meaningful contribution of a few large projects that had better margins to revenue during the period, offset by an increase in raw material costs. The company also executed two of its HAM projects (Dineshchandra Tanot Infra Pvt Ltd and Salasar Nagaur) 13 months ahead of schedule, while the third HAM project (Barmer-Jalore) was completed five months ahead of schedule. At the end of March 2021, DRAIPL had an unexecuted order book of Rs 11,753.8 crore (4.12x of FY21 revenue). The company is developing Rs 11,021.2 crore worth of these projects on a standalone basis, while the balance projects are being executed through JVs. Further, the company was declared the lowest bidder for orders worth Rs 1,202.4 crore in FY21.
3rd rank: HG Infra Engineering won the 3rd rank for the Fastest Growing Construction Companies in the Medium Category.
Beginning its journey in 2003 with its primary focus on highways, roads and bridges, H G Infra Engineering now executes civil construction projects like extension and grading of runways, railways and land development. In recent times, it has also diversified into water pipeline projects.
The company has a healthy and well-diversified order book. At the end of March 2021, it stood at Rs 7,040 crore (2.8x order book to FY21 revenues), mainly backed by strong order inflows secured in Q4FY21 (bid project cost: Rs 2,564 crore; EPC value: Rs 1,933 crore). Going forward, the management has guided order inflows of Rs 5,000-6,000 crore in FY22 to be driven by a strong order pipeline in the roads segment and growing opportunities in other infrastructure verticals. The company's balance sheet has remained lean over the years, backed by its prudent strategy to mainly focus on an asset-light business model and efficiently manage working capital. At the end of March 2021, its gross debt stood at Rs 289 crore; the cash equivalent on the balance sheet stood at Rs 258 crore. Considering its healthy executable order book position and robust execution skill, we expect a pickup in the execution momentum to continue in the near to medium term.
Click here to know who were the Fastest Growing Construction Companies in the Large Category.
Click here to know who were the Fastest Growing Construction Companies in the Small Category.
Click here to know who was the Person of the Year in the Public Sector.
Click here to know who was the Person of the Year in the Private Sector.
The 19th CONSTRUCTION WORLD ANNUAL AWARDS 2021 was presented by Apollo Tyres; with Platinum Partner as APCO Infratech; Gold Partner - Larsen & Toubro; Silver Partner - Tata Projects; Associate Partners - Welspun Enterprises, Shyam Steel, Dineshchandra R. Agrawal Infracon, Action Construction Equipment, J Kumar Infraprojects, KNR Constructions, GR Infra, Terex India, Sany India and BC India.