Fastest growing construction companies in India 2020: CW Survey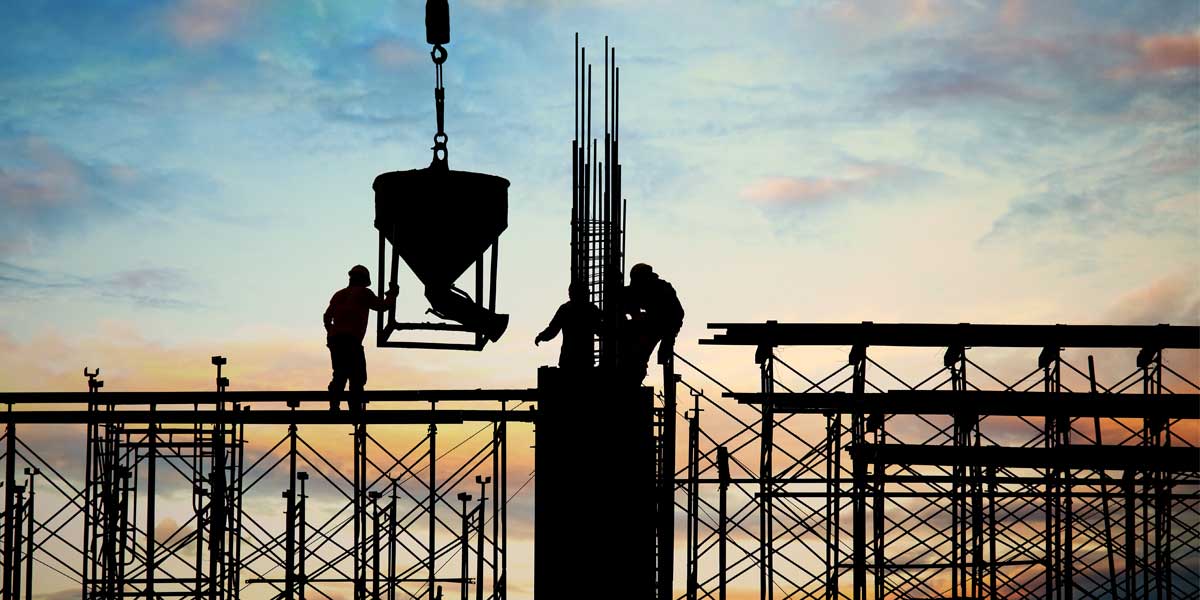 Fastest growing construction companies in India 2020: CW Survey
26 Apr 2021 CW Team
The construction industry recognises timely execution, ability to scale, sharp financial acumen, optimal management of resources, a good appetite for risk and dynamic leadership. Over the past two decades several companies have fallen by the wayside as they did not manage risks well. So even though a company grows fast at first, it needs to be able to scale and manage its growing risks well. The fastest growing companies are selected by running audited annual results for six consecutive years of a company through a financial model and then putting the list of companies so qualifying as per the financials before a jury for the final selection. The financial model gives higher weightage to latest years and equal weightage to growth in operating revenues and growth in profit after tax. This model has been consistently deployed from 2003 and has either signaled the arrival of a new kid on the block or the faltering or failure of another seasoned player.
The construction industry in India is the second largest employer after agriculture and hence is critical to the country's economic stability. It accounts for around 8% of India's GDP and employs close to 5.75 crore people. The past year was particularly hard for the construction industry with the Covid-19 pandemic induced halts. Despite these setbacks some companies managed to keep their long-term growth intact.
These nine construction companies were recognised as the fastest growing construction companies in three different categories at the Construction World Annual Awards 2020, which was held virtually on 22 October 2020.
Here are the Top 3 fastest growing construction companies in the 'Large' category:
#1


G R Infraprojects
G R Infraprojects
is a leading engineering and construction company with wide experience in the design and construction of roads and highways. It possesses core competencies in the segment with integrated operations, right from manufacturing of materials and road construction to operation and maintenance. The company has the capability to carry out projects under both the BOT and HAM models. With a presence across 15 states in India and manpower of over 11,000, it owns over 6,500 construction equipment and vehicles, including a fleet of over 60 tankers for transportation of bitumen and diesel. Going ahead, the focus of the company will be on EPC projects. The management is also enthused by the opportunities in the HAM segment. G R Infraprojects is looking to diversify into new verticals, like optical-fibre laying, railways, water-related infrastructure and sewerage.
#2


Afcons Infrastructure
Part of the Shapoorji Pallonji Group,
Afcons Infrastructure
is one among the largest engineering and construction groups in India. One of the fastest growing infrastructure companies, it has a $ 300 million strategic equipment fleet and different units, like Marine and Industrial, Surface Transport, Urban Infrastructure, Oil and Gas, and Hydro and Underground. Afcons has projects in 27 countries, it is ranked ninth in marine and port facilities and 13th in the bridge sector. According to the Engineering News–Record (ENR) survey, it ranks among the 150 top international global contractors.
#3


Dilip Buildcon Ltd
When it comes to infrastructure players in the roads segment in India,
DBL
ranks among the top. It is one of the fastest growing, vertically integrated and innovation-focused EPC contractors in India in the segment. While other infrastructure players lease out construction fleets, DBL owns its large fleet of construction equipment and vehicles, helping it emerge as the largest road EPC player and earning it the recognition of being one of the best project executors in the country. Apart from roads, the company has also developed EPC capabilities in bridges and flyovers, irrigation, mining and urban development.
Top 3 fastest growing construction companies in the 'Medium' category:
#1


Dineshchandra R Agrawal Infracon Pvt Ltd (DRAIL)
Amid all the competition,
DRAIL
has been operating successfully over four decades and made its mark in the Indian infrastructure sector. Established in 1972 as a partnership firm, it was reconstituted as a private limited company in 2003. The company is involved in civil construction, undertaking the construction of roads, bridges, airports and drainage systems. DRAIL is developing projects ranging from greenfield airports in the Northeast and metro rail in urban areas to upcoming smart cities such as Dholera. It is also currently developing over 2,000 km of highways, from Rajasthan to Tamil Nadu, Tripura to Punjab. DRAIL has completed over 100 projects, consists of 4,000-plus employees and has a presence in 20 states.
#2


APCO Infratech Pvt Ltd
APCO Infratech
is one of the fastest growing mid-sized companies in the Indian infrastructure segment. It has made its presence felt in various segments, like highways, energy, tunnels, irrigation, urban infrastructure and industrial development. Offering comprehensive value-added services of design, EPC and DBFOT projects, ranging from idea to implementation, its clientele includes industry leaders like NHAI, North, Power Grid, IOCL, HPCL and BPCL, among others. The company has a systematic strategy and is seeking opportunities in core areas such as the power sector. It even undertook HAM projects in 2018.
#3


PNC Infratech
PNC is a mid-sized EPC player engaged in the construction of roads and highways, airports, railways and other civil engineering projects. It has a strong execution track record of over two and-a-half decades and has been consistently increasing its order book.
Top 3 fastest growing construction companies in the 'Small' category:
#1


Welspun Enterprises
Part of the Welspun Group,
Welspun Enterprises
(formerly known as Welspun Projects) has developed and operates PPP projects in various sectors like roads, water, oil and gas, and urban infrastructure. It has a differentiated business model with a focus on HAM projects. Further, in EPC, too, construction is outsourced to the best-suited contractor and Welspun focuses on high value-added activity projects. The company is also exploring opportunities in state and municipal HAM projects in roads. In the water segment, the focus will mainly be on sewage treatment, desalination and bulk water transmission projects, either through the EPC or HAM mode.
#2


PSP Projects
PSP Projects
is a construction company offering a diversified range of construction and allied services across industrial, institutional, government, government-residential and residential projects in India. It provides services across the construction value chain, ranging from planning and design to construction and post-construction activities. The company is currently constructing the world's biggest office complex (Surat Diamond Bourse) having a contract Value of Rs 1575 crore and 66 lakh sq ft built-up area.
#3


Vascon Engineers
Vascon Engineers
has a presence in verticals like EPC and real-estate development. To date, it has executed over 200 projects across more than 50 million sq ft. Though the company has the ability to execute over 8 million sq ft per year, it is currently operating at just 40% capacity. In FY20 the company bagged its highest-ever order intake in a year, a third-party EPC. Entering a new segment, Vascon Engineers bagged an order for metro (building construction) from the metro rail corporations in Mumbai and Bengaluru. It also has a few non-core assets like a 44% stake in a hotel in Goa, commercial property in Andheri (Mumbai) and a nine-acre land parcel in Aurangabad.