Hitachi delivers converters to Chubu electric power station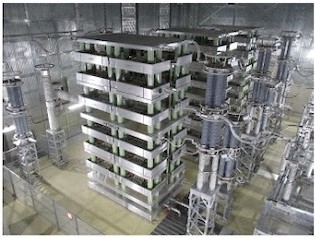 Hitachi delivers converters to Chubu electric power station
Hitachi Ltd announced that the operations of the Hida-Shinano frequency conversion facility have commenced, enabling the Shin-Shinano substation of TEPCO Power Grid, Inc, to be connected to the Hida converter station of Chubu Electric Power Grid Co Inc (Chubu Electric Power), to which Hitachi delivered a line commutate converter high-voltage direct current (HVDC) system.
The Hida-Shinano frequency conversion facility is a direct current transmission system with an interconnection capacity of 900 mw, connecting the 60 Hz-based Chubu Electric Power area and the 50 Hz-based TEPCO area via an approximately 89 km long aerial cable. In the wake of the Great East Japan Earthquake that occurred on 11 March 2011, the new facility was purpose-built to increase the interconnection capacity between the different areas and enhance the power supply capacity in the event of a large disaster.
For this project, Hitachi had received an order for a frequency converter to be installed at Chubu Electric Power's Hida Converter Station that included installation and testing. The equipment uses the line commutate converter High-Voltage Direct Current (HVDC) power transmission technology to achieve the interconnection of systems with different frequencies through the conversion of alternating current into direct current. The installation of the converters, which began in August 2018, has been completed.
Image: Hida converter station of Chubu electric power grid co
The equipment delivered to the Hida Converter Station is the first HVDC equipment in Japan to establish an aerial interconnection between grids with different frequencies. One of the delivered devices, specifically, the filtering equipment capable of adjusting the phase of the electricity, uses a system made by Hitachi ABB Power Grids.
Hitachi, Ltd, headquartered in Tokyo, Japan, is focused on information technology (IT), operational technology (OT) and products.
Written from a company news release.
Lead image: A valve hall equipped with a line commutate converter HVDC (AC/DC converter)

Opinion Poll
Question : As we enter FY 2021-22, a report estimates a 11% GDP growth. What is the most critical investment the construction and infrastructure sector needs to make this year?