Ramco commissions oxygen generators and medical equipment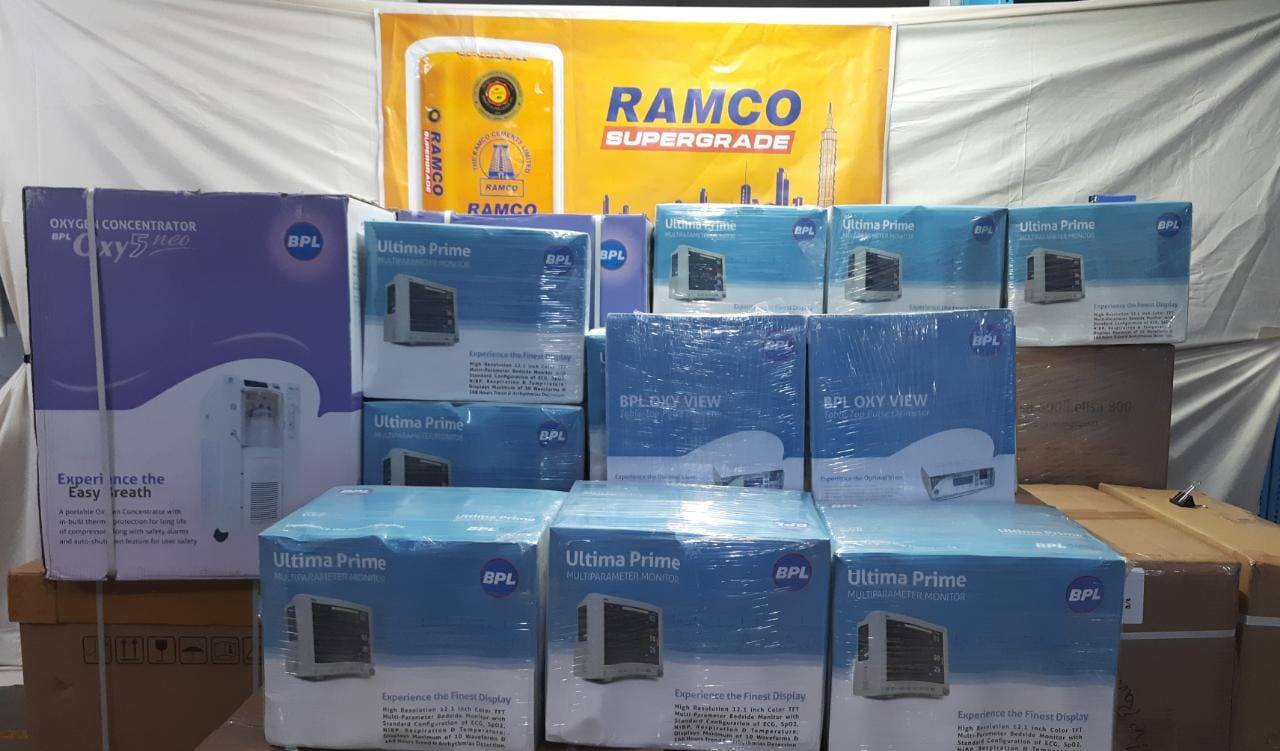 Ramco commissions oxygen generators and medical equipment
May 25 2021,06:05 PM CW Team
Ramco Cements has been the front runner in providing prompt support to all state governments at times of calamities. Ramco Cements has stepped into commissioning medical oxygen generators and to provide life-saving medical equipment to cater to the country's oxygen needs in times of the pandemic.
Tamil Nadu
The company has committed to the Government of Tamil Nadu to install five medical oxygen generators at the company's factory locations across the state. The first generator unit with a capacity of 14 cubic metre of oxygen per hour was commissioned at Virudhunagar district on 14 May 2021, in the presence of the Minister for Industries, Thangam Thennarasu and Minister for Revenue and Disaster Management KKSSR Ramachandran. Since then 48 medical oxygen cylinders are being supplied every day, free of cost, to the government hospitals across the district.
Four more oxygen generators of 56 cubic metre each have been ordered. While one generator will be installed at Madurai, the other three will be installed at the factory locations at RR Nagar, Ariyalur and Alathiyur. The four generators will be commissioned within four to six weeks. The aggregate cost of the five medical oxygen generators is Rs 5 crore. These five oxygen generator plants can cumulatively produce 800 oxygen cylinders per day.
Ramco Cements has also contributed Rs 1 crore to Tamil Nadu State Disaster Management Authority for Covid relief.
Kerala
The company has committed Rs 1.5 crore worth of high-end medical equipment including monitors, oxygen concentrators, pulse oximeters and ventilators to the Government of Kerala, and the same will be delivered to the authorities this week.
Andhra Pradesh
Two medical oxygen generators will be commissioned in Andhra Pradesh at a cost of Rs 2 crore, within four to six weeks.
Odisha
The company has committed Rs 1 crore worth of medical equipment including oxygen concentrators to the Government of Odisha and the same will be delivered to the authorities within two weeks.
The company has been closely coordinating with various Government agencies and providing relief by procuring lifesaving equipment and instruments and making the same available to the health care systems.
Written from a company news release
Opinion Poll
Question : How can India stem inflationary trends likely from the currently all-time-high steel prices?