NHAI road projects in Chennai take a hit as migrant workers return home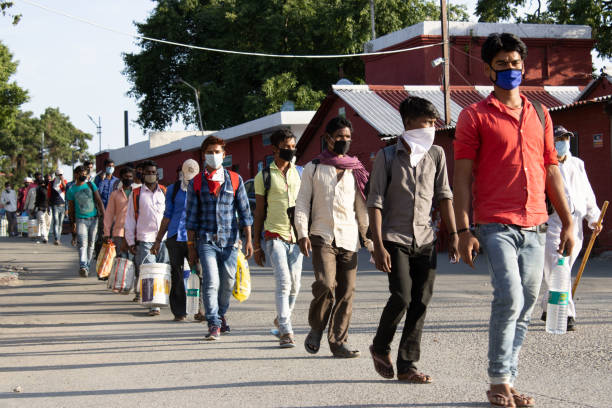 NHAI road projects in Chennai take a hit as migrant workers return home
May 14 2021,04:05 PM CW Team
Several NHAI projects across Chennai have slowed down as half of its workforce has fled the state due to the announcement of a complete lockdown amid the second wave of Covid-19.
In total, the state is working on 22 NHAI road projects worth Rs 17,000 crore. Aside from a labour shortage, there is a scarcity of earth and other raw materials.
According to officials, nearly 60% of the total workforce of the contractors hired by the NHAI for road projects was made up of workers from Uttar Pradesh, West Bengal, Bihar, Jharkhand, and Chhattisgarh. They have gradually left the state in the last week.
Pawan Kumar, regional officer of NHAI in Chennai told the media that the ongoing projects in Chennai have slowed down as migrant workers are returning to their homes amid the second wave of the Covid-19 pandemic.
Until 10 days ago, nearly 1,000 workers were involved in the four-laning of the Thanjavur-Vikravandi road project. The workforce has now been reduced to less than half of its original size. Around 70 of the workers who stayed behind were infected with coronavirus and hospitalised. Those who survived were isolated and cared for.
Senior officials in the Coimbatore project implementation unit said the contractors have been instructed to take care of the workforce's well-being.
Another official overseeing the six-laning of the Sriperumbudur-Walajapet stretch of the Chennai-Bengaluru national highway said the government had allowed the ongoing road projects to continue. However, they were unable to keep up the pace of work because the number of labourers had been reduced to 200 from 450 a week ago.
Construction of structures such as bridges, flyovers, and underpasses is hampered due to a lack of skilled labourers.
According to the official, a lack of oxygen cylinders for industrial use has severely hampered the supply of many raw materials for construction work. Work has come to a halt at many sites due to a lack of raw materials, said the official.
---
Also read: Highway Construction: NHAI sets target for 4,600 km in FY22
Also read: Second wave of Covid-19 hits Gujarat road transport industry
Opinion Poll
Question : How can India stem inflationary trends likely from the currently all-time-high steel prices?