Samruddhi Mahamarg: A glimpse of Mumbai-Nagpur Expressway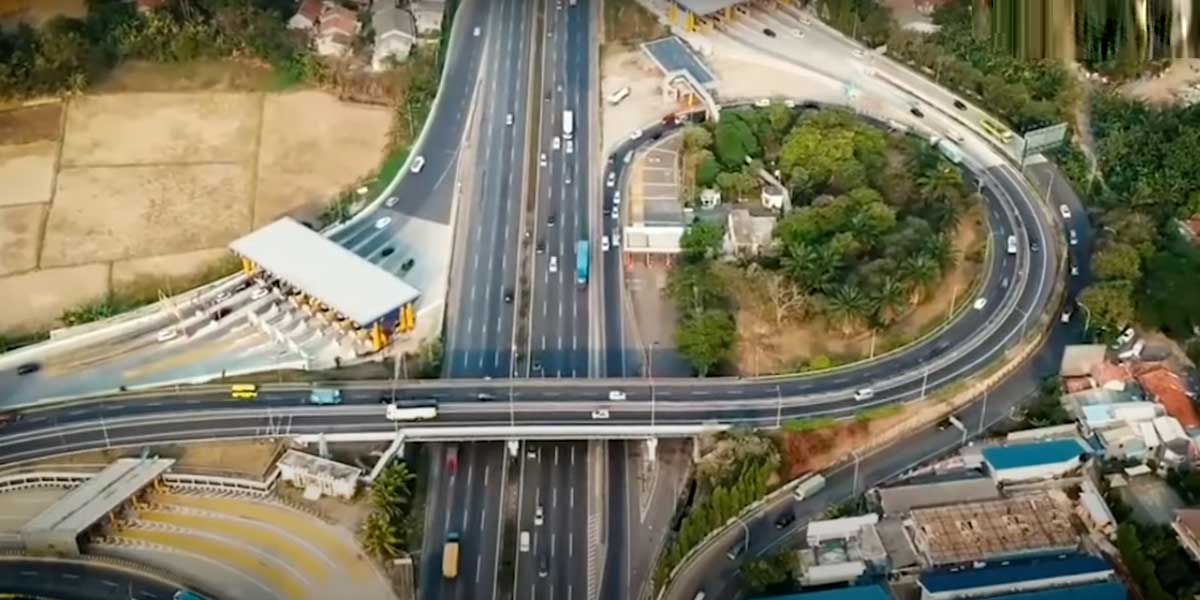 Samruddhi Mahamarg: A glimpse of Mumbai-Nagpur Expressway
13 Dec 2021 CW Team
The Mumbai-Nagpur Expressway, also known as Hindu Hrudaysamrat Balasaheb Thackeray Maharashtra Samruddhi Mahamarg is a 701km long under construction access-controlled expressway in Maharashtra. The project is implemented by Maharashtra State Road Development Corporation (MSRDC), aiming to connect the two cities of Maharashtra: Mumbai and Nagpur within 8 hours.
Maharashtra Samruddhi Mahamarg will be a complete Greenfield expressway, built across 8,600 hectares of land at an estimated cost of ₹ 55,000 crores. It is designed to be the fastest road in the country by permitting a speed limit of up to 150kmph on the plain region, while 120kmph on inclined sections covering mountain territories of the Western Ghats. The project comprises a 6 lane expressway that can be expanded to 8 lanes with a 120m width. Mumbai- Nagpur expressway passes through 390 villages, traveling 10 districts, and 24 Talukas. It will start from Amane village, of Thane district, and end at Shivmadka Village of Nagpur District.
With 65 flyovers, 24 interchanges, 6 tunnels, 400 plus vehicular and 300 plus pedestrian underpass along with cattle underpass, Mumbai- Nagpur Expressway is a well-designed largest Greenfield route of the nation. The construction of the project is divided into 16 packages and is allocated to 13 major contractors such as Afcon's Infrastructure, Larsen & Toubro, and Reliance Infrastructure. The expressway is being constructed with EPC (Engineering, Procurement, and Construction) project model. For construction, native material, fly ash and fly ash will be utilized. Keeping sustainability in mind, rainwater will be harvested for water availability. During designing the expressway, a single-layer concrete paver has been deployed for the complete 15m width of the concrete slabs. The project will aim to formulate instantaneous logistics infrastructure. It also has a utility corridor dispensing optical fiber connectivity, gas pipelines, and electricity lines constructed parallel to the expressway. The expressway will acquire international road design with safety standards encompassing an intelligent highway management system for traffic supervision.
Mumbai-Nagpur Expressway boasts several features. The expressway is a zero fatality corridor incorporating CCTV surveillance. The corridor will have telephone booths every 5km for any emergency. It will feature a runway for fighter jets and aircraft amid national emergencies. With the rising demand for E vehicles, it will harbor an e-way comprising electric charging stations. The route makes sure no traveler is starving with food plaza amenities at every 40-50km. The expressway will illuminate with enhanced street lighting, digital signage, tunnel lighting, and bridge beautification. It will link numerous tourist attractions combining pilgrim and heritage centers. Shirdi is one of the common tourist attractions which will become more easily accessible with this expressway. The toll rates for lightweight vehicles will be ₹1,200.
Currently, the expressway is under construction. The 7.78 km long Igatpuri tunnel is completed. The stretch between Nagpur and Shirdi is complete and would be open for vehicular traffic. Once operational, the expressway will serve myriad values to the nation. It will enhance the connectivity, connecting many rural towns and villages. About 36% of the state population will witness the Samruddhi Corridor as a considerable progress generator setting a direct positive impact on their livelihood. The Samruddhi Mahamarg corridor aims to become energy efficient corridor by implanting solar plants to generate 250MW energy. It will also connect the country's largest container port JNPT in Mumbai with MIHAN in Nagpur, driving fast logistics for national and international trade. It has also attracted numerous investments that will eventually develop rural areas of Maharashtra. Mumbai-Nagpur Expressway not only connects the two major cities of the state but also ensures phenomenon prosperity to the state and nation!