Mumbai Metro Line-5: Thane-Kalyan line gets CRZ clearance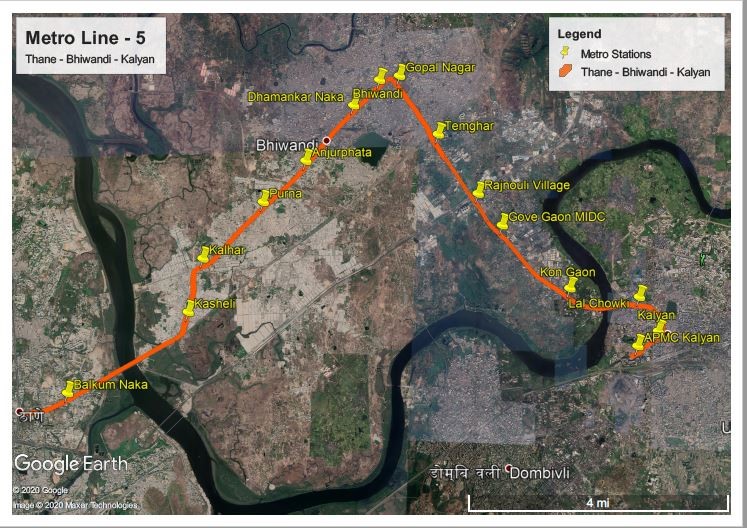 Mumbai Metro Line-5: Thane-Kalyan line gets CRZ clearance
The Mumbai Metropolitan Region Development Authority's (MMRDA) Metro Line-5 connecting Thane to Kalyan has received coastal regulatory zone (CRZ) clearance from the Maharashtra State Environment Impact Assessment Authority (SEIAA).
This decision follows the Maharashtra State Coastal Zone Management Authority's recommendation from 2017 to grant CRZ clearance for the 25 km fully-elevated corridor, which will connect Thane's Balkum Naka and to Kalyan APMC via the powerloom town of Bhiwandi and will have 17 stations.
Currently, the areas are connected only through the overcrowded suburban railway. The cost of the Mumbai Metro Line-5 project is Rs 8,417 crore.
As per the MMRDA's proposal, the metro alignment will pass through two water bodies at Durgadi Fort in Kalyan and Kasheli Bridge in Thane.
In Thane, the alignment will pass through a CRZ-I notified area for just over a km near Kasheli Bridge, while another 1.5 km will pass through a CRZ-II area. Another 608 m of the alignment is passing through the Ulhas river. In Kalyan, about 20 m of the alignment will pass through a CRZ-I notified area, while 250 m will pass through a CRZ-III notified area. Another 320 m will pass through the Ulhas river.
With the CRZ clearance, the MMRDA now has the permission to construct 156 piers, each of 1.8 m diameter, in CRZ notified areas in order to support the above-ground corridor, which will be integrated with the Metro-4 line at Kapurbawdi, and also with the suburban rail at Kalyan station. The piers will be constructed at intervals of approximately 25 m between them.
In December last year, the MMRDA sought approval from the Ministry of Environment, Forest and Climate Change for the diversion of 2,349.5 sq m of mangrove forest land for the project. Of these, 1,971.71 sqm of forest land has been proposed to be diverted in Balkaum, Thane, while 377.86 sqm of forest land is to be diverted in Kasheli in Bhiwandi.
Earlier, MMRDA had stated that construction work of the Mumbai Metro Line-5 is expected to be completed by December 2024.
---
Also read: Mumbai Metro-5 to be completed in four years: MMRDA
Opinion Poll
Question : As we enter FY 2021-22, a report estimates a 11% GDP growth. What is the most critical investment the construction and infrastructure sector needs to make this year?