Indian Railways opens bids for pilot solar power project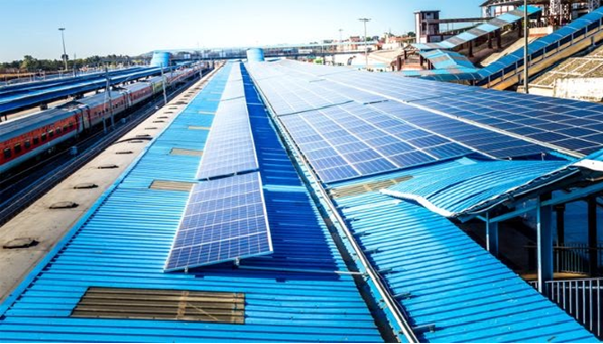 Indian Railways opens bids for pilot solar power project
The Railway Energy Management Company Limited (REMCL) which is a joint venture of the Rail India Technical and Economic Service Limited (RITES Ltd) and the Indian Railways has invited bids for a novel project to acquire renewable energy power for the long term. The renewable energy will be procured from grid-connected solar projects equipped with energy storage features.
To meet the targets of 'net zero' carbon emissions by 2030, Indian Railways plans to expand this storage based projects across the railway network. The expansion will be based upon the success of the pilot project. The extent of the project incorporates giving an innovative, techno-economical, and feasible answer for the viable utilisation of solar power during the non-solar hours through the energy storage systems. Approximately 90 acres of vacant railway land in Dahod, Gujarat, will be used to set up the project.
The bids can be submitted latest by 5 January 2021.
Requirements
The tender documents outline that:

The bidders are expected to prepare the feasibility model along with the concept notes on the probable solutions for the project, which is to be shared with REMCL.

The bidders must include different options for energy storage in the feasibility report.

Bidders must also provide the REMCL with the estimated cost for the capital expenditure (CAPEX) on a per MW basis for power generation for and the per MWh for the expected venture of 10 MW, 15 MW, and 20 MW.
Eligibility and expectation
To partake in the bidding, the builder should be experienced with energy storage and the solar power generation projects along with other renewable energy.
The developers will have to plan, build, and maintain the renewable energy project with appropriate storage systems. The developer who gets the tender will also have to enter into a power purchase agreement (PPA) with Western Railways at a fixed tariff for 25 years. The PPA will be designed by the Western Railways, and the tariff will be set according to the outcome of the competitive bidding process.
Since the invitation to bid in April 2020, the tender has gone through many changes and extensions. As of late, the RITES limited has the submission deadline for land-based projects on various zonal railways land in India.
The national railways hopes to build 20 GW of solar projects by 2030 using its own vacant land to satisfy the projected consumption requirements of 33 billion units.
Opinion Poll
Question : As we enter FY 2021-22, a report estimates a 11% GDP growth. What is the most critical investment the construction and infrastructure sector needs to make this year?