Suresh Prabhu: Construction can bring in GDP growth and employment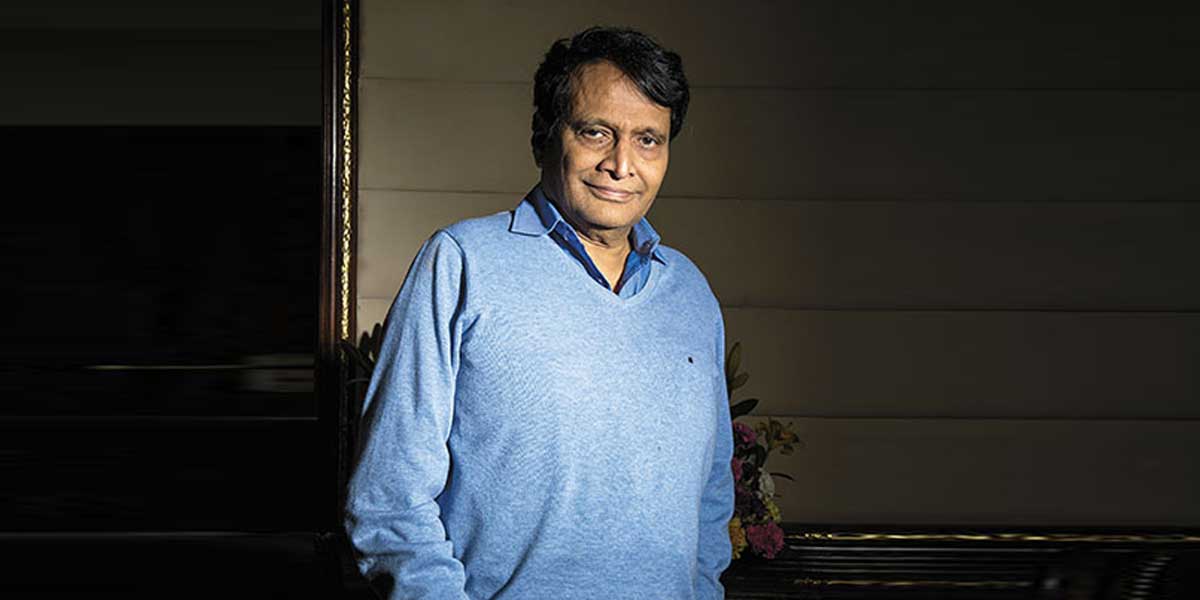 Suresh Prabhu: Construction can bring in GDP growth and employment
30 Apr 2021 CW Team
This year, Maharashtra budget has outlined its plan to prioritise infrastructure in a big way, indicating its intention and agenda for development. There are several significant urban projects in the city of Mumbai alone, from the metro-rail to the Mumbai Coastal Road, the Mumbai Trans-Harbour Link, the Virar-Alibaug multimodal corridor, the Mumbai Eastern Waterfront project, and sewage treatment plants. In the state, the mega Samrudhhi Mahamarg project, a multimodal highway between Mumbai and Nagpur, has caught the fancy of many investors.

With Maharashtra Day being celebrated on May 1, CW spearheaded a virtual conference called "Construction World Maharashtra" on April 28 that captured these and other projects in the offing for India's richest state. Some of the biggest names from government, public and private sectors will discuss and provide insights on various aspects of this focus theme, shedding light on perspectives that include business opportunities, infrastructure finance, and project status.
In his opening address, Suresh Prabhu, Member of Parliament and former union minister, Government of India, emphasised that construction is a sector that can boost the economy of India in a significant way. "The challenge of economic growth, over the last few years, has been all over the world. We need to find sectors in the industry that create employment. And, employment for all segments of society – those that are well educated, the middle class, and also those that offer manual labour as their contribution in the job market. Construction is an industry that can offer each of these at the same time."
The sector by itself offers demand for building materials such as cement, steel, etc, and therefore, creates demand for manufacturing products. Architectural services, engineering services, EPC are other segments that can create jobs as well. "EPC has the potential to push India's economy, and at the same time, create jobs," said Prabhu. "And so, twin benefits – of creating jobs as well as adding to GDP – can come from a single industry: Construction."
Prabhu congratulated CONSTRUCTION WORLD for doing such good work since the past so many years. Established in 1996, Construction World is India's premier and largest circulated construction business magazine, covering projects, policies and people to topical concerns, trends, technology, and products. This award-winning, flagship publication of Mumbai-headquartered ASAPP Info Global Group is circulated among architects and builders, material and equipment players, industry stakeholders, business leaders, policymakers, and change-agents. The magazine's website www.constructionworld.in has over 180,000 unique visitors and around 4 million hits a month.
The virtual conference – Construction World Maharashtra – brought on the same platform some of the world's largest project developers, construction companies, investment banks and private equity firms.
Creating large scale business opportunities in Maharashtra
The session delved into how large scale business opportunities can be created in the state by encouraging large construction projects and innovative finance.
Moderated by Pratap Padode, Editor-in-Chief, CW, the distinguished panel for this session included Arun Nanda, Chairman, Mahindra Lifespaces Developers & Mahindra Holidays & Resorts; Ankur Gupta, President, KATERRA; Bharat Parekh, Executive Director, Infrastructure Research, CLSA; Anuj Puri, Chairman, Anarock Property Consultants; and Gurjot Bhatia, Managing Director, Project Management, CBRE India, Middle East and North Africa.
Education, logistics and manufacturing are the strengths of Maharashtra and these need to be rediscovered, agreed the panellists. From a construction perspective, the panellists believed that a lot more could be done at the policy level, especially the public-private partnership domain. While a lot of things have already been done, these need to be built on and the areas of growth should not be confined to small portions but need to be looked at from a more sustainable growth point of view. Also, small pockets of land areas in metros should be developed.
With initiatives towards new and efficient technologies, infrastructure development in whichever way – be it affordable housing, roads or bridges – should take a quantum leap. Other areas of discussion included governance framework, making the state more investor-friendly, and most importantly, creating more employment opportunities to further boost the economy.
Mega project opportunities in Maharashtra
Discussing mega projects in the state – the Samrudhhi Mahamarg, Mumbai Trans Harbour Link, Mumbai Coastal Road, Virar-Alibaug Corridor, etc – this session dived into port re-development and future possibilities along the Mumbai Eastern Waterfront.
Moderated by Pradeep Udhas, Office Managing Partner-West, KPMG, India, the distinguished panel for this session included Jayant K Banthia, Former Chief Secretary, Government of Maharashtra; Dr Niranjan Hiranandani, Managing Director, Hiranandani Group; Vice Admiral IC Rao, PVSM, AVSM (Retd.); Sarfaraz Momin, Founding Partner, StudioPOD, Mumbai; Chintan Patel, Partner, Real Estate Advisory-KPMG, India; and Ashish Puntambekar, Principal Planner, Construction World Maharashtra.
Three presentations were made at this session, two of which focused largely on the Mumbai Eastern Waterfront project. A 966.3-hectare waterfront is being transformed into a sea transport and tourism hub as a part of what is currently considered to be Maximum City's most ambitious and biggest ongoing project: The Mumbai Eastern Waterfront, which is to come up from Sewri to Sassoon Docks. About 500 hectare of this property is available for redevelopment, 253 hectare of which is up for redevelopment. Of this area, 193 hectare will see roads, gardens, recreational areas and open spaces. The plan is to build a Hi-Tech City, on the remaining 60 hectare, that is expected to generate employment for about 3.4 lakh people. The plan is to also have an arcade for commercial and residential purposes, and one which people can also walk through. Along with outlining the citizens' vision plan for the project, the discussion delved into the facilities and amenities that the development of this project will bring along. Besides, the opportunity to make the city more livable and attractive to international business.
Secured governance with innovative project financing
The discussion of this session revolved around secured governance (urban equity withdrawal) based project financing, and also innovative finance mechanisms such as public-private partnership (PPP) and other asset monetisation plans.
Moderated by Suneet K Maheshwari, Managing Partner, Udvik Infrastructure Advisors LLP, the distinguished panel included Dr P Sekhar, Chairman, Global Smart City Panel; Shailesh Pathak, CEO, L&T IDPL; J Padmanabhan, Director, CRISIL Infrastructure Advisory; and Supratim Sarkar, EPV & Head Infrastructure, SBI Capital Market.
Secured governance and sustainable future planning is the need of the hour to help in the holistic development of infrastructure – physical and social, housing, and finance mechanisms. Highlighting the National Monetisation Pipeline and the huge inventory of assets, the session brought into focus Maharashtra's core and non-core assets that have the potential to raise Rs 75,000 to 1 lakh crore through asset monetisation. Panellists also discussed areas of focus for the public sector and reforms that can drive monetisation.
Concluded in all success, the virtual conference was presented by CONSTRUCTION WORLD; supported by National Highway Builders Federation; India BIM Association, and the Association of Welding Products Manufacturers.
- SERAPHINA D'SOUZA