PORTS & SHIPPING
JSW Infra to buy Chettinad Builders for Rs 960 crore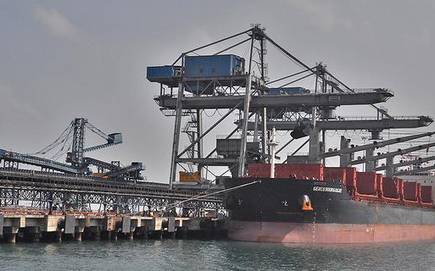 JSW Infra to buy Chettinad Builders for Rs 960 crore
JSW Infrastructure led by Sajjan Jindal will be signing a deal in the coming week to buy Chettinad Builders Pvt Ltd, a Chennai based builder, for nearly Rs 960 crore. This deal will give JSW Infrastructure the control over three bulk cargo handling terminals, namely two with Kamarajar Port and one with the newly developed Mangalore Port Trust. This deal is expected to be funded by Induslnd Bank. 
The cargo terminals that have been acquired include a 10 million tonne (mt) common user handling terminal and a 2 mt multi-cargo terminal based in
Kamarajar Port
. Furthermore, a 10 mt common user coal terminal situated at New Mangalore Port has also been acquired.
A proposal was filed by Chettinad Builders to seek no-objection certificates to sell the stakes in the special purpose vehicles operating the terminals in JSW. The board of Kamarajar Port and the Board of trustees of New Mangalore Port Trust have separately approved the proposals. Furthermore, according to government sources, the Shipping Ministry has also granted mandatory
security clearance
to the Chettinad Builders for the stake sale. 
The acquisition was approved by the board of JSW Infrastructure last month itself; however, JSW hasn't commented on the same. The deal is likely to take the company closer to achieving the goal of building port capacity that can handle 200 mt of cargo by the year 2022. 
At present, several ports that are run by JSW Infrastructure have a capacity of over 100 mt. It includes ports based in Jaigarh and Dharamtar (Maharashtra); Paradip (Odisha) and in Goa. They have handled a combined capacity of 70 mt of cargo in the year 2020. Of this, 90% was the group's captive cargo. JSW Infrastructure intends to have a 50:50 mix of a captive as well as third-party cargo by the end of 2025. 
The three facilities that have been acquired by JSW Infrastructure have a good cargo handling potential along with the presence of steel mills and power stations at close proximity. Additionally, the terminals based in Kamarajar port are outside the scope of the rate regulator for major ports. As for the New Mangalore Port, it operates under a
liberal rate system
. On the contrary, port industry executives believe the three terminals offer "no juice" because of the high percentage of annual revenue that is shared with government-owned ports as per contracts. 
In terms of revenue, the Chettinad International Coal Terminal shares 52.524% of its annual revenue with Kamarajar Port, whereas the Chettinad International Bulk Terminal shares around 36%. The Chettinad Mangalore Coal Terminal grabbed the deal by agreeing to share 31% annually with the New Mangalore Port Trust. Additionally, this deal would be fruitful for JSW Group as they no longer will have to depend on Krishnapatnam Port, which was recently acquired by Adani Ports in October. Due to environmental concerns, the group started to cut down the volume of cargo handled in its terminal in Mormugao Port Trust and started using Krishnapatnam facility. 
Opinion Poll
Question : Which among these would you pick as factors that have a maximum impact on time and cost overruns?