We are in the final stages of mining reforms: Pralhad Joshi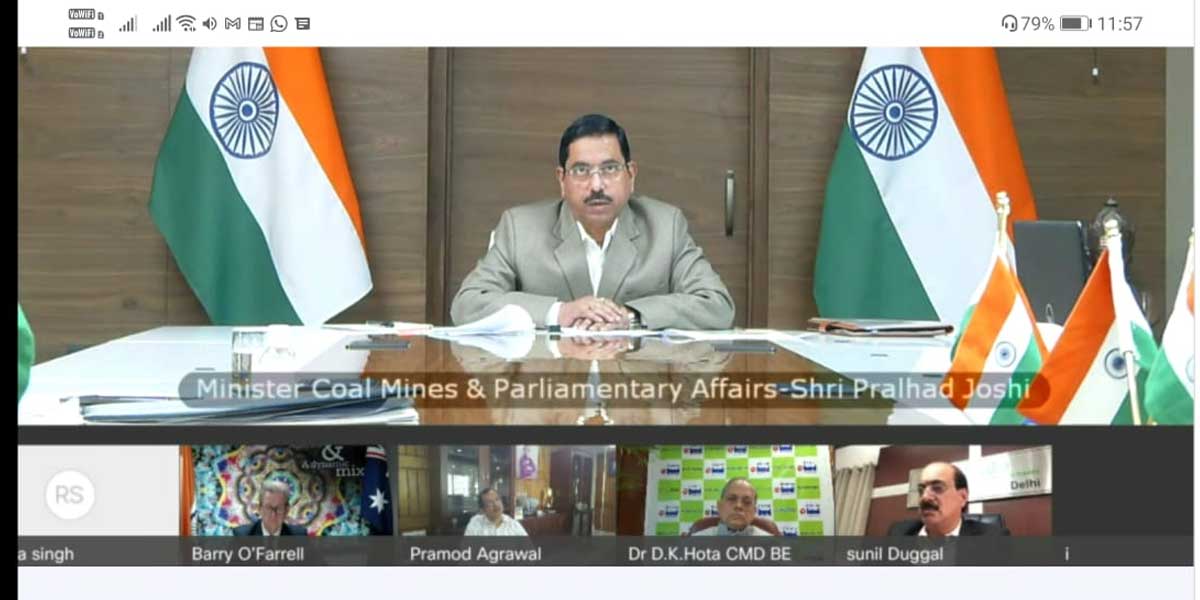 We are in the final stages of mining reforms: Pralhad Joshi
The Union Government is preparing the mining reforms and is in its final stages, according to Pralhad Joshi, Minister of Parliamentary Affairs, Coal and Mining. Speaking at the inaugural session of the Global Mining Summit 2020 (GMS 2020) and International Mining Manufacturing Exhibition 2020, the minister invited suggestions from the stakeholders of the industry for the mining reforms.
"India produces 95 minerals which play a major role in the overall growth of the country," Joshi said. "Coal is of utmost importance as it is used in almost 72% of power generation in the country." He added that opening up of commercial coal mining to private sector will bring in more mechanisation and technology into the sector creating more jobs and better output.
CII is organising IMME 2020 and GMS 2020, the virtual exhibition and conference for the mining sector which is being scheduled between 2 December 2020 to 1 February 2021, on digital platform due to the pandemic situation, which otherwise used to happen in Kolkata. The virtual exhibition is happening with 135 companies confirmed including four international country pavilions from Australia (40), Germany (17), UK (6) and Czech Republic (6).
Key personalities from the Indian mining industry and the officials from partner countries attended the inaugural session and addressed the meeting. Chandrajit Banerjee, Director General, Confederation of Indian Industry in his welcome remarks said that mining industry is critical to achieve the country's target of becoming a $5 trillion economy. Sunil Duggal, Chairman, CII National Committee on Mining and Group Chief Executive Officer, Vedanta, stressed on the need to revitalising the minerals and metals industry. He said that modern technologies have reduced the environmental impact in mining and it is time to perform responsible mining using new technologies.
Dr D K Hota, Chairman-cum-Managing Director, BEML, speaking on the occasion, said that Covid-19 is an opportunity to us for a relook at our activities. Pramod Agrawal, Chairman-cum-Managing-Director, Coal India, said that CIL produces 83 per cent of the country's total coal output and is on the path to achieve the 1 billion tonne target by 2023-24 with the help of technology utilisation. Barry O'Farrell AO, Australian High Commissioner to India, also spoke on the occasion stressing on the important strategic partnership between Australia and India in mining. The inaugural session was concluded with Mehul Mohanka, Chairman, CII Mining & Construction Equipment Division, and Managing Director & Group CEO, Tega Industries, delivering vote of thanks.
The Global Mining Virtual Summit is being held on December 2-4. The theme for this year's Global Mining Summit 2020 is 'Revitalising Natural Resources to Achieve 5-trillion economy'. The virtual IMME 2020 will be on till 1 February 2021.
Also read: Global mining outlook "stable"
Also read: We are positive about the mining sector in 2021 (video interview)
Opinion Poll
Question : As the construction industry shows signs of recovery, what do you see as a possible issue in short-term growth?