ReNew commissions 110 MW solar project in Rajasthan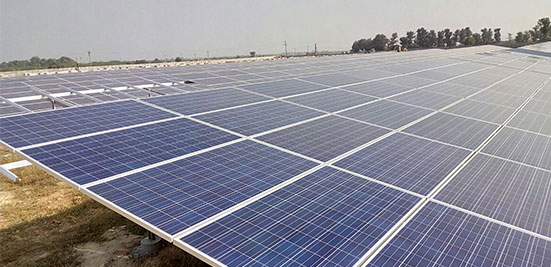 ReNew commissions 110 MW solar project in Rajasthan
Apr 09 2021,12:04 PM CW Team
Renewable energy firm ReNew Power has commissioned a 110 MW solar generation facility in Jaisalmer, Rajasthan.
As a part of the project, the ReNew has signed a power purchase agreement (PPA) with Solar Energy Corporation of India (SECI) at a tariff of Rs 2.49 per kWh and will provide clean energy to the state.
The solar project in Jaisalmer is a part of an eventual 2,300 MW of solar capacity that ReNew is bringing in Rajasthan, the company told the media. The balance of the 2300 MW capacity will generate electricity to be fed into the national grid, helping India achieve the target of 450 GW clean energy by 2030.
In March, ReNew Power had announced the commissioning of a 300 MW wind power generation facility in Gujarat. The project was previously awarded to ReNew's operating subsidiary ReNew Wind Energy (AP2) Private Ltd in a competitive e-reverse auction conducted by SECI.
The 300 MW project, located in Gujarat's Kutch District, will provide clean power to Haryana and Orissa at a wholesale rate of Rs 2.44 per unit, a lower rate than that of power generated through conventional thermal power plants in the region. With this commissioning, the firm cemented its position as the leader in the renewable energy sector in the state of Gujarat, with a commissioned wind generation capacity of 950 MW.
ReNew Power already has 10 commissioned utility-scale solar projects in Rajasthan—Badisid (20 MW), Lexicon (10 MW), Symphony (10MW), Star Solar (5 MW), Sun Gold (5 MW), Bhadla (50 MW), Kanasar (20 MW), Khetusar (20 MW), Pokhran (50 MW) and the largest in Bikaner with 250 MW capacity.
With this commissioning of the Jaisalmer facility, ReNew's total solar capacity in Rajasthan is now at 550 MW.
---
Also read: ReNew Power raises $585 mn through dollar green bonds
Opinion Poll
Question : How can India stem inflationary trends likely from the currently all-time-high steel prices?