Clutter is anti-thesis of minimal aesthetics, Essentia Environments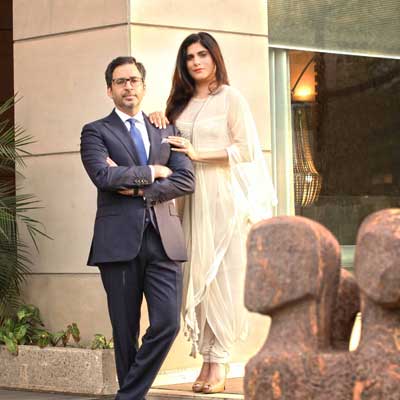 Clutter is anti-thesis of minimal aesthetics, Essentia Environments
20 Oct 2021 CW Team
An embodiment of global refinement and indigenous design, Essential Environments reflects a sense of contemporary and classic designs. Founded in 1999, the founders have been carrying out the business of design and executing turnkey projects. They believe that beauty should not be a luxury and thus, they create aesthetic dream spaces for their clients.
CW DesignBuild speaks to Monica Chawla and Hardesh Chawla about their vision, clutter free spaces and much more.
What is your vision for Essentia Environments?
We founded Essentia Environments at a time when turn-key end-to-end solutions were a new concept in India. And with sheer hardwork and passion, we have built it into a firm that has completed over 1,000 projects all around the world. Our vision is to offer practical and functional spaces that also impress with a unique style and aesthetics, without making the client break his bank. With our unique manufacturing capability with three state-of-the-art facilities – two in Manesar and one of the largest in the country in Gurgaon – we are in complete charge of the quality and aethetics of the projects. The bespoke products manufactured include furniture, wardrobes, vanities, doors, panelings, kitchens, and all kinds of glass and metal fabrications. Our diverse range of products is also available for customization by architects and interior designers.
What are the key changes you have observed in the design industry over the last decade? How has design evolved?
Today, people are particular about getting their home interiors designed by professionals, so there is a spurt of design firms offering various services. People are well travelled and have good exposure to design from around the world, their sensibilities have refined. So today design has evolved to cater to the unique needs of informed clients. We see a lot of global influence in design. But, at the same time, aesthetics need to be coupled with functionality and refinement. It is not enough to create beautiful spaces, they need to make practical sense in the Indian context.
Tell us more about the importance of 'Clutter Free' spaces in your design?
With our "essential design" philosophy, we aim to keep our spaces minimal, seamless, furnished with the most essential articles that bring utmost comfort. Clutter is the anti-thesis of minimal aesthetics, as it causes visual distraction and messiness in the mind. So, we ensure clutter-free spaces by sticking to the most essential elements of design.
What is the most innovative and most exciting project you have worked on till date?
All our projects are exciting as we use innovative design elements and solutions. We approach every project with the same enthusiasm and creativity, irrespective of its size or budget. Having said that, if a project offers scope for new inventive concepts, then that is an added bonus.
Take us through your process of designing spaces from concept to execution.
Once the budget is fixed and the design plan is finalised, we start onsite contracting. Parallely, we get all fabrications and manufacturing going on at out factory, so that everything can be combined and fitted at the right time.
Tell us more about the use of latest technology softwares in your projects and how have they aided your work?
Today, we have come to rely a lot more on distant communication means with clients and vendors, since we can't meet them often. So, we share the complete look of the projects digitally with the client so that they are in consonance with the design plan and the materials used. 3D imaging and videos help us share the complete look with our clients. It's like a virual tour they receive, which is as good as real.
Tell us about the projects you are working on currently. How do you approach design to accommodate aesthetic and functionality in commercial projects?
We are working on multiple projects – apartments, villas, bungalows, and commercial projects. Whatever the nature of the project, the aesthetic will be defined by the function of the space and what the client wants. Aesthetics and functionality are the very foundation of our projects irrespective of their nature.
How would you define your style of design? How do you ensure that your projects bear your signature?
Our style is about minimalism, yet a bold look. We create practical spaces that age well, and evolve to become better years after handover. Large windows and open spaces and interactive volumes within a property are the hallmark of our projects.
Our aim is to design keeping the client in mind, his lifestyle, aspirations are important clues to the concept. We ensure that the interiors reflect the client's personality. Since our clients come to us because they love our style, we interpret our style to cater to their unique needs. It is never about imposing our signature style on the client.
How do you approach design to accommodate aesthetic and functionality in commercial projects?
Depending on the unique requirement of the commercial establishment, the selection of materials, colour palette and introduction of greenery into the design evolve. Keeping function in mind, we bring in aesthetics to create lively and inspiring environments that are light on the eyes and mind, and enable self-motivation and productivity.
How do you incorporate sustainability in your work?
Sustainability comes from following globally accepted ethical practices, and being responsible towards the resources and ecology, which are in-built into our systems. By using the latest and efficient electrical systems and smart home solutions that help in optimal use of precious natural resources, we ensure that the projects stay eco-friendly. A smart space layout that ensures lots of natural light and ventilation into the home is the backbone of our projects.
Tell us about the projects you are working on currently.
We are currently working on multiple residential and commercial projects, multiple apartments at Camellias, Aralias and Magnolias in Gurgaon. Farm houses in Delhi and large standalone houses all across India. We also do commercial spaces comprising offices, lobbies, club houses etc. We have live projects in NCR, Uttar Pradesh, Madhya Pradesh, Chatisgarh, Punjab, West Bengal, Maharashtra, Himachal, Karnataka, Hyderabad, and UAE. Currently I believe we have over 100 live projects across India and abroad.
As experienced professionals from the field of architecture, how would you advise youngsters to approach architecture as a profession?
Hard work, passion, creativity and ability to think out of the box are a must for young architects wanting to make a mark in their field. A constant pursuit of excellence coupled with good communication skills to get the client on board with their ideas will go a long way in achieving success.
Also read:
https://www.constructionworld.in/latest-construction-news/real-estate-news/interiors/our-design-philosophy-is-to-create-the-reflection-of-our-end-user/30405
https://www.constructionworld.in/latest-construction-news/real-estate-news/interiors/creating-timeless-ambiences-/29143