Statement dining room by Azure Interiors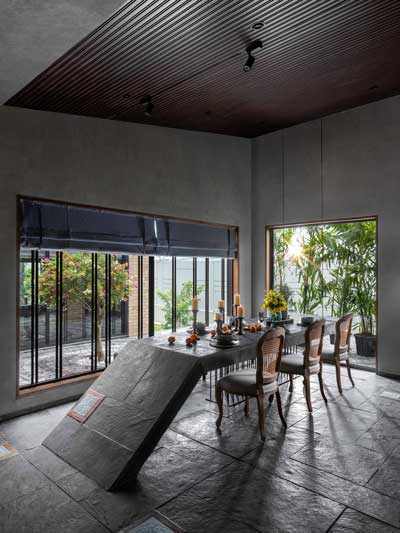 Statement dining room by Azure Interiors
03 Mar 2022 CW Team
The dining room of a farmhouse in the hinterland of Raipur, is an absolute art designed to complement with its rustic habitat. The room gives a raw look with its dark earthy tones and the natural light coming from it. The striking highlight of the dining room is its uniquely sculpted stone-top waterfall dining table. This stone-top cascading towards the floor is given a vision of a riverbed which is elevated at 30 degrees from the floor.
Picture dump

The earthy dining table has shown an implication of vintage styled cane-back chairs, retro wooden pillar single candle holders, and even narrow wine glasses. Such additions do create an antique vibe with a modern twist in a room.
The luxurious blue transparent flower vase looks chic with bright colored flowers giving a fresh look in the dark dining area.
The whole set up of the kitchen and dining area in the mood of grey is a simple look yet so boldly stylish. This hanging table as seen is made of the same stone used for flooring creating a harmonious look. One side of the dining table has chair seating with a sofa seating on the opposite side while giving it a contemporary look. The exemplary dining is set in a perfect space filled with proper sunlight falling over it.
The antique cutlery materials add a delightful naturalness to the stone-top unique dining table. And everything is looking so raw and unfiltered yet so perfect. It's rightly said, some-times all you need is one out-of-the box idea to elevate a space.
Also Read:
https://www.constructionworld.in/latest-construction-news/real-estate-news/interiors/mood-lifting-luxury-recreation-areas-by-design-deconstruct-/32558
https://www.constructionworld.in/latest-construction-news/real-estate-news/interiors/exclusive-luxury-bathrooms-by-design-atelier-/32769

Opinion Poll
Question : what is your impression of work in the construction industry?