These Newest Arrivals Will Spruce Up Your Home Decor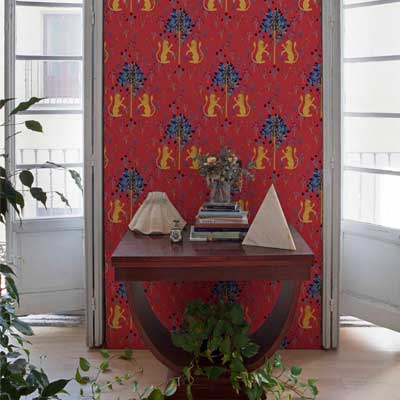 These Newest Arrivals Will Spruce Up Your Home Decor
14 Oct 2021 CW Team
Festive Wallpapers by Nirmals Furnishings
Nirmals Furnishings, one of India's best home décor businesses, is recognised for its customised home furnishings. They only sell vivid wallpapers from the renowned Spanish company Coordonné in India, which will fill your house with joyful enthusiasm and colours.
Coordonné, located in Barcelona, has over 40 years of experience in the design of high-end wall covering and fabric collections. Nirmals has just released new wallpapers from Coordonné's 40th Anniversary Collection, which honours design, art, and innovation, as well as the Maximalism Collection.
The 40th Anniversary Collection features 40 distinct designs by 40 prominent designers, giving the present interior design landscape a fresh appearance and energy. Medieval Tapestry Deep Coral by Brianda Fitz-James Stuart [Image 1]: Part of the celebratory 40th Anniversary Collection, this wallpaper instantly enlivens the mood of the room with its deep shades and invigorating motifs.
Medieval Tapestry Pure White by Brianda Fitz-James Stuart: A pure white the background comes alive with rich motifs in blue and yellow, lending an elegant vibe.
Natural Habitat Green by Jayde Fish: Luxuriant patterns fill the life-affirming green canvas with exuberance and joyfulness. Part of the 40th Anniversary Collection, this wallpaper evokes celebration every single day.
Natural Habitat Terra by Jayde Fish: Rich earthen palette introduces the warmth and bountifulness of nature into your homes with this wallpaper, courtesy the 40th Anniversary Collection.
Serpientes Y Flores Dark by Mercedes Bellido : Showcasing vibrant imagery from wildlife, this wallpaper from the 40th Anniversary Collection abounds in botanical features and serpents.
Jeu – Eclipse: A bright juxtaposition of motifs creates a striking visual in this wallpaper from the Maximalism collection.
Porcelaine: Marine: An array of intricately decorated vases of diverse shapes and styles form the base of this wallpaper from Maximalism collection, bringing a touch of exotica to your environment.
Electric Marble Collection by Sicis