These Sustainable And Luxurious Items Are A Must-Have This Season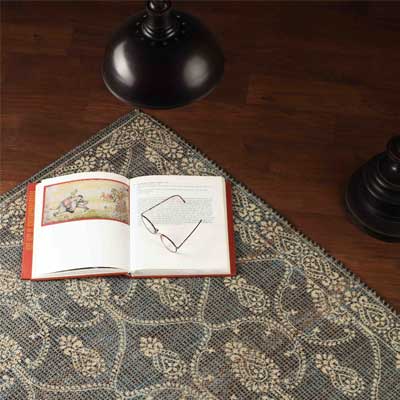 These Sustainable And Luxurious Items Are A Must-Have This Season
07 Oct 2021 CW Team
Eco-Happy From House Of Badnore
House of Badnore, a company recognised for its exquisite selection of furniture, jewellery, home furnishings, and apparels, has joined the much-lauded sustainability bandwagon. The Eco-Happy Collection is a line of environmentally conscious accessories made from carefully chosen materials that cause the least amount of harm to the earth and environment.
Aravalli Rugs are now available as part of House of Badnore's sustainable Eco-Happy line. A collection of handwoven, sumptuous, eco-friendly, and weather-resistant carpets with designs influenced by the past yet updated to fit the current day. These carpets are woven with jute and recycled PET bottles and are intricately crafted and printed with vintage inspired designs.
Aside from the Aravalli rugs, the Eco-Happy Collection also includes Vegan leather table mats, coasters, and photo frames (with metal accents) as well as pure silver straws to reduce waste while displaying a classy personal style statement.
Spalet by American Standard
The Spalet is a new product from American Standard, a subsidiary of the LIXIL Group and one of the most recognisable international sanitaryware companies. Beautifully constructed shower toilets like the Aerozen and Acacia E, as well as electronic bidet seats with soothing spa-like features, are all part of the American Standard spalet line, which provides everyday comfort and improved personal hygiene right in your own home.
The Dual Nozzle, which has separate front and back cleansing nozzles, is one of the sanitary characteristics of the American Standard spalet. Posterior Cleansing is a strong, direct spray that thoroughly cleanses the skin. A smooth flow of warm aerated water delivers a relaxing shower that is mild enough for a woman's delicate regions with Feminine Air Bubble Soft Cleansing. After that, there's the deodorizer, which kicks in as soon as the user takes a seat. Antibacterial protection is also included, which includes the usage of antibacterial resin on the seat.
Siphonmax is a dynamic vacuum system that employs side water jets to generate a strong swirl and a bottom jet to remove heavy and light trash entirely. Self-Cleaning Nozzles advantage nozzle tips that are cleaned with water before and after each usage. A nozzle shutter prevents waste materials from reaching the nozzle tips, resulting in improved cleanliness. The Auto Drain System replaces wasted water in the boiler after 72 hours to avoid bacterial development.
For added comfort, the spalet features a Fast Heating System that offers instant and continuous warm water as well as a heated seat with temperature control. It also features a Massage spray that alternates between powerful and soft sprays to provide a soothing massage. The dryer's temperature may be readily adjusted for maximum comfort. The computer remembers the settings, so the prior user's preferences are preserved.
The Quick-Detach Seat Cover design makes it easy to remove the seat cover for cleaning hard-to-reach locations. It also includes an Auto seat and flush, which is a sensor that detects your presence and automatically opens (and closes) the lid and flushes; this feature decides the flush type based on the length of time spent on the shower toilet. The Remote Control makes it simple to operate all bidet operations with a convenient remote control.
By blending outstanding design with breakthrough technology, American Standard continues to create stunning bathroom items that fit a wide range of lifestyles and personalities. American Standard delivers complete relaxation and maximum utility while being relevant to today's and future generations' requirements.
Archer Collection by Sources Unlimited
Sources Unlimited, a pioneer in introducing high-end international furniture, accessories, and lighting solutions to the Indian market, has introduced the Archer Collection, a new range of hand-knotted rugs by cc-tapis, an Italian company that creates contemporary hand-knotted rugs in Nepal by expert Tibetan artisans. For cc-tapis, Iranian artist Taher Asad- Bakhtiari has created a new line of hand-knotted carpets called the Archer Collection. Arrows and their strength have long captivated Asad-Bakhtiari. The Archer Collection consists of seven distinct designs in which the artist investigates semiotics and cultural symbols, resulting in seven distinct designs whose meaning is presented via a combination of natural materials and artisanal craftsmanship.
Desire, current events, his Persian ancestry, and religious symbols are all used by the self-taught artist. This is the first time cc-tapis has concentrated a collection on a single rug type: the runner. The Archer Collection is a collection that may be utilised in any environment, including hallways, staircases, and small areas. Using Himalayan wool, pure silk, lurex, and mohair, the line is fully hand-knotted at the cc-tapis Atelier in Nepal.
Sustainable Gift Hampers by Ellementry
With its finely produced items, lifestyle home décor business Ellementry has made an amazing impact in a short time. Ellementry is a refined style of life that celebrates modest luxury through elegant and sustainable designs. For the holiday season, they've released a collection of stunning gift hampers.
The holiday season has here, and one way to show our loved ones how much we care about them is to buy them things that they like and respect. When it comes to expressing affection, giving is a fantastic way to do it. With your generosity, you demonstrate your love and respect for the other person.
Ellementry has created thoughtful gifting options, such as multi-functional gift hampers. The following are some of them:
Metal baskets: These metal and marble baskets will give your giving a boost. These wires baskets are light and simple to move around. Fill these baskets with a variety of thoughtful items such as natural soy wax candles, glass bottles, Masai coffee cups, metal teapots, table napkin sets, or kitchen linens. Try to be as inventive as possible.
Wooden Baskets: The onyx hardwood basket by Ellementry is perfect for putting together a gift basket. It's large enough to hold a metal teapot, tea and coffee mugs, candles, and other items. It may later be used as a centrepiece to exhibit fruit and to keep everything organised on the dinner table. Ellementry, like these hampers, provides a variety of goods to construct bespoke hampers, including wooden and metal trays, large fruit and salad bowls, and more. All of these items are created from environmentally friendly materials, and your loved ones will like these gift baskets since everything in them is both beautiful and functional. These hampers can later be used to arrange items around the house.
Charming Diwali Gift Options by The House of Things
The House of Things is a one-of-a-kind curated online platform for premium home items discovery and shopping. They've put together a list of lovely and considerate Diwali gift ideas that will relieve you of the burden of deciding what to get your friends and family. The varied assortment of gift items and hampers provides a fascinating choice of options.
When it comes to Diwali, everyone wants to give presents that make the recipient say, "Wow!" right away. That's exactly what this set of presents from The House of Things does.
They are made of high-quality materials and have the best imagination and execution, resulting in breathtakingly attractive additions to any house. These tabletop accents will undoubtedly become cherished mementos.
The gift pieces range from agate platters and napkin holders to attractive nut jars, glittering nickel snack trays, and stunning cake / nibbles stands in exotic marble, all of which have a subtle beauty and function. They make for luxurious gifts when combined with sweet snacks and seasonal products in hampers, adding to the festive spirit.
Also read:
https://www.constructionworld.in/latest-construction-news/real-estate-news/interiors/this-festive-season-embellish-your-houses-with-these-new-arrivals/30189
https://www.constructionworld.in/latest-construction-news/real-estate-news/interiors/elevate-your-home-with-soft-furnishings/29970