These Opulent Launches Will Adorn Your Space With Panache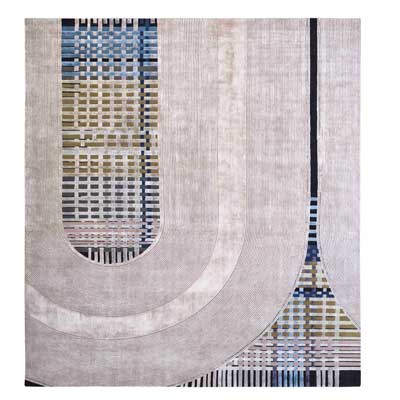 These Opulent Launches Will Adorn Your Space With Panache
13 Jan 2022 CW Team
Elegant Urbane II Collection of Carpets by Hands
Hands Carpets, known for handcrafted luxury carpets and rugs that have graced some of the world's most prestigious palaces, hotels, institutions, and residences, has introduced the Urbane II collection of carpets, a collection of hand knotted and hand tufted carpets inspired by the dynamism and scale of urban architecture. The series delves at the impact of contemporary design on today's modern metropolitan culture. The designs are based on the real buildings that they were inspired by. It follows the same size, shape, and form principles that architects use in their structures. These carpets infuse classic design environments with sophisticated urban sensibilities. The Urbane II collection consists of carpets that emphasise urban living and have new designs that focus on building structures, shapes, and forms. The Trestle, Irina, Colure, Lleno, Puro, and Gran rugs are among the collection's highlights.
Trestle: Many artworks and projects have been inspired by the characteristic design of arches in the structures. The carpet pattern is based on the Empire State Building, an unrivalled architectural marvel that has redefined urbanisation.
Irina: Inspired by the Ouse Valley Viaduct, the carpet strikes a blend of history, legacy, and contemporary. This Viaduct, which is notable for its elaborate design and semi-circle configuration, showcases a more historic side of urban architecture.
Colure: The coexistence of abstract behaviour with urbanisation is exemplified by graffiti on a city wall. The graphic explosion that the carpet is producing is the inspiration for the design. It represents independence, individualism, and a persistent endeavour to fit in with the surroundings.
Gran: Angles, lines, triangles, squares, and rectangles all merge together in a pleasing manner. The carpet was inspired by the Portuguese railway station of Sao Bento. The design alludes to a railway track and the intersection of many pathways.
Lleno: For architecture, design, art, and culture, La Rinascente has been a landmark. The idea for this carpet is the landmark building's modern architectural design. The expressive design language has flipped traditional architectural landscapes on their heads, embracing the city's linear pattern of traffic axes and squares. Puro [Image 6]: The "Memorial Hall of Israel's Fallen" site's structure forces us to reconsider the role of art and symbolism in architecture. The undulating funnel-like shape is mirrored in the carpet's design. The design evokes a sense of enclosure and serenity, which is desperately required in this day of urbanisation.
Horo Collection of Lights by Sources Unlimited


Sources Unlimited, a pioneer in bringing high-end foreign furniture, accessories, and lighting solutions to the Indian market, has launched a new lighting collection called Horo by Masiero, a well-known luxury Italian brand.
Masiero is an internationally renowned and selected Italian narrative of love, elegance, heritage, and achievement in the art of lighting. The narrative of a family B2B firm founded in 1981 just a few kilometres from Venice under the name Emme Pi Light, which was replaced in 2005 by the founder's son, Enrico Maria Masiero, when he joined the company.
The Masiero brand is distinguished by its exclusive Made-in-Italy manufacture, high-quality materials, technical and sartorial competence, and technological innovation.
Each product begins its life in the Masiero factory, where a specialised production chain covers the entire cycle, from raw material processing to forging individual unfinished pieces, painting to assembly, and artistic finishing in the expert hands of the decorators to electrical testing, packing, and dispatch. Masiero collaborates with internationally renowned designers who, in partnership with the brand and in-house R&D department, interpret the Masiero aesthetic to produce bright pieces of art.
The Horo Collection is inspired by the sun, one of the universe's oldest components, and is simple and fundamental. The series includes a wall lamp, a floor lamp, a table lamp, and a suspension light, all designed by Pierre Gonalons for Masiero. A metal framework, a prism glass diffuser, and LED illumination characterise each stunning light. The eye-catching Horo Collection transforms every environment by setting the tone and elevating the ambience. It adds a personal touch to the area and quickly gives it a distinct personality. This striking lighting elicits sentiments, provokes emotions, and oozes individuality.
designers who, in collaboration with the Masiero brand and in-house R&D, interpret the Masiero style to produce bright works of art
'Pure Glam' Kitchen by Atelier Cucine
Ottimo, a design firm specialising in Indo-Italian furniture and interiors, has brought Aster Cucine's 'Pure Glam' kitchen range to India. It has an essential design that oozes glamour with its simplicity and timelessness, as the name indicates.
This is a kitchen with a pure character that hasn't been tainted by a jumble of styles or a complicated design.
It's straightforward and straightforward, and it appeals to your soul. There are no vibrant colours or opulent finishes to be found. The clear lines, curves, and geometries, on the other hand, quickly strike a chord.
There are no handles on the wooden kitchen island. Its precisely modular components have ground-level entrances, which add to the modest basic aesthetic. The additional cabin might serve as a pantry or as appliance storage.
The quality materials, as well as their lovely textures and finishes, are blended to create a relaxing atmosphere. Cabinets with tiny veneered slats and lacquered cusp doors go together beautifully. Contemporary glamour is achieved via the use of exquisite materials and precise shape.
Exquisite Coffee Tables by Inhabit
Neeta Kumar, furniture and interior designer, and Founder of Inhabit, has carved out her own niche in the interior design field with her acute anti-minimal and fiercely innovative approach to design. She just debuted a unique collection of coffee tables. Every piece is expertly created from rich materials and has unique design. The collection includes a variety of coffee tables that include the brand's signature high-quality craftsmanship. With these unique yet useful coffee tables that have sophisticated patterns and are constructed of luxury materials, you can add pzazz to dreary nooks or give that prim sofa a wacky companion.
The line features a stunning visual appeal that is also useful. These classic pieces are also appropriate for the holiday season, because they represent a spirit rather than a specific design style. This furniture collection is effortlessly beautiful, and it exemplifies Inhabit's commitment to creating furniture that is ecologically friendly.
Furniture items by Inhabit are designed to appeal to a polished and sophisticated customer. The brand's goods combine the best of craftsmanship with stunning design, making them ideal for modern Indian households.
Mugs Collection by Kaunteya
Kaunteya, a luxury dinnerware manufacturer, has released a series of attractive mugs that add a rich creative touch to your tea time and make it more memorable. Tea time, or coffee time, as the case may be, will never be the same!
The Kaunteya collections are a sweeping and nuanced celebration of Indian culture, mythology, and legacy. And these mugs are just that — a fusion of art, artistry, timeless storytelling, and refinement, all capped off with flawless functionality.
The mugs in one set are decorated in the Pichwai tradition of storytelling via art. The other pays homage to Mysore's world-renowned Dasara festivities. Another displays a magnificent Indian wedding employing Rajasthan's Phad art technique. Not to mention the Jyamiti collection's exquisite geometric play.
Whatever the topic, the brilliantly painted images draw attention to the superb design and meticulous attention to detail, elevating the mugs to a work of art. They're in a league of their own thanks to the 24k gold touch.