Luxury properties secure big ticket deals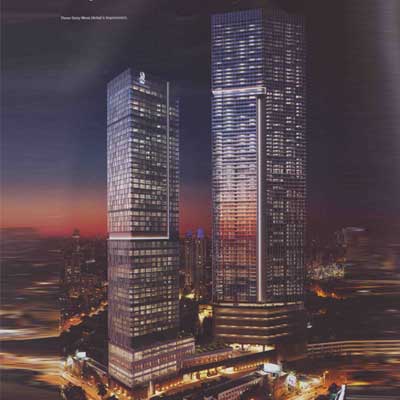 Luxury properties secure big ticket deals
03 May 2021 CW Team
Over the past few decades, the concept of luxury has become an integral part of the Indian landscape.
"We see a growing demand for luxury homes across the country post the first wave of the pandemic. WFH has in fact been instrumental for people now looking at moving into larger and more luxurious spaces," says Shreyans Shah, Managing Director, MJ Shah Group. According to him, while the pandemic may have impacted the real estate market, but the aspiration with which people are turning to luxury homes is quite unprecedented. "What the sector is witnessing at present is the demand to upgrade homes – property with better quality, convenience and facilities."
The luxury housing market has caught the fancy of the upper middle income group as well. Also, with COVID impacting the stock market, HNIs are investing in luxury property as they believe it to be a safer investment option.
In fact, luxury housing markets performed better than expected in 2020, with 66 of the 100 markets featured in Knight Frank's Prime International Residential Index (PIRI 100) recording annual price growth of 2 per cent. PIRI 100 tracks the movements in luxury residential prices across the world's top residential markets.
Globally, Delhi ranked 72nd in terms of luxury residential prices which remained marginally lower at -0.1 per cent YoY in 2020. Mumbai (ranked 77th) and Bengaluru (ranked 79th) registered a decline of 1.5 per cent and 2.0 per cent YoY respectively in prime residential prices.
"The luxury residential sales saw an exponential surge in Mumbai in Q4 2020 and the demand outlook for 2021 remains resilient," says Shishir Baijal, Chairman & Managing Director, Knight Frank India. "The current market price offers a premium value to make a luxury residential asset purchase in Indian cities for both domestic and global wealthy individuals."
Area (in sq m) purchasable for US$1 mn over the last 5 years for Delhi, Mumbai and Bengaluru:
| | | | | | |
| --- | --- | --- | --- | --- | --- |
| Cities | 2016 | 2017 | 2018 | 2019 | 2020 |
| Mumbai | 99 | 92 | 100 | 102 | 106 |
| Delhi | 195 | 188 | 202 | 197 | 202 |
| Bengaluru | 323 | 311 | 336 | 336 | 351 |
Source: Knight Frank Research
Bigwigs on a home-buying spree
Luxury apartments have now become a fashionable address and statement for the rich and the aspiring upper-middle income group.
From a global perspective, India is expected to record the second-highest five-year growth in Ultra High Net Worth Individuals (US$ 30 million +) by 2025, says Knight Frank's Wealth Report 2021. Further, India's billionaire count is expected to increase from 113 in 2020 to 162 by 2025. Notably, Mumbai (920), Delhi (375) and Bengaluru (238) have a high concentration of UHNWIs in the country.
A number of big names have recently invested in luxury property taking advantage of the stamp duty reduction in Maharashtra.
For instance:

DMart founder Radhakishan Damani has bought a bungalow in South Mumbai's Malabar Hill for a whopping Rs 1,001 crore, in what is known to be one of the most expensive real estate transactions in India's residential realty market. The property, Madhukunj, is a two-storey bungalow measuring 61,916.3 square feet.
The Motilal Oswal Family Trust bought two duplex apartments located in 33 South Condominium at Peddar Road for Rs 101 crore.
Gautam Daftary, Chairman of Bharat Serum & Vaccines' bought two sea-facing apartments on South Mumbai's Carmichael Road, spread across 6,366 sq ft, for Rs 101 crore.
Hrithik Roshan recentky bought two sea-facing apartments worth Rs 100 crore on the Juhu-Versova Link in Mumbai. Spread across 38,000 sq ft, the apartments are on the 14th, 15th and 16th floors. The house reportedly has a 6,500 sq ft terrace, 10 parking spots, a private elevator, among other amenities.
Anurag Jain, Managing Director of Endurance Technologies, and also the nephew of Bajaj Auto's Chairman Rahul Bajaj, bought two apartments, spread across 6,370 sq ft, in Carmichael Residences at Altamount Road-Carmichael Road for Rs 100 crore.

Amit Mahendra Mehta, Chairman of Diamines & Chemicals, has bought four apartments in Artesia, a project launched by K Raheja Corp in Worli, Mumbai,for Rs 80 crore – a unit with carpet area of 3,875 sq ft for Rs 22.5 crore; a unit with area of 3,064 sq ft for Rs 17.8 crore; another one with an area of 3,875 sq ft for Rs 22.5 crore; and another with an area of 3064 sq ft for Rs 17.8 crore.
Smita D Parekh, the wife of HDFC Chairman Deepak Parekh, has bought a property in the same project – Raheja Artesia, for Rs 50 crore. The project offers views of the Arabian Sea and the Bandra-Worli Sea Link.
Daughter and wife of former HDFC Bank chairman Aditya Puri, actress Amrita Puri and Anita Puri, in December last year, jointly bought a sea-facing luxury apartment at Lodha Seamont at Malabar Hill in Mumbai for Rs 50 crore.
Keki Mistry, HDFC's Vice Chairman and CEO, in December last year, bought an ultra-luxury sea-facing apartment in the Artesia project in Worli, worth Rs 41.23 crore. Spread across 7,390 sq ft, it is located on the 35th floor.
A Rs 54-crore worth property in the Runwal – The Residences project in Malabar Hill was also registered a few months ago. The size of the unit is 442.25 sq m.
360 view also saw the registration of another property worth Rs 50.5 crore in September last year. The size of the unit is 730.02 sq m.
A 7,595.3 sq ft property worth Rs 45 crore was also registered in September last year for the Indiabulls Blu project in Worli.
Another property in the same project – 360 West – was registered in September last year for Rs 42.5 crore. The size of the property is 699.56 sq m.
Similarly, a property worth Rs 39 crore, located in Carmichael Residences by Peninsula Land in Tardeo was registered on October 9. The unit measures 3,185.68 sq ft.
Recently, Jhanvi Kapoor bought a triplex house worth Rs 39 crore in Juhu Vile Parle Scheme. The house spreads across 4,144 sq ft and is located on the 14th, 15th and 16th floors.
Lawyer Cyril Shroff and his daughter Paridhi Karan Adani, who is the daughter-in-law of business tycoon Gautam Adani, have bought an uber luxury sea-view apartment in Worli, Mumbai, for Rs 36.3 crore. The unit, located in 360 West by Oberoi Realty, is spread across 583.53 sq m.
Bollywood actress Alia Bhatt too bought a 2,460 sq ft apartment in Bandra's Pali Hill Vastu building for Rs 32 crore.

Besides these, according to reports, deals of more than Rs 100 crore are expected from time to time.
And, as per Knight Frank's upcoming Wealth Report 2021, 19 per cent of India's ultra-wealthy are considering buying a home in 2021.
- SERAPHINA D'SOUZA