Auto Scrappage Policy soon: Will CV market dynamics change?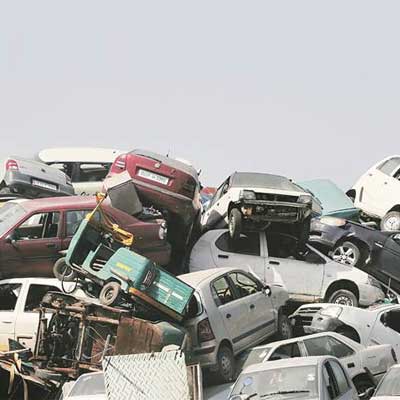 Auto Scrappage Policy soon: Will CV market dynamics change?
22 Sep 2020 Editorial Team
Photo courtesy: The Indian Express
It has been a rocky ride along the ruts for the imminent Auto Scrappage Policy that has been in the making for the past few years. The shrinking of the last quarter GDP by 23.9 per cent and the burping of sales in the automobile sector during COVID climes has prompted a quick rejig with the policy, with its clearly delineated nature and scope, now set to unveil by October or sooner, according to Nitin Gadkari, Union Minister of Micro Small and Medium Enterprises, and Road Transport and Highways.
The decoder
The
Auto Scrappage Policy
 is expected to oust polluting vehicles that are 15 years old from the roads – a move that would cover both private and commercial vehicles, including two wheelers and three wheelers. The policy is scheduled to emerge as a pivotal growth driver, while reducing import dependency by recycling scrap for metals like steel, copper and aluminium. A new market, with newer players, and even more new employment opportunities yet with truckloads of issues to deal with: Consumer incentives need to be shaped up as palatable for all players, including cost economics for the truck owners in rural areas to maximise on the nature and scope of the policy.
With margins per vehicle ranging from 3-9 per cent across segments, the auto industry has been unwilling to offer more than 1 percent incentive on scrappage, having borne most of the price hike for Bharat Stage-VI emission standards for all vehicles pan-India. While the policy is highly awaited, the moot point is:Who is going to bear the cost of compensation? A similar Cash for Clunkers move in the US during the 2008-09 slump brought over 70,000 vehicles to the junkyard with a burden of US$ 3 billion on the taxpayer, according to a report by Fox News.
The way forward
Says
Veejay Nakra, CEO-Automotive Division, Mahindra & Mahindra,
"As the Scrappage Policy was under discussion with several stakeholders, aligning and working out a win-win formula has been a challenging task. There are multiple segments including personal and commercial vehicle segments with varied cost of ownership structures. The Indian auto industry has submitted its views to the government on arriving at a formula of what should be the value of benefit to the customer at the time of scrappage. This should be calculated as a percentage of ex-showroom prices to be contributed jointly between the government and OE. The incremental sales of new vehicles will have a positive impact on the entire value chain and is likely to increase employment opportunities in the allied industries."
The market dynamics have witnessed a radical change with low freight availability, making plying trucks a relatively unviable business. It will be a tough call, especially for financially challenged truck owners to buy a relatively younger truck, using their trader certificate they obtained on relinquishing their existing truck to the junkyard. Whether banks will tend further loans to facilitate this purchase is another challenge. More so, are we equipped on domestic turf to deal with the technicalities of recycling the scrap and re-engaging for low tech components in vehicle machinery? The development of recycling clusters forms an important part of the growth driver that is expected to wheel out over 28 million vehicles from the roads into scrappage. This would open up business opportunities to the tune of US$ 6 billion, according to a study conducted by HDFC Bank. "Mahindra Accelo (previously known as 'Mahindra Intertrade') and MSTC (a Government of India Enterprise) have joined hands and established Cero, India's first government-authorised vehicle recycling initiative that aims to reduce environmental footprint through its eco-friendly practices of recycling scrap vehicles," shares Nakra. "Recycling of old vehicles will clean the air, make our roads safer and conserve natural resources which go into making steel. Currently, Cero has set up two world class facilities at Greater Noida and Chennai, and has aggressive plans to be present at 25 locations across the country."
Clearly, to carve a success out of the auto scrappage policy, it has to be a concerted effort by multiple players. From extending financial compensation to the mid and lower segments especially in remote areas, to imposing hefty road tax for vehicles over 15 years of age, to not making mandatory insurance available for old vehicles… Says Vipin Sondhi, Managing Director & CEO, Ashok Leyland, "It is not about what deals are offered to end-buyers for purchase, they have to be able to earn revenue to cover their EMI and other operating costs. We are committed to offering our customers vehicles with high reliability and low TCO to help them maximise their business profits. The Ministry of Road Transport and Highways (MoRTH) has issued guidelines for establishing scrappage centres and has also proposed steep increase in re-registration charges to discourage use of vehicles beyond their useful life. However, there is a need for a formal incentive based scrappage policy with a subsidy for voluntary replacement of old vehicles (>15 years) to encourage modernisation of old vehicle fleet. The government has indicated that this is in an advanced stage and will be announced soon. The additional demand from replacement of old vehicles will depend on the magnitude and type of incentive, whether it will be a voluntary scheme or a mandatory scrappage policy, the time given to vehicle owners to replace their vehicles. Today, about 15-20 per cent of the vehicles on the road are older than 15 years – thatis the potential incremental demand we can expect, but we are unclear how this could be phased out. It would significantly help reduce emission, and accelerate the adoption of the BS-VI vehicles about what deals are offered to them for purchase."
With the reduction of the carbon footprint on priority, the emissions need to be regulated further. Says
Anumita Roy Chowdhury, Executive Director, Research and Advocacy,Centre for Science and Environment(CSE),
"The effectiveness of the scrappage scheme for fleet renewal will depend on the design of the scheme. In the face of the current economic shock, the government is contemplating the scrappage programme as a fiscal stimulus scheme to build market demand. But this has to be designed as a green recovery strategy and not merely as an economic support package for the industry. The fiscal support for scrappage from the government must target the most polluting segments like the old heavy-duty trucks and buses and replace them with BS-VI vehicles. Moreover, any proposal extending support to scrapping old personal vehicles including two-wheelers and cars should be linked with zero emissions mandate. A high share of replacement vehicles in that case should be electric. It is to be noted that after meeting the BS-VI standards the next big transition that awaits India is the zero emissions transition to drastically reduce the pollution and carbon impacts of motorisation. If India has to meet the target of at least 30-40 per cent electrification of new fleet by 2030, it is necessary that the market revival strategy like the scrappage scheme is explicitly linked with the electrification mandate. The scrappage policy needs to define the target for electrification of the fleet renewal programme as well. Globally, governments are linking their scrappage stimulus with electrification."
Says Sondhi, "The automotive industry has been a key driver for the economy over the last few decades. It has been the engine of the 'Make in India' programme contributing 12 per cent of India's GDP and approximately 40 per cent of the manufacturing sector. The industry has a direct impact on several related manufacturing industries (iron and steel, aluminium, lead, rubber, plastics, glass, machine tools, chemicals, oil and gas, and capital goods), and several in the services sector (logistics, banking, insurance, distribution, tourism, and trade). Revival of the industry will have a multiplier effect on the overall economic growth and employment. We have to see this as an investment to drive long term growth. The CV sector witnessed a de-growth of 30 percent in the last fiscal year, and now, Q1 of this year is a washout, with the lockdowns. We are seeing demand gradually ramping up from Q2 onwards. Segments like ICV and LCV are showing a strong revival, and so are construction tippers. As the economic activity picks up, we do expect demand for CVs growing in tandem."
- Shilpi Madan