Overseas Opportunities in the Construction Sector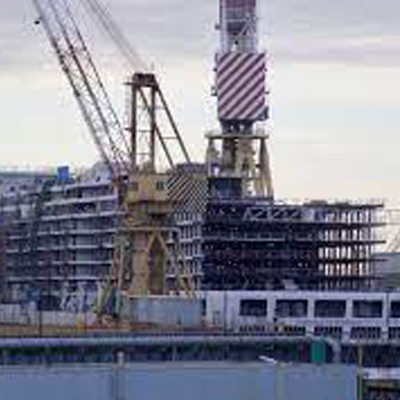 Overseas Opportunities in the Construction Sector
27 Oct 2021 Editorial Team
The construction sector is directly linked with infrastructure spending and enables the development of a region. Electricity, roads, water systems, railways, airports and ports are driving factors of growth. According to current estimates, the global spending on infrastructure in the US is $ 3-4 trillion. A recent report by Oxford Economics suggests that China leads the world in terms of contribution to global construction growth 2020-2030 at 26.1 per cent. This is followed by India at 14 per cent and the US at 11.1 per cent. The growth contribution this decade is expected to be 35 per cent higher than the previous one.
That said, the construction sector has been hit severely by COVID-19. According to a World Bank report in 2020, owing to the pandemic-induced global GDP decline, recovery could take up to a decade for the worst hit countries.
For our part, the Indian construction industry is providing major-scale revenues for expansion of domestic Indian manufacturers. The US remained the top destination for Indian products, accounting for about 17 per cent of exports. Other countries that account for 38 per cent of exports include Germany, France, China and Canada.
Against this backdrop, the Engineering Export Promotion Council (EEPC) of India, in association with CW, hosted a webinar on 'Overseas Opportunities in the Construction Sector' on October 5.
KL Dhingra, Regional Chairman (Western Region), EEPC India, gave the welcome address while moderator Pratap Padode, Managing Director & Editor-in-Chief, CW, opened the session saying India is growing at 9.8 per cent CAGR and that the top 10 global construction markets in 2030 will be led by China followed by the US, Canada, France and the UK. "Huge markets are beckoning for Indian companies."
Opportunities in the global construction space
After the pandemic, we will see many new equations and opportunities emerging. Despite the fact that China and the US are huge markets, direct services to these two countries would not happen owing to certain requirements, said
Amit Sharma, Managing Director & CEO, Tata Consulting Engineers
. "In the AEC [architecture, engineering and construction] sector for India, in terms of physical services, the Middle East and Southeast Asia are natural markets. For software services, the markets are predominantly Europe, the US, Southeast Asia, the Middle East and Africa."
He went on to add that the boundaries do not matter as of now; with good tools you can work across the globe. "This will help a lot of firms that are ready to provide technology for cutting-edge plant technology and designing. There has been an industry shift in the energy transition, move to greener fuels and recycling in the metal and mining industry. India can become a major market for modular construction, precast and prefab. Even though China has positioned itself really well in this category in the past 10-15 years, the geopolitical scenario will help create new supply chains. Infrastructure will drive global revival with a focus on construction, mass transport, waterways and smart cities. There are immense opportunities for Indian entrepreneurs, in contracting, construction and procurements as well as the design and engineering space."
Highlighted opportunities
The global construction market has been estimated at $ 10.7 trillion in 2020, after a decline of 4.3 per cent in 2019. "This was the first contraction in the construction business after 11 years," stated Padode. Infrastructure is forecasted to be the fastest growing. What are the opportunities?
Sharing his views on the opportunities in product supply, Gautam Chand Jain, Chairman and Managing Director, Pokarna, said, "The opportunity for a country like India is tremendous. As we focus on US markets, we see a lot of demand for Indian products like fabricated products and slabs. The market in the US is booming and the only thing missing are service providers. If we as a country can penetrate the construction industry there, it is a great time to do so."
"The Middle East and Africa are major markets for Indian companies," added M Padmanabha Rao, Vice President & Head - Buildings & Infrastructure (GCC Countries), Larsen & Toubro (L&T). "There is a huge traction in the Middle East for designers now. Saudi Arabia is the first stop for all companies as they have huge budgets for infrastructure and have made massive changes in terms of the law, which makes it easier for companies to work there. New airports, metro projects, passages, highways and several big-ticket projects are coming up in the Middle East. Modular construction has a lot of scope; it is the future of construction."
Agreeing that Saudi Arabia, along with the other GCC countries, offers major opportunities, Sachin Negandhi, Head - Project Management, Shapoorji Pallonji International, said, "The kind of projects we see in Saudi Arabia are huge, especially for the next few years. The budgets and size of projects are huge. Saudi is a huge market in terms of opportunities for contractors. EXPO 2020 has triggered growth in the UAE. Oman also offers big projects but that is a steady kind of growth, where you won't have exponential opportunities coming in. This is the right time to be in Saudi Arabia and work as an entrepreneur or company. There is also potential in Egypt, as it is a small country with a massive population of over 100 million. Though it has a lot of barriers, it offers big opportunities to Indian companies. Other than the Middle East and GCC, Africa remains a robust market. The only problem is that they lack finances unlike other countries."
Addressing the new trends adopted by the industry, Bharat Gala, Senior Vice President - India, SNC-Lavalin/Atkins, says, "We are going for an end-to-end model now. We have invested heavily over the years on value chain, design build and 4D-5D."
Product and project capacities
What capacities do we need to create?
Sharma responded by dividing it into three parts: Products; projects; anything we have to do to use the product in the project! "Certification and quality are important issues. Great opportunities lie in the product market. The Middle East, Africa and parts of Southeast Asia are popular for the Indian construction industry. Global engineering and design skills are outsourced from India. But there are some challenges like signatory issues, laws, education and certification. But we do get a better margin followed by heavy cash flows. All this helps in GDP revival."
In terms of the product bracket, Jain added, "Today, India has a better opportunity than China. But there are some quality and volume constraints Indian entrepreneurs need to work on. Despite all the challenges, Indian entrepreneurs need to buck up and market their products aggressively to match up to expectations."
In the Middle East, big projects are not completed early; there is a long gestation period. Projects face volatile taxation and statutory changes. There are issues regarding minimum wages and laws regarding local representation. Statutory approvals are difficult to get. It is a competitive environment, highlighted Rao, while in Africa the pace is slow and the process is not that transparent. "Every country has different laws and changes in the law happen often, which causes a slowdown. In a few African countries, Indian companies have to be a smaller partner with local construction companies for projects."
Engineering services
Primavera software is used for engineering services, highlighted Negandhi. "Quality and safety are a must as there can be no compromise on these fronts in foreign lands, while in India these are often compromised. In foreign countries, the usage of BIM Level 5 and Level 6 is mandatory in projects, while in India we are still at Level 2 or 3. Metro-rail projects are using BIM of higher levels. We have a lot of talent in India and that has come up."
Here, Sharma added, "We are working on BIM for foreign projects, while we are not doing the same in India for many reasons, first because it is still not mandatory. We need to blend qualitative and quantitative concerns. The policy and L1 approach has to change; though there have been some sincere government efforts to change policies, it is still not effective in the field."
Indian engineers are quite into tech and are talented, even though Level 6 integrations are tough, observed Negandhi. Many Indian engineers work in outsourcing owing to their qualifications and talent. "In India if things are not written in contracts, they are not used much, which results in less of a local market for Indian engineers."
Remote working and outsourcing are on the rise. But there are a few challenges of offering engineering services to the US market such as "different codes, different offshore team, IPD and federal grants issues which are to be used in certain states as the Indian construction sector is quite unregulated and unorganised compared to western countries," noted Sharma.
Why is US the major market for outsourcing?
Western countries, especially the US, have strict working laws (labour laws), owing to which payments are always on time and that too without any backlogs. The country offers a good work experience and has major consumption of products, responded Jain.
Why is the Middle East the major market for Indian players?
L&T started working in the Middle East 20 years ago, shared Rao. "We have been working in Riyadh, Abu Dhabi and Oman. This part of the world offers high profitability compared to foreign markets overall, especially for real estate. We build more projects and make more money than what we make in India. But we make sure we don't compete with the Chinese companies."
In conclusion
On a concluding note, Padode asked the panellists what they would recommend to young entrepreneurs:
Amit Sharma:
"You must know everything – 4D capabilities, technology, safety, project managements, etc."
Gautam Jain:
"We should always be ahead of the curve in terms of value and knowledge."
MV Rao:
"They have to get overseas to check out the market. At times, handholding is required by bigger companies."
Negandhi:
"Visit overseas to learn new things and always learn about the laws and geography of the place you are going to work in."