Industry forums to discuss innovation and reengineering in steel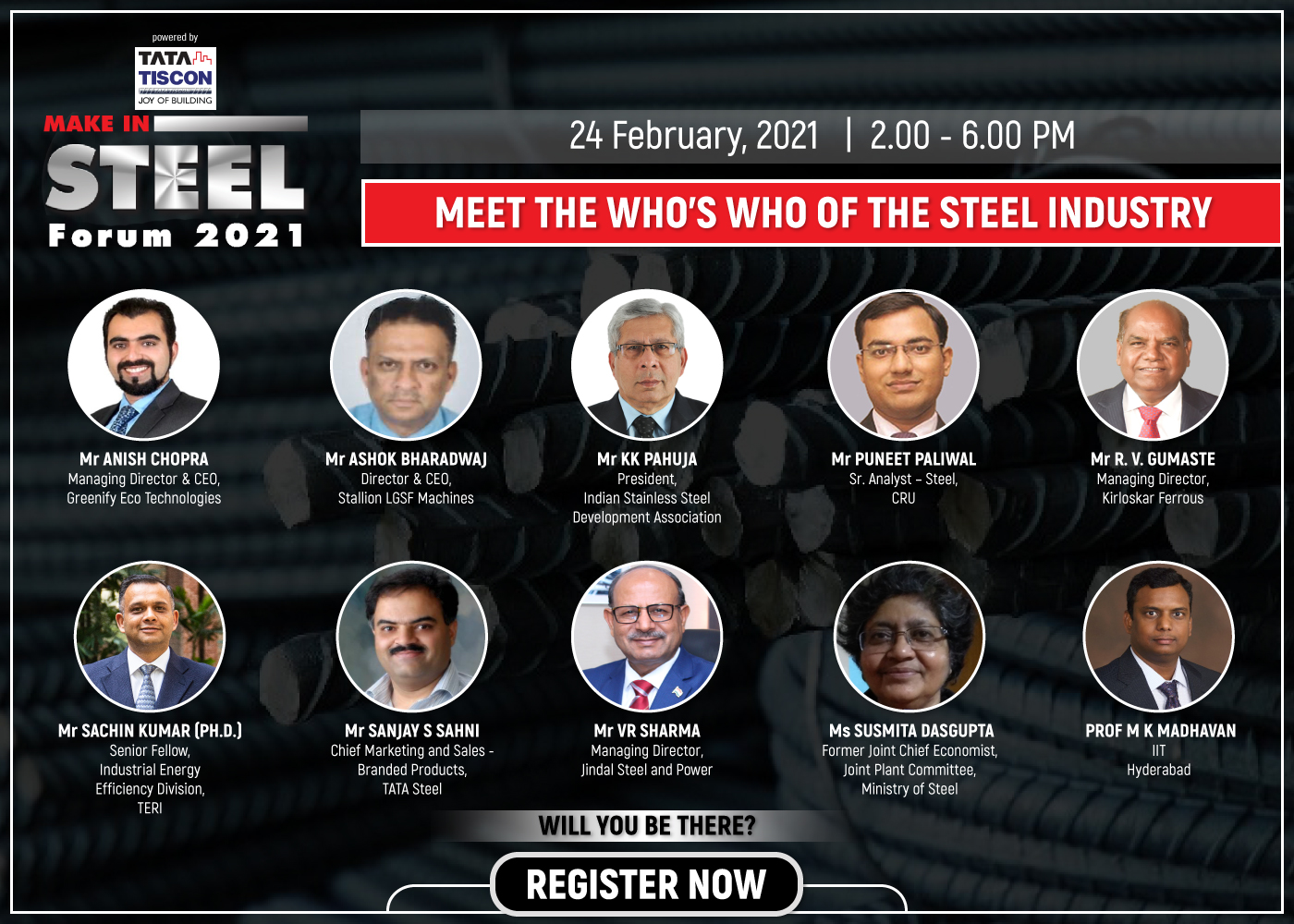 Industry forums to discuss innovation and reengineering in steel
As India aspires to become the world's second-largest steel producer, Prime Minister Narendra Modi's announcement of an ambitious allotment of Rs 100 lakh crore for the national infrastructure pipeline (NIP) to provide an overall boost to infrastructure development of the country on the 74th Independence Day came as a welcome move. This plan details well with the National Steel Policy, 2017, which envisages 300 MTPA of production capacity by 2030-31.
Given the massive investments being made to improve the nation's infrastructure, it is vital that the raw materials used in these projects uphold the government's Atmanirbharta agenda, and that the manufacturing and construction processes deployed do not compromise on standard quality protocols. India's finished steel consumption grew at a CAGR of 5.2 % during FY16-FY20 to reach 100 MT. India's crude steel and finished steel production increased to 108.5 MT and 101.03 MT in FY20, respectively.
Given the improved state of affairs, and to look closely at the current state of Steel production in the nation and answer important questions on the subject, FIRST Construction Council is organising the fourth edition of "Make In Steel Forum 2021" on Wednesday, 24 February 2021 virtually.
The forum themes "Steel Sustainability & Resilience for Post Covid Society" is a virtual conference that will:
Launch its TMT annual quality report.

Host an e-conference with digital panel discussions with speakers and expert Keynote addresses from speakers of national and international eminence on:


Inaugural address: Pratap Padode, President, FIRST Construction Council
Session: "Vision"
The Government's vision to achieve a $5 trillion economy by 2024 entails investments worth Rs 100 trillion in infrastructure sectors, including several steel intensive sectors like Housing for All, 100% electrification, piped water for all etc. Steel has several inherent advantages of durability, faster completion time, reduced environmental impact, and creation of a circular economy. Steel will have a crucial role to play in India's rise to a $5 trillion economy. The vision laid out by Government of India: "Meet the anticipated demand of 160 million tonne of steel for becoming a $5 trillion economy, through a competitive, efficient, environment friendly steel industry, adhering to global safety and quality standards".
Moderator:
Susmita Dasgupta, Former Joint Chief Economist, Joint Plant Committee, Ministry of Steel
Speakers:
VR Sharma, Managing Director, Jindal Steel and Power
Alakesh Roy, Managing Director, Zamil Steel Buildings India
Alain Legrix de La Salle, Director and Vice President, Sales and Marketing, AM/NS India
Satyajit Maity, Chief of Marketing - B2C business, Tata Steel
Session: "Innovation"
Steel is innovating—using digital edge in steel structures. It is also working on optimising resource efficiency. Several other initiatives aiming at reducing CO2 during steelmaking are being investigated around the world. Structural steel too is rich with innovation. The continual development of higher strength materials and new shapes and new material standards, such as ASTM A1085 for hollow structural sections (HSS) are regularly developed.
Speaker: Sachin Kumar , Senior Fellow, Industrial Energy Efficiency Division
TERI
---
4th Indian Cement Review Conference 2021
17-18 March
---
Session: "Growth━Stainless Steel"

The automotive, railway and transport (ART) sectors are emerging as the fastest growing consumers of stainless steel and alloy steel in the country. This procurement cycle is expected to continue for the next several years as the railways have plans to switch over to stainless steel for all its coaches for all long distance trains. Real estate, commercial real estate, retail space, entertainment space, hospitality projects and Special Economic Zones are all using stainless steel much more too. A candid discussion with Indian Stainless Steel Development Association to understand how stainless steel is finding space along with conventional materials like steel, glass, plastics, aluminum composites etc.
Moderator:
Susmita Dasgupta, Former Joint Chief Economist, Joint Plant Committee, Ministry of Steel
Speaker:
KK Pahuja, President, Indian Stainless Steel Development Association
Session: "Reengineering"
Light Steel Gauge Frame is an innovative form of construction gaining ground. Light Gauge steel structure independently is typically suitable for one to four storey high buildings, especially for residential and commercial buildings & in combination with hot rolled Steel sections for buildings higher than G+3. India's requirements for affordable housing can well be addressed with this new innovative method
Moderator:
Susmita Dasgupta, Former Joint Chief Economist, Joint Plant Committee, Ministry of Steel
Speakers:
Ashok Bharadwaj, Director and CEO, Stallion LGSF Machines
MK Madhavan, Professor, IIT Hyderabad
Anish Chopra, Managing Director & CEO, Greenify Eco Technologies
Anita Dake, Architect and Founder, Vector Designs
An awards ceremony follows.
Click HERE to register for the FREE webinar.