Cochin Airport to renovate Terminal 2 to boost revenue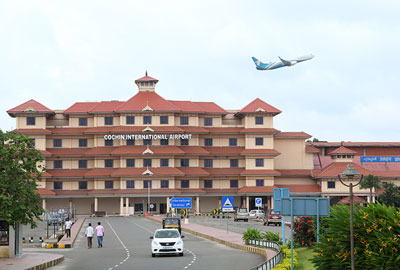 Cochin Airport to renovate Terminal 2 to boost revenue
Jul 21 2021,06:07 PM CW Team
Cochin International Airport Limited (CIAL) plans to renovate Terminal 2 (T-2), which has been out of service since 2019 due to the relocation of domestic operations to the newly renovated Terminal 1.
T-2 will be divided into three utility blocks, each containing an exclusive area for business jet operations, a VVIP safe house, and budget rooms for passengers staying for a short time.
According to CIAL managing director S Suhas, the director board chaired by Chief Minister Pinarayi Vijayan has given in-principle approval for the T-2 conversion plan.
Construction will begin in August.
Suhas revealed that they are working on a number of short and long term projects to generate new revenue streams. The civil work on the five-star hotel project has begun. Another bold idea for generating revenue is the conversion of T-2.
He added that they intend to use the sprawling T-2, which is currently unused, to house a Business Jet terminal, a VVIP safe house, and a transit hotel.
The blueprint for a cost-effective renovation of the interior of T-2 into three blocks was finalised at a meeting convened by the MD.
Block one, which will be converted into an exclusive business jet terminal with three lounges, will take up 30% of the total built-up area.
Both international and domestic business jets will use this terminal. Customs, immigration, and security holding operations will all have their areas.
Using this concept, smooth passenger movement will be ensured during the VVIP movement. Block-3 will cover 60,000 square feet. CIAL plans to build 50 low-cost rooms for airport passengers staying for a short time.
It is intended to use the dynamic tariff concept, in which the rent is calculated on an hourly basis. According to a statement from CIAL, blocks 1 and 2 will be completed in one year.
International flight operations were moved from T-1 to T-3 following the commissioning of the new terminal (T-3). T-1 was then renovated and has been used for domestic operations since 2019.
---
Also read: Pune airport to introduce new cargo facility on IAF land
Also read: Darbhanga airport expansion: IAF approves land acquisition