Land lease agreement signed for Jewar International Airport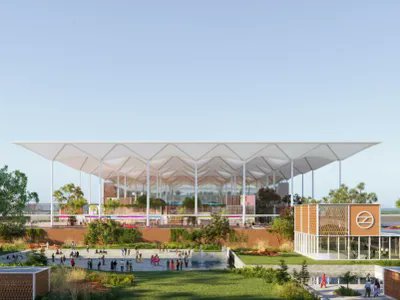 Land lease agreement signed for Jewar International Airport
Jul 20 2021,06:07 PM CW Team
Land lease agreement for Noida International Airport (NIAL), Jewar, was signed virtually in the presence of Chief Minister Yogi Adityanath.
The state government had completed the process of leasing 1,334 hectares of land for Jewar Airport to Noida International Airport Limited (NIAL) for 90 years.
At the ceremony, a shareholder agreement was signed between airport developer Zurich Airport International (AG), Yamuna International Airport Pvt Ltd, a 100% subsidiary of Zurich Airport International incorporated as a Special Purpose Vehicle (SPV) to develop the Greenfield airport, and NIAL.
During a programme held at the Chief Minister's residence on Saturday, CM Yogi voiced their delight at the timely completion of the work on Jewar Airport despite the Corona pandemic.
According to the Chief Minister, Uttar Pradesh has made significant progress in the field of civil aviation over the last four years. In 2017, the state had only four operational airports, with only Lucknow and Varanasi having regular flights and Gorakhpur and Agra having infrequent ones.
CM Yogi said that the very idea of Jewar Airport sent out a positive message, but the same people who had previously obstructed development efforts by acting as middlemen during the formation of the Noida, Greater Noida, and Yamuna Expressway Authority became active. The district administration, according to CM Yogi, interacted directly with the farmers in such a situation.
CM Yogi recalled that development projects in the area had previously resulted in violence, agitation, and a severe law and order crisis, but that the land acquisition for this project went smoothly and peacefully.
Nand Gopal Nandi, Uttar Pradesh's Civil Aviation Minister, previously said that the Jewar Airport will become a global symbol for the UP. Officials from the Civil Aviation Department, the CEO of the Yamuna Expressway Industrial Development Authority, and representatives from Zurich Airport International (AG) were among those who attended the event.
---
Also read: Zurich Airport inks pact for Noida International Airport development
Also read: Jewar airport gets security clearance from BCAS
Opinion Poll
Question : How can India stem inflationary trends likely from the currently all-time-high steel prices?