Modi lays foundation stone for India's longest bridge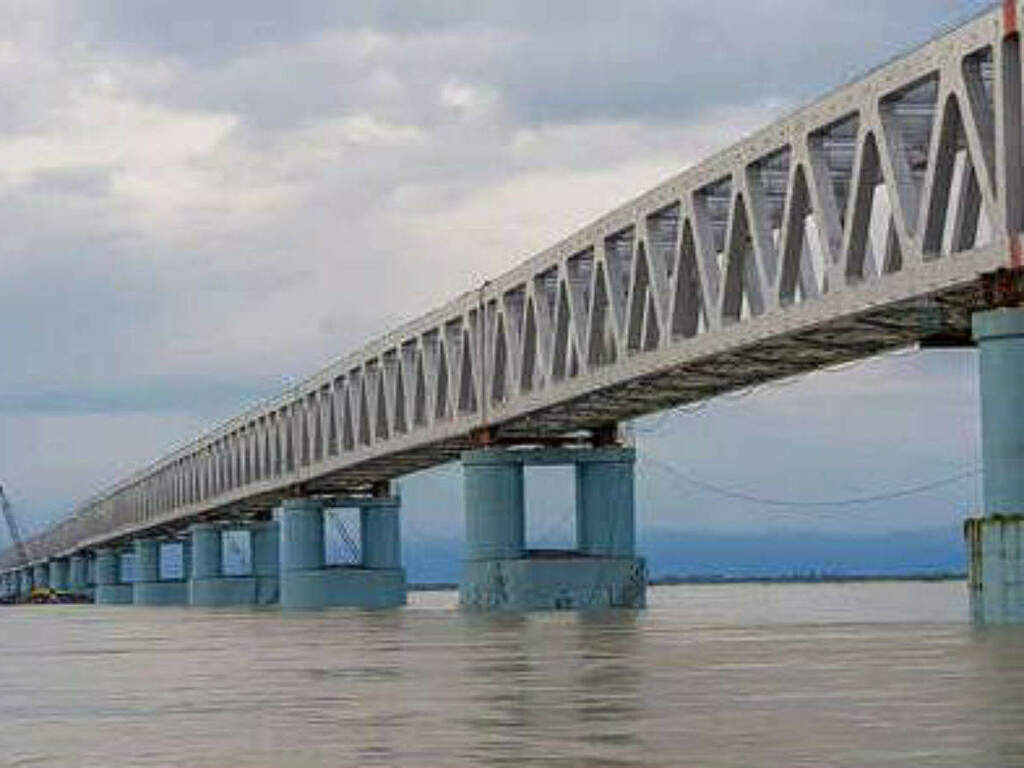 Modi lays foundation stone for India's longest bridge
Prime Minister Narendra Modi has virtually launched the Rs 3,231 crore Mahabahu Brahmaputra project in Assam.
The Mahabahu-Brahmaputra programme aims to provide seamless connectivity to the eastern parts of India and includes various development activities for people living around Brahmaputra and Barak rivers.
The launch of Mahabahu-Brahmaputra will be marked by the inauguration of Ro-Pax (roll-on/roll-off passenger service) vessel operations between North Guwahati, South Guwahati, Neamati-Majuli island, and Dhubri-Hatsingimari Shilanyas of the inland water transport terminal at Jogighopa, and various tourist jetties on the Brahmaputra, said the Prime Minister's Office (PMO).
Ro-Pax operation between Majuli and Neamati will reduce the total distance of 420 km to only 12 km, resulting in a substantial impact on the logistics of small-scale industries of the region.
The Prime Minister also laid the foundation stone of India's longest bridge—the Dhubri-Phulbari bridge, which will connect Dhubri in Assam to Phulbari in Meghalaya. The 19 km long bride will be India's longest bridge and will play a crucial role in connecting the two North eastern states. As we have reported earlier, L&T has bagged the contract to build the bridge.
The programme also includes inaugurations for the construction of tourist jetties at four locations— Jogighopa, Neamati, Biswanath Ghat and Pandu.
A permanent Inland Water Transport Terminal would also be built at Jogighopa under the programme, which will connect with the multi-modal logistics park also coming up there. This terminal will help in reducing traffic on the Siliguri Corridor towards Kolkata and Haldia.
The Car-D (Cargo Data) portal will collate cargo and cruise data on a real-time basis. PANI (Portal for Asset and Navigation Information) will act as a one-stop solution for providing information about river navigation and infrastructure.
_______
Other bridges on the Brahmaputra river in Assam:
Dhola Sadiya bridge, Dhola Sadiya 9.15 km
Bogibeel bridge, Dibrugarh 4.94 km
Old Saraighat bridge, Guwahati 1.48 km
Kolia Bhomora Setu, Tezpur 3.01 km
Naranarayan Setu, Jogighopa 2.28 km
New Saraighat bridge, Guwahati 1.52 km
Image: Artist's image. L&T will build the 19 km bridge, the Brahmaputra's fifth river bridge and India's longest, connecting Assam and Meghalaya.
---
Make in Steel 2021
24 February 
4th Indian Cement Review Conference 2021
17-18 March 
---
Opinion Poll
Question : How will the Union Budget 2021-22 impact EPC projects?