Roads webinar reiterates speed, quality of construction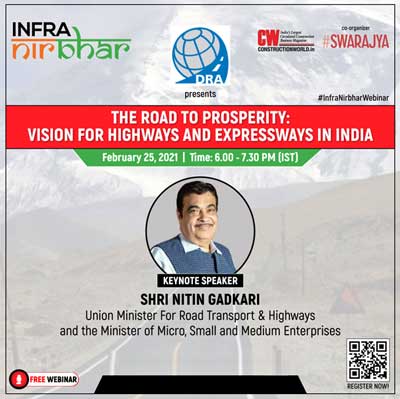 Roads webinar reiterates speed, quality of construction
Roads minister Nitin Gadkari reiterated on Thursday, February 25 the need for quality construction, from the DPR stage up to quality control. The webinar also featured a panel discussion. The Infra-Nirbhar series, organised jointly by Construction World and Swarajya magazines, featured a roads webinar that included prominent speakers and panellists.
The webinar, called "The Road to Prosperity: Vision for Highways and Expressways in India", featured Nitin Gadkari, Union Minister for Roads Transport and Highways, Radheshyam Mopalwar, Vice Chairman and MD of Maharashtra State Road Development Corporation (MSRDC), Manoj Kumar, Member━Projects, National Highways Authority of India (NHAI), Awanish Kumar Awasthi, CEO, UP Expressways Industrial Development Authority), Bovin Kumar, COO, Cube Highways, and Hardik Agrawal, Director, Dineshchandra R. Agrawal Infracon Private Limited. Pratap Padode, Editor-in-Chief, Construction World, moderated the webinar.
After Gadkari laid out grand plans for the roads in India over the next five years, reiterating that safety and design are linked, Mopalwar and Kumar explained specific projects and issues.
Opinion Poll
Question : As we enter FY 2021-22, a report estimates a 11% GDP growth. What is the most critical investment the construction and infrastructure sector needs to make this year?