Cement production finally turns the corner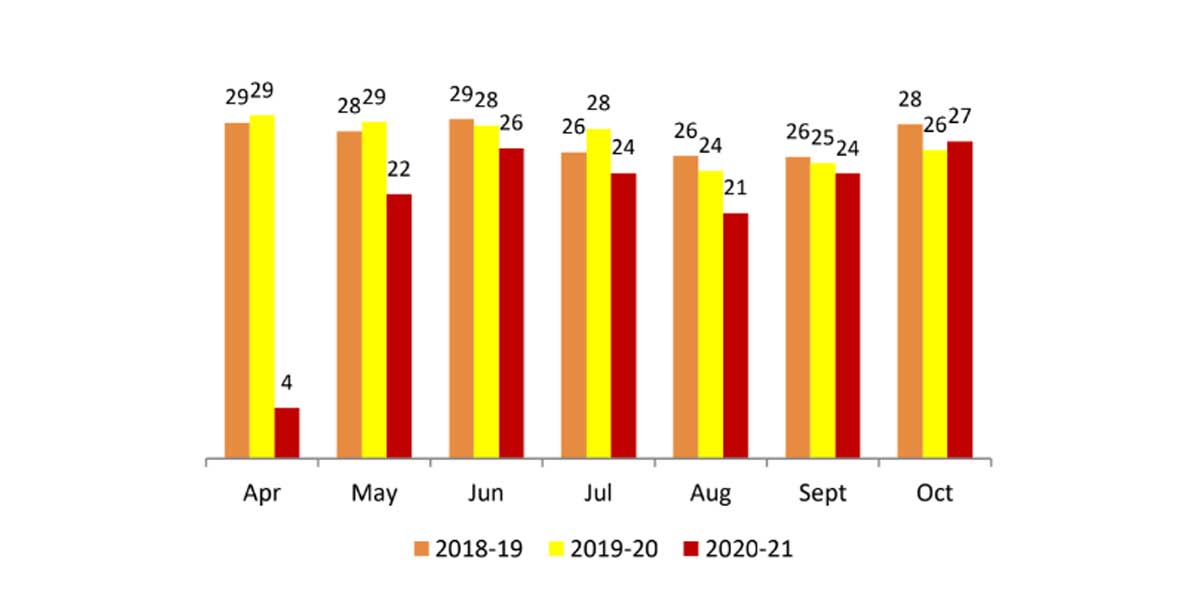 Cement production finally turns the corner
Despite registering a negative growth rate in the previous seven months, cement production increased by 2.8% in October, the latest report from CARE Ratings says. The report cites major reasons as increase in demand with the pickup in infrastructure projects that had been stalled due to the nationwide lockdown, receding of the monsoons and return of several migrant workers. Domestic cement production has fallen by 21.3% during 7M-FY21 compared with the 15% growth and 0.6% degrowth in production achieved during 7M-FY19 and 7M-FY20.
Domestic manufacturers' capacity utilisation has been around 47% during 7M-FY21 as units have been operating at sub-par capacities along with staggered shifts but has increased from it being 45% during H1-FY21. Given the fall in demand and companies looking to conserve their capital/cash flows, cement manufacturers had cut down or deferred capex. Although lately, some players have been announcing capex expansion of capex guidance plans.
Cement demand is closely linked to the overall economic growth of the housing and infrastructure sector. Increasing demand from affordable housing and construction work for other government infrastructure projects, cheap housing loans and the need for space, non-trade segment gaining momentum with the resumption of construction work of institutional infrastructure projects drive the demand for cement.
A significant factor which aids the growth of this sector is the ready availability of limestone and coal. Due to various cost rationalisation measures and overhead controls undertaken by cement manufacturers, there has been an increase in the operating profit margins (OPM), net profit margins (NPM) and interest coverage ratio during Q2-FY21 and H1-FY21. Cost of raw materials too declined by 20.3% during H1-FY21 due to the overall fall in the prices of limestone but has increased by 3.7% on a y-o-y basis and by 44.8% on a q-o-q basis. The overall sales revenue has increased by 6% during Q2-FY21 y-o-y but has declined sharply by 11.6% during H1-FY21 y-o-y.
Opinion Poll
Question : As we enter FY 2021-22, a report estimates a 11% GDP growth. What is the most critical investment the construction and infrastructure sector needs to make this year?