Brown Is the Color That's Overhauling Interiors in 2022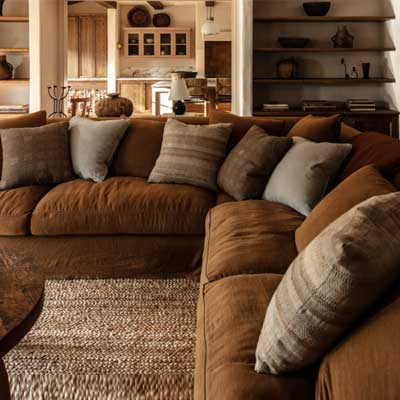 Brown Is the Color That's Overhauling Interiors in 2022
16 Feb 2022 CW Team
When surrounded by brown, humans experience a sense of safety and security, according to colour psychology (the study of how different colours affect our emotional well-being). Why? Its ties to the earth: a peaceful and durable aspect that keeps us firmly planted on the ground. So it's no wonder that brown is seeing a major rebound in home decor and interior design following two years of pandemic uncertainty. Thierry Despont was commissioned by the ultra-chic Fasano Fifth Avenue in New York to blanket their exclusive private club in Loro Piana caramel tones. ("The palette of warm colors we chose not only plays up the cozy intimacy of the environment at Fasano Fifth Avenue, but also complements the already-celebrated Fasano hospitality concept, refined and warm at once," says Andrea Natal, general manager.) Bessie Afnaim Corral and Oliver Corral, co-founders of Arje, painted their Greenwich Village apartment in terracotta tones and then established a cult home brand in the same style earlier this year. In their new Melrose Avenue store in Los Angeles, Bode used a lot of walnut cabinets. Meanwhile, in Vogue's annual home décor trend report, it was identified as a colour to embrace by a number of notable interior designers, including Danielle Colding, Athena Calderone, Justina Blakeney, and Mark D. Sikes.
"Everyone is wanting to feel close to and comforted by the earth, whether it's an organic brown linen for a family room sofa or a rich chocolate silk velvet on bergères for a living room," Sikes tells Vogue. Recently, Sikes decorated a living room in Chicago with chocolate brown lacquered walls and ivory details. ("Chicest room ever," he notes.)
Another thing that contributes to brown's attraction is his dark complexion. Warm minimalism is on the rise. Minimalism, or the interior aesthetic of simplicity in form and colour, is frequently misinterpreted as white couches, white walls, and white accents. Yes, it's lovely, but it's also bleak. And, with everyone at home staring at their walls due to the pandemic, that monochromatic design was the last thing many of us wanted. Brown is a soothing colour that works well with the neutral, pared-down palettes favoured by minimalism aficionados. "I think people are looking for a new 'old' neutral," Colding states. Jake Arnold, principal of Studio Jake Arnold, a fellow interior designer, agrees: "My motto is always brown, never gray. Shades of brown bring about warmth, earthiness, and calm that feel timeless and grounding," he says. That isn't to say that maximalists won't find plenty to like. One of the most renowned "brown rooms" in history, according to Sikes, is Tom Scheerer's Drawing Room at the Lyford Cay Club, which features chocolate-colored wallpaper with ivory palm trees on the walls, as well as the interiors of high society decorator Albert Hadley. Meanwhile, Rebecca Gardener's cult favourite online boutique, Houses and Parties, recently debuted a beautiful selection of "Grasshopper Toile Linens." "All shades of brown are back, from deep rich chocolates to elegant caramels for both walls, curtains and upholstery. And they go with everything from primary colors to jewel tones and other neutrals," stresses Colding. She's currently working on a family room with chocolate grasscloth, terracotta, and rich jewel tones. Brown, according to Arnold, is the ideal colour for those who lie somewhere between the two design styles: "It provides a lovely complement and base for other pops of color in a space."
Tagliaferri and former creative director of Oliver Peoples, is the 1970s. Slowly but steadily, he's seen the decade's finer decor trademarks return to homes—and he's not alone: 1stDibs' late 2020 poll of over 600 designers shared the same sentiment. It's understandable: the 1970s, like today, were an era of social upheaval, and they just wanted to be warm and comfortable in their own houses. "When I look at interiors from that era I always have the feeling that brown is a sort of neutral color of that time, therefore profusely used," according to Tagliaferri, the circular brown couch in the 1971 James Bond film Diamonds Are Forever, as well as Paul Rudolph's 1975 Strutin Residence, are examples of this. "Seventies are definitively on trend in design and there comes the brown."
Also Read
https://www.constructionworld.in/latest-construction-news/real-estate-news/interiors/turning-someones--dream-home-into-reality-is-my-drive/32212
https://www.constructionworld.in/latest-construction-news/real-estate-news/interiors/my-signature-is-to-enhance-the-areas-with-no-boundaries-to-work-on/32211