Following her passion for design with Perception Interiors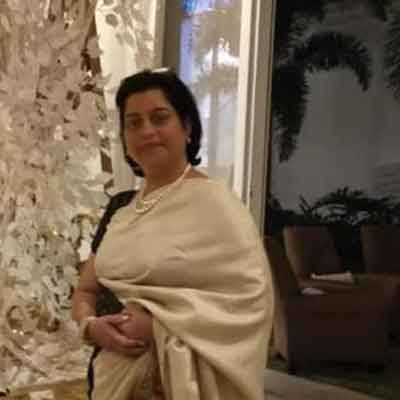 Following her passion for design with Perception Interiors
10 Feb 2022 CW Team
CW Design Build speaks to Nilima Tare about her design philosophy, vision and a lot more.
What is your vision for your interior designing firm?
An experience of over 45 years in the field of interior designing in India and abroad has widened my perspective of suiting luxury to clients as per their comfort. My vision is to expand my design firm in India and take it to Dubai.
How would you define your style of design? How do you ensure that your projects bear your signature?
Every designer has their own perspective towards a space and style bares a focus on minimalistic, straight and simple lines, but at the same time making it look contemporary and elegant. In my designs, a lot of emphasis is based on lighting.
Which one has been your most creative yet challenging project so far?
For an interior designer, time is everything, and the most challenging project I have had overseas was in Dubai, where we took just 6 months to build a restaurant, House of Curry. To get this project done in time, we joined hands with an international consultation company project as they were in the walk area.
On the home ground, one of the most challenging yet enticing projects we did was in Vashi as we were working on a row house. We refurbished it entirely for the structural work and it turned out to be one of our bests.
Take us through your design process from conception and design to final build?
I prefer meeting my clients personally to understand their taste and understand their mindset. There after I ask for an AutoCad drawing and begin with working on sketches. I usually give them two options and a final layout. The second step is to initiate working on drawings for my clients to visually have an idea how the site would look once it done. Once approved, we start with material selection, followed by quotation and start with 3D designing in a software. After everything is confirmed with clients it's time to execute and concrete the designed plan. We start working on the site and hand it over well in time so accommodate any last minute changes that may cause delays.
What are the key challenges you face while designing a home?
One of the major challenges I have faced is to utilise a space to its optimum potential when the space is limited.
What is the important factor while designing a multifunctional in the kitchen?
When we work on kitchens, a key consideration is the triangle that includes – cooking, cutting and washing. According to me, if these 3 factors are well managed in the drawing, it renders a nearly perfect kitchen.
What are the key learnings you have gathered in your years of experience as an interior designer?
My key learning in all the years of my experience is to not repeat designs and to never compromise on quality of materials used.
How do you incorporate sustainability in your work?
Sustainability in work starts with leadership support and embedding the values of your commitment into every aspect of your organization requires strong leadership. To uphold these values, one must embrace the ecosystem and engage with their employees.
Share with us your thoughts on sustainable designing and how well is it perceived in the interior market?
Sustainable design is something that the fraternity has started taking into consideration given the climate changes and it's a long-term effect on mankind. We surely need to reduce on carbon footprint and its only possible by switching to using natural material, natural elements, upcycling old furniture instead of discarding it. We tried incorporating sustainable designing in our Vashi project while refurbishing project. Hence, we are taking one step at a time in exploring more possibilities to inculcate 100% sustainability in our work.
Where do you find your inspiration from?
I have developed this style over a period which I can't put under any category, contemporary, minimalistic yet elegant. Looking at structures like Bhurj Khalifa and Alarab I try picking up small details and that inspires me to make my own designs. Walking or driving around and always observing minute details, color schemes and patterns in my surrounding is a trait that helps me as a designer.