Luxury walk-in closet by Design Deconstruct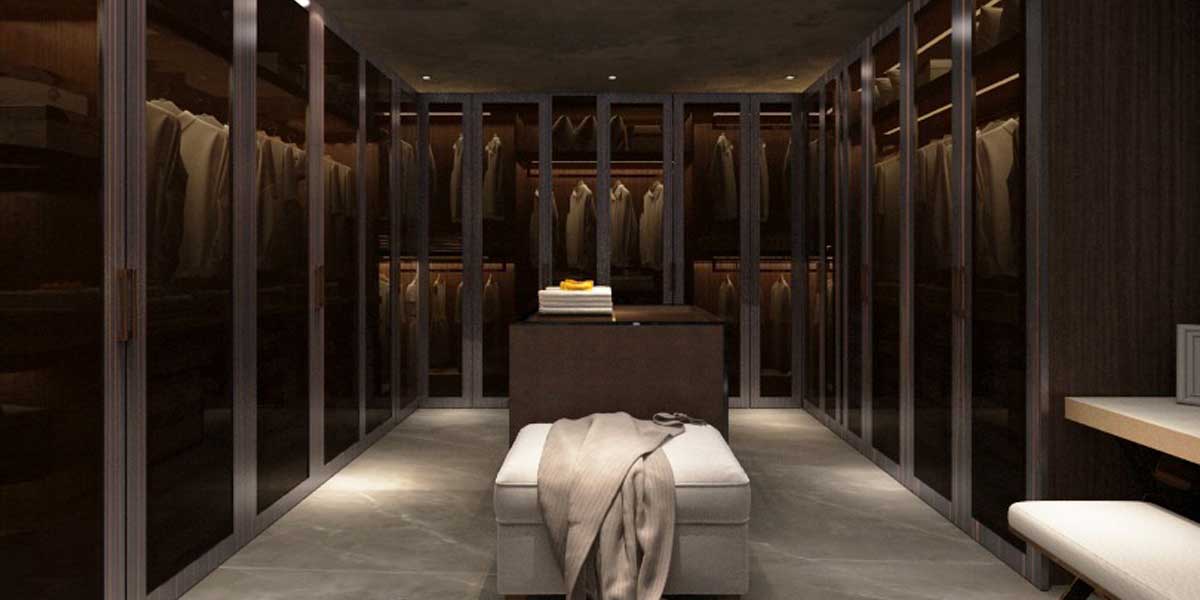 Luxury walk-in closet by Design Deconstruct
07 Oct 2021 CW Team
 Clean, minimalistic and custom-made, this walk-in closet by Design Deconstruct are designed and curated using high quality materials and finishes lends its sophistication to any space. Built depending on the inhabitant's personality and lifestyle, it brings it brings convenience and luxury.
Designed to accommodate clothing, accessories and much more the interiors of this walk-in closet is made with dark textured veneer bringing character to the space. An island at the center of this space is made with the same veneer and a glass top that adds space for display. An ottoman placed next to the island in a muted complimentary shade seamlessly blending with the tiled flooring uplifts the space.
 A dresser with complimentary seating and metallic finish adds glamour to the space. Adjacent to it is a bathing area with translucent glass doors is a luxurious addition to the space. A sink area with a large glass, minimal décor and patterned marble base breaks the monotony of the space.
Dressing is made fun and luxurious in this walk-in closet by Design Deconstruct.
Also read:
https://www.constructionworld.in/latest-construction-news/real-estate-news/interiors/luxurious-bedrooms-by-design-deconstruct/27917
https://www.constructionworld.in/latest-construction-news/real-estate-news/interiors/exclusive-luxury-bedrooms-by-design-deconstruct/28288

You have 2 FREE Article(s) left
Access Unlimited Content with

Subscription