Spectacular Designs To Elevate Your Home Decor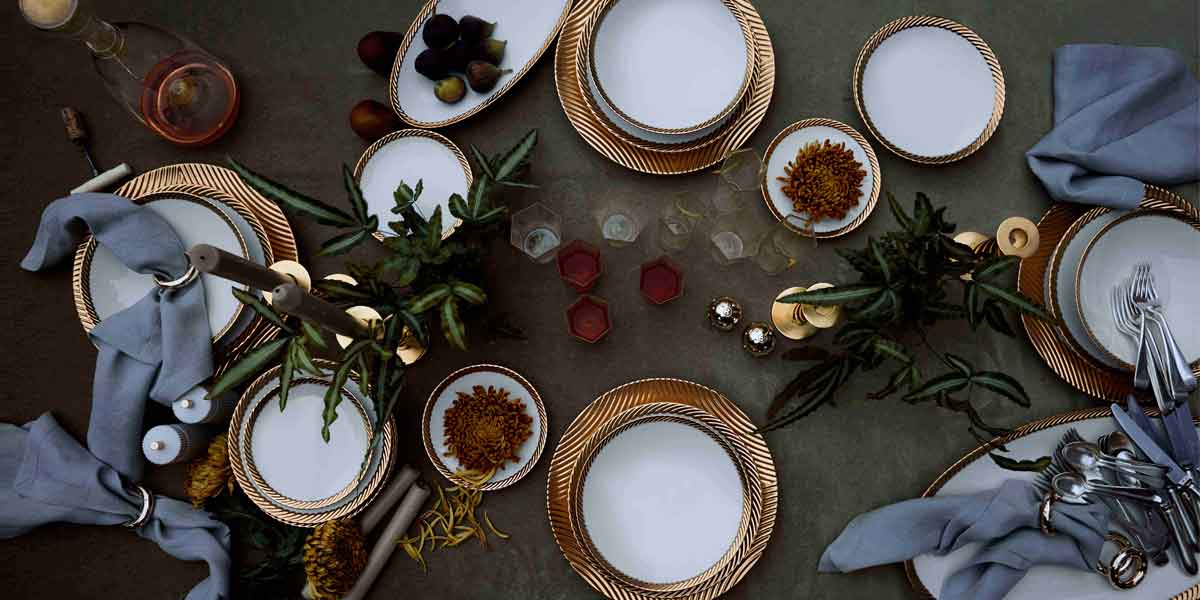 Spectacular Designs To Elevate Your Home Decor
11 Feb 2022 CW Team
Spectacular Corde Collection by Emery Studio
Elad Yifrach, the company's founder and creative director, founded L'Objet in 2004. Emery Studio, a bespoke decorative lighting, home decor, and tableware specialist, brings the exquisite Corde Collection by the eponymous brand L'Objet to India.
L'Objet's Corde collection includes elegant tableware that is ideal for family gatherings. Each arched strand on the tableware is hand-painted to create a fully glazed, modern dining pattern inspired by old-world silk cords. Each piece is made of Limoges porcelain and comes in white, 24-karat gold, or platinum.
Range of Soft Furnishings, Crockery & Tableware by Kaunteya Launches
Kaunteya, a luxury tableware brand, introduces its signature Pichwai series premium hand painted cushion range, as well as serveware and crockery. The collection elevates every living space to a special event with its exquisite beauty and opulence.
The Kaunteya collections are a sweeping and nuanced celebration of Indian heritage, culture, and mythology. The Pichwai collection pays homage to the age-old art tradition Pichwai, as well as the eternal devotion to Lord Krishna depicted through it, 'Eternal Krishna Bhakti.'
Charming Decorative Boxes by Beyond Designs
Beyond Designs Home has introduced décor accessories and functional items that add an unmistakable beauty and timelessness to your home. Beyond Designs Home's new collection of decorative boxes adds a charming touch to your tabletop.
These beautiful boxes come in handy if you want to add a chic vintage touch to your tabletop décor or if you want to store some knickknacks in a stylish manner. They can be used to add colour to entryway consoles, buffet tables, or dressing tables.
The Swabian wings round box in rich red and the Reredos wings round box in mustard are eye-catching additions to any surface. The Raphel wings round box in grey and the Reredos wings round box in silver grey are both stylish.
Serene Outdoor Textiles by Nirmals Furnishings
Nirmals Furnishings, one of India's finest home décor brands, is known for their handcrafted textiles. They have launched in India the iconic Spanish brand Güell Lamadrid's high quality outdoor fabrics collection – Portofino.
Güell Lamadrid's vibrant designs honour both its Spanish heritage and the decorative traditions of Old Europe, North Africa, and the Middle East. These Portofino Outdoor fabricsCollection is inspired by subtle organic geometries in delightful hues of mint green, rust orange, and several shades of blue, green, pink, peach, and so on. The color palettes are diverse, allowing you to create a charming colour palette for your home.
Along with maximum resistance to environmental changes, outdoor fabrics provide a tranquil, as well as a casual sophistication. The subtle textures add just the right amount of naturalness, allowing them to sit comfortably among green exteriors.
They are, however, not just for outdoor decoration. You can easily incorporate them into your modern interior design. They will bring a much-needed organic feel to your opulent interiors.
Statement Light 'Mesh' by Scala Home
Scala Home, a destination for exclusive furniture in New Delhi, has launched a stunning statement light by Luceplan in India. The Italian lighting expert is well-known for its high-performance, aesthetically pleasing, and technologically advanced products.
Innovative LEDs are combined with a seemingly transparent mesh in this dramatic light, resulting in a lightweight and airy aesthetic. For this one-of-a-kind design, designer Francisco Gomez Paz received the Red Dot "Best of the Best" Design Award.
The suspension lamp provides a variety of lighting scenarios for customised aesthetic and functional performance. It can also be purchased as a ceiling fixture. Its structure is made of steel, and the lenses are made of polycarbonate, resulting in an eye-catching design in which the light is the sole protagonist.
Mesh's LEDs fill the space with warm white light, and the intensity of the light can be easily adjusted to your liking. The unique structure allows for a great deal of flexibility in the control of luminance. You can control the brightness of the light and which sectors of the lamp to use. You can also create personalised luminous settings in the wireless version.
Users of the large and medium versions can manipulate the light with a smart device. The App allows you to control a single or multiple units, either individually or as a group.
Also Read
https://www.constructionworld.in/latest-construction-news/real-estate-news/interiors/club-functionality-and-aesthetics-in-your-kitchen/32210
https://www.constructionworld.in/latest-construction-news/real-estate-news/interiors/design-deconstruct-curates-a-masterpiece-modern-mansion/32176