Stylish Decor To Make Light Up Your Christmas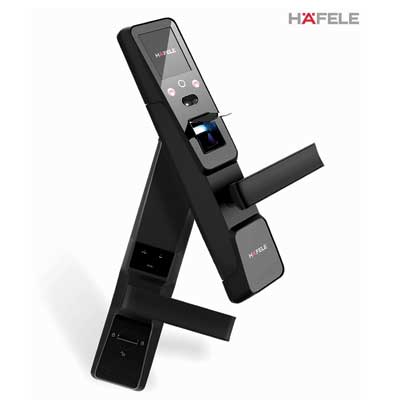 Stylish Decor To Make Light Up Your Christmas
22 Dec 2021 CW Team
RE-Veal Digital Lock by Hafele
Because you require the highest level of protection. The REVEAL Digital Lock from Häfele carefully examines each specific demand you may have for a home security system and promotes itself as the right solution for all of them. This fully-loaded face-recognition lock has cutting-edge technology that reads over 170 points on the user's face – meaning it's very sensitive to even the tiniest quiver of a nerve and will only let you in if you perfectly mimic the expression that was pre-set as your access recognition. The REVEAL Digital Lock from Häfele is the authority in home security and access planning, with 5 distinct entry modes: Face Recognition, Finger Print, Key Pad, RFID, and Mechanical Key.
Handle-less furniture by Blum
Handleless furniture is a fashionable trend that gives your designs a sense of elegance and comfort. The majority of handleless furniture opens and closes with a little touch and no force. Furthermore, drawer fronts will be cleaner with handle-less furniture, giving it a more modern and appealing aspect. Handleless furniture is the genuine minimalist trend. Furniture's usefulness is highlighted in minimalist designs. For handle-less furniture, four motion technologies for lift systems, doors, and pull-outs allow virtually endless options. Blum has caught on to the newest trend and has created fittings that will appeal to both purists and fans of unique solutions.
Blum's revolutionary furniture fittings allow you to design lift systems, doors, and pull-outs to match your individual demands, improving user convenience in all three applications - kitchens, bathrooms, and the rest of the house. Our motion technologies make developing handle-less apps a breeze.
Blum, an Austrian fittings manufacturer, offers a comprehensive selection of hinge, pull-out, and lift systems in a variety of types, ensuring that the proper fitting is available for practically every application. The solutions can be integrated with a variety of motion technologies, such as a mechanical or electric support system (depending on the level of convenience sought) to enable handle-free fronts to open with a single touch. Blum's tried-and-true soft-close Blumotion closes them again gently and smoothly.
Gifting Accessories, Tableware and Christmas Décor by Serein Décor
Setting the table shouldn't be stressful during the holiday season, with so much to do from arranging the menu for Christmas dinner to locating the ideal Christmas gifts for everyone on your list. After all, this is the season for spending quality time with family and enjoying exciting celebrations. Your Christmas table scape should be simple and elegant, reflecting the pleasure and wonder of the season. Serein Decor's Christmas collection components, like all of their other items, are simple to put together.
It's almost that time of year when all the red, green, and white decorations come out of hiding.
Serein Decor's accessories are the ideal complement to holiday cheer! The company has debuted a line of gifting items, dinnerware, and holiday decor.
Christmas decorations like as Christmas trees and reindeers, glistening with candlelight and T lights, set the tone for family feasts and get-togethers.
Christmas Table Setup by The House of Things X Art-chives
The House of Things is a one-of-a-kind, curated online site for premium interior items discovery and shopping. The House of Things and Art-chives have collaborated to create a stunning Christmas table for your visitors to fawn over this holiday season.
Art-chives' beautifully handcrafted 'Indian Rose Bush' cotton linen placemats and napkins, as well as artisanal hand poured aromatic candles in Indian rose, marigold, and night jasmine, bring 'The Wild Indian Garden' to life on your tabletop. The House of Things' elegant curation of crockery, silverware, and candle stands complements the table with a lot of whimsy. The combination is pure indulgence and a feast for all your senses, much like India.
The following items are included in the stunning Christmas set up:
Art-chives Rose Bush Placemat and Table Napkin Set from India – This exquisite table linen set is a multi-hued vignette of the earth laughing in wild flowers, in an India oh so familiar, made from flawless ivory-hued pure Linen-cotton linen. This line by Art- chives highlights India's rich handmade tradition and is hand screen-printed in red and foliage green (with a steel grey variation).
India's Artisanal Fragrant Candles – Art-chives Art-chives conveys the wonder of India's age-old scent creating practises from the vaults of India's olfactory heritage. The beautiful Indian bouquets of Indian Rose, Night Jasmine, Neroli, and Marigold have been captured. The mesmerising smells of India are celebrated beneath the gossamer screen of unadulterated sensory bliss.
Rare's Ava fruit bowl – With skillful hands, soft and flowing lines are brought to life. With its subtle detailing and beautiful form, Rare's Ava fruit dish is made to complement even the most basic of settings.
Rare plates made of marble – Rare's Marble plates are a kaleidoscope of enthralling designs and deft craftsmanship. As you dine in this polished piece of art, satisfy your appetite with style and elegance.
Rare's Midnight Vase – The Midnight vase by Rare has been carefully carved from marble and exudes subdued richness, encapsulating a striking design. A sculpted gem to complement any tabletop setting.
Vista Alegre red wine goblets – The wine goblets by Vista Alegre are handcrafted from crystal and embellished with a textured diamond-shaped pattern that dates back to the eighteenth century. They convert simple family gatherings into opulent affairs.
Ikai Asai's Selenofi (brass cutlery set) – For the modern-vintage soul, this is a must-have. This modern metalware features time-honored motifs and is a popular option among Indian families.
Rare's metal faces – An evening to remember with a humorous touch. When coupled with varied textures, Rare's metal faces form a fun composition.
New Modular Sofa System by B&B Italia
The renowned Camaleonda seating set has been republished by B&B Italia, the world leader in modern furniture. It is a whimsical shape with pleasantly rounded curves, designed by renowned Italian architect Mario Bellini. It's offered at Scala Home, a New Delhi-based retailer of high-end furniture.
All of the aspects that have made the Camaleonda collection a contemporary classic have been retained in the new Camaleonda collection. The large seat module, as well as the backrest and armrest, stay true to the original design. For the new version, the original cutting pattern was utilised. The large polyurethane cushioning that characterises the iconic capitonné design hasn't changed since 1970, and it's still made with Bellini's unique technology, which determines the style and adaptability.
It invites conviviality with its opulent dimensions, yet its flexibility makes it suitable for small settings as well. Its cushioning has also been completely changed, making it even more comfortable than before.
B&B Italia's whole textile and leather range may also be used to cover Camaleonda. It retains its unusual and unique personality despite allowing for so much flexibility and versatility.
Also Read
https://www.constructionworld.in/latest-construction-news/real-estate-news/interiors/signature-luxury-lounge-space-by-design-atelier/31299
https://www.constructionworld.in/latest-construction-news/real-estate-news/interiors/voguish-collections-to-spruce-up-your-space/31298