Gadkari to deliver keynote at roads webinar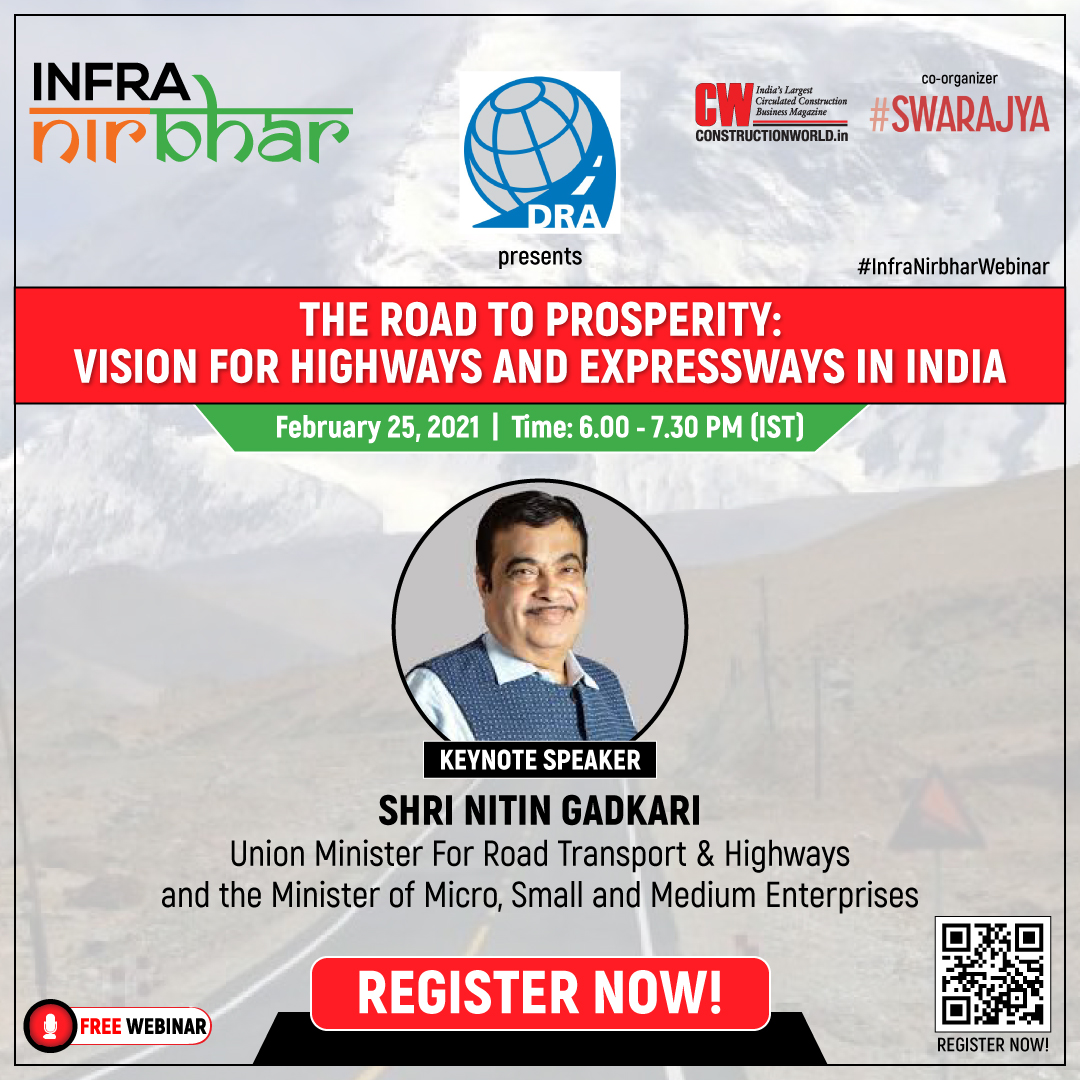 Gadkari to deliver keynote at roads webinar
The Union Finance Minister Nirmala Sitharaman allocated Rs 1.18 trillion for the Ministry of Road Transport and Highways, calling it the "highest ever" allocation for the department. The allocation has gone up 2.5 times since 2014 when the then outlay stood at Rs 33,305 crore.
The Prime Minister's emphasis on identifying "intent, inclusion, investment, infrastructure and innovation" as the critical elements of India's journey for "Atmanirbharta", further establish the importance of infrastructure in speeding up the nation's development.
The ongoing Infra-Nirbhar webinar series hosted by Construction World and Swarajya magazines is an amalgamation of the massive budgetary allocations with "atmanirbharta" (self-reliance), is a topic of discussion.
The Ministry of Road Transport and Highways (MoRTH) was initially allocated Rs 91,823 crore for FY21, which was later revised to Rs 1.18 trillion. The union budget this year gave a big boost to the road transport and highways sector, as the ministry received its highest allocation ever with a 32% increase in the capital outlay. Road Transport and Highways Minister Nitin Gadkari hailed the budget and said that flagship corridors and other vital projects would see substantial activity in 2021-22.
Important questions regarding the construction of such projects, allocation of the budget, production in the light of "Atmanirbharta" and more intriguing questions would weave themselves into the discussion.
Theme: The Road To Prosperity: Vision For Highways And Expressways In India
Date and time: Thursday, 25 February, from 6:00 pm to 7.30 pm.
Nitin Gadkari, Minister for Road Transport, Highways and Ports, Govt of India, will deliver the keynote address.
Other speakers at the session's panel are:
Awanish Kumar Awasthi, CEO, UP Expressways Industrial Development Authority
Bovin Kumar, COO, Cube Highways
Hardik Agrawal, Director, Dineshchandra R. Agrawal Infracon Private Limited
Manoj Kumar, Member - Projects, NHAI
RL Mopalwar, VC & MD, MSRDC
Pratap Padode, Editor - in Chief, Construction World (Moderator)
Click HERE to register for the FREE webinar.
Opinion Poll
Question : As we enter FY 2021-22, a report estimates a 11% GDP growth. What is the most critical investment the construction and infrastructure sector needs to make this year?