"I get immense job satisfaction doing interiors" – Ajay Arya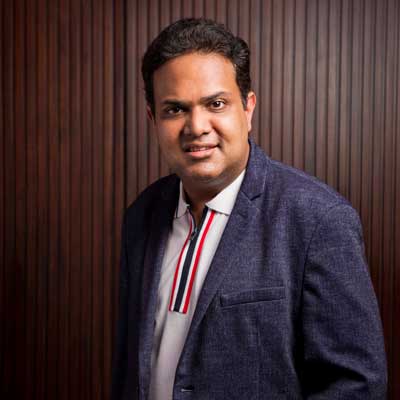 "I get immense job satisfaction doing interiors" – Ajay Arya
11 Nov 2021 Editorial Team
Transforming urban spaces into visually stunning creations has been the forte of Ajay Arya, Founder & Principal Interior Designer, A Square Designs. With intimate attention to detail and tastefulness, he has created exquisite and delightful modern and contemporary spaces.
CW DesignBuild spoke to Ajay Arya about his vision, inspiration, style and more.
What is your vision for A Square Designs?
Established in 1999, A square designs specializes in interiors for residential and commercial spaces. I look at us working on the very best projects both residential and commercial on a pan India basis. We would like to work on some heritage conservation projects to give back to the society in our own small way.
What inspired you to start your interior design firm?
I get immense job satisfaction doing interiors. When I see my designs come alive and at the end of a project when I actually get to see a smile on the faces of the people who are going to move into the newly done up space and their excitement, it truly makes my day!! It inspires me to work harder. I just get intrigued by simple yet very crisp and chic interior settings. The palette of materials and colours being used inspire me to 'create.'
Tell us about the major challenges you faced while establishing your firm and what were your key learnings from them?
Coming from a business background, for my family to accept 'interior design' as a full time profession for me to take up was the first challenge! The art of interior design is a practice that evolves constantly. The everyday challenge is to have the vision to understand and create 'design' to suit the clients taste and to keep up with the ever-changing global trends.
How do you adapt your design to the client's lifestyle? Tell us more about it.
Trends and styles keep evolving, so we also have a distinctive 'modern' collection of pieces to enhance urban interior settings. The real thrill is that with practice, experiences become enriched. With knowledge from the past experiences one develops a sharpened eye for good taste. How have the clients' requirements for their home or workplace evolved in the past ten years?
Indian architecture and design has evolved with new technology like 'automation'. Today, one can control the whole home and work place with the help of a smart phone. Things like LED lighting and rain water harvesting foster green building. These are some shifting trends in the industry.
How do you approach design to accommodate aesthetic and functionality in the projects you execute?
The interior design of a project must be personal to the client and the designer must have the flexibility and range of abilities to seamlessly realize the concepts and ideas that create a beautiful, practical and liveable space. The interior designer must understand technical and architectural detail and specifications in order to bring together the proper scale, textures, colours, furniture and objects in a space.
How do you incorporate sustainability in your work?
'Durability' & 'sustainability' are vital. Using the right material at the right place and for its correct purpose is the key. Efficient and effective use of materials is important. Ofcourse, it's important to watch out on how we could conserve our resources.
How would you define your style of design? How do you ensure that your projects bear your signature?
At A square designs, we believe that interior design is about understanding people and how they live. The focus of an interior designer should be the client and the client's lifestyle, not a formulaic, stereotypical design such as "Classic" or "Modern." Interior design is about the realities of what creates a timeless environment that is attractive and meaningful, which transcends the notion of simply incorporating what is "trendy."
Tell us about the projects you are working on currently.
Some large format duplex homes
A modern Indian restaurant
Some private offices
A resort style holiday home in Bikaner
As experienced professionals from the field of architecture, how would you advise youngsters to approach architecture as a profession?
There's no substitute for hard work. Never be afraid of sharing your ideas with your prospective clients. They might just love what you propose!!
Also read:
https://www.constructionworld.in/latest-construction-news/real-estate-news/interiors/--some-bricks-made-homes--some-made-me--ankit-savla/28373
https://www.constructionworld.in/latest-construction-news/real-estate-news/interiors/-reinvent-and-keep-upgrading-with-time-devika-khosla-/29027