A Classy And Premium Products Will Bring Charm To Your Home In 2022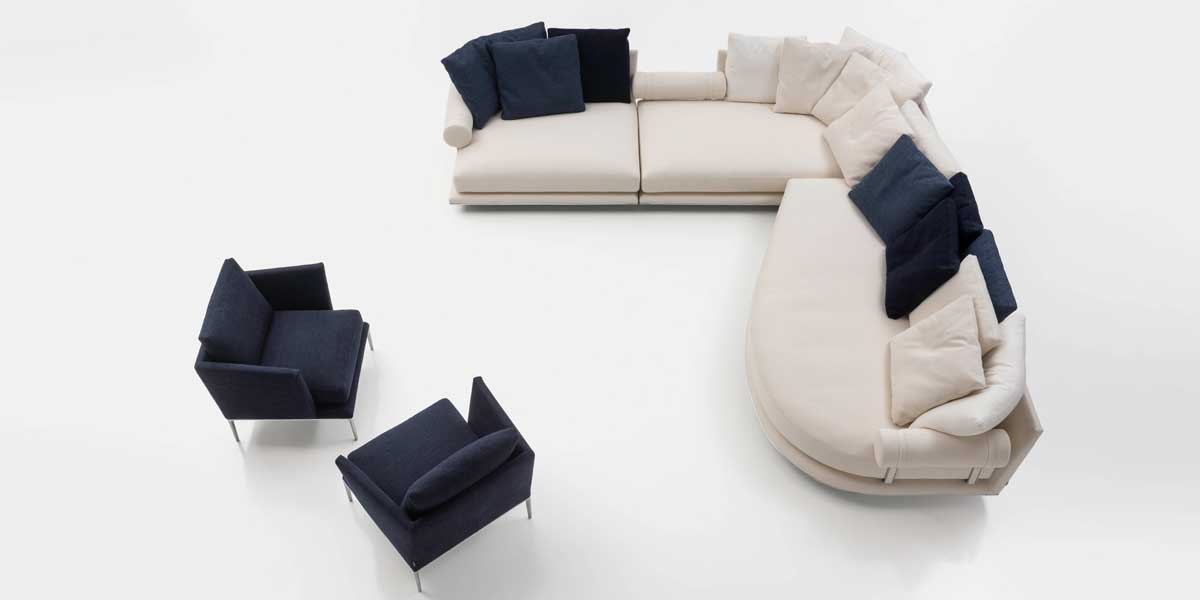 A Classy And Premium Products Will Bring Charm To Your Home In 2022
07 Jan 2022 CW Team
New Luxury Furniture Collection – Noonu by B&B Italia
With its huge dimensions, beautiful geometric shapes, and amazing flexibility, B&B Italia, the world leader in modern furnishing, has created a new furniture series, Noonu, that improves rooms. It's offered at Scala Home, a New Delhi-based retailer of high-end furniture.
The name of this series by Antonio Citterio was inspired by the Maldives' Noonu atoll. The Noonu line is an upholstered furniture system that combines huge scale with amazing adaptability. The supporting framework fades into the background, leaving "islands" that appear to float in mid-air.
The seats are deep, with a single wide seat cushion that ensures maximum comfort and relaxation while also complementing the entire design. The tilting back accommodates cushions that may be spread in whatever way you choose. The support element — a roller cushion attached to a die-cast aluminium frame beneath the seat cushion by ingenious webbing – may be employed as a terminal armrest or a headrest, or put between the seats, or removed completely.
Both Antonio Citterio's previous and current collections, Atoll and Noonu, were inspired by a single concept: a cylinder that could be used as an armrest and cushions that could be dispersed freely throughout the sofa. "What's unique about Noonu is the seemingly suspended seating, which reaches all the way to the floor, and the new sorts of features that we've described as "piano" and "sail" elements, which give the design a sense of individuality and richness," adds the designer.
The four fundamental elements of Noonu are a square and a rectangle, as well as the brand-new "piano" and "sail" elements. The backrest has a welcome curve thanks to the piano-shaped base, while the front has a wide, rounded volume because to the sail.
L'OBJET + Kelly Behun Collection by Emery Studio


Emery Studio, a bespoke decorative lighting, home décor, and tableware expert, has launched an amazing new series called L'OBJET + Kelly Behun Collection by the namesake brand L'OBJET in India.
The L'OBJET + Kelly Behun collection was inspired by the brand's love for working with creative rule-breaking designers. A method for testing and expanding the brand's design language. Kelly is recognised for her shape-provoking homes, which are informed by her intimate relationship to the art world. Within the living environments she creates, art and design blend harmoniously.
The 14-piece reimagined decorative and entertaining object collection elevates the experience in new and creative ways. Within the L'OBJET universe of great workmanship and luxury materials, each piece represents the spirit of Kelly's design approach.
Objects from the collection are ageless and allow you to perceive things in new ways. Unique trays, turntables, photoframes, servers, bowls, and platters are part of the collection.
To emphasise the interplay between clean shapes and wood grain, the range was carved in European oak. The form construction in Smoked European Oak or Ebonized European Oak, as well as the brass, provide a beautiful contrast. The series enhances the foods you love to consume and share, both literally and metaphorically.
The Taif Chandelier by Emery Studio


Barovier & Toso masterpieces are one-of-a-kind Venetian mouth-blown crystal sculptures handmade by skilled artisans in Murano, keepers of an age-old tradition passed down through the centuries. Angelo Barovier devised a new recipe that enabled the creation of a previously unattainable material with exceptional transparency and brightness. Emery Studio, a bespoke decorative lighting, home décor, and tableware company, has brought the magnificent Taif chandelier by Barovier & Toso to India. Taif was created in 1980 for the palace of the Saudi monarch in the namesake city of Taif, from whence the name derives. It is an icon; the ideal combination of expertise and selected materials fashioned with astonishing and unparalleled harmony. The designer, Angelo Barovier, reimagined the traditional Murano chandelier, keeping the value of Venetian crystal but introducing new languages. So it's a mash-up of tradition and originality, memory and innovation, from which the classical's time-tested balance emerges. This unique chandelier transforms any environment by setting the tone and elevating the ambience. The Taif chandelier is available in a variety of sizes, colours, and finishes.
Living Room Furniture by Ochre at Home
Ochre at Home (OAH), located in Kolkata, is noted for its handmade furniture and accessories, which include daring and forward-thinking designs while being steeped in tradition. They've just released a new selection of premium living room furniture that will give your area a new level of luxury.
A comfortable sofa, an eye-catching two-seater sofa, elegant accent chairs, and a statement coffee table make up the living room set, which beautifully blends traditional accents with contemporary design. While each item has its own distinct flair, they all work together in perfect harmony. You may also use them to create an eclectic style by mixing them with your current furnishings.
The couch with white velvet upholstery has a softly curved form and an exquisite appearance.
The two-seater couch has conventional carved detailing and a back upholstered in an amazing Zoffany art deco pattern, giving the complete set a compelling appeal.
Square coffee table : The square coffee table, made of geometric pattern burl veneer, adds a dynamic vitality to the environment.
Conrad Lounge Chair: These chairs exude aristocratic charm with their two-tone fabric and nail heads.
Also read
https://www.constructionworld.in/latest-construction-news/real-estate-news/interiors/classic-launches-are-awaiting-to-spruce-up-your-space/31414
https://www.constructionworld.in/latest-construction-news/real-estate-news/interiors/classic-launches-that-you-can-t-miss-out-as-this-year-ends/31126