Inspiring reading nooks by Azure Interiors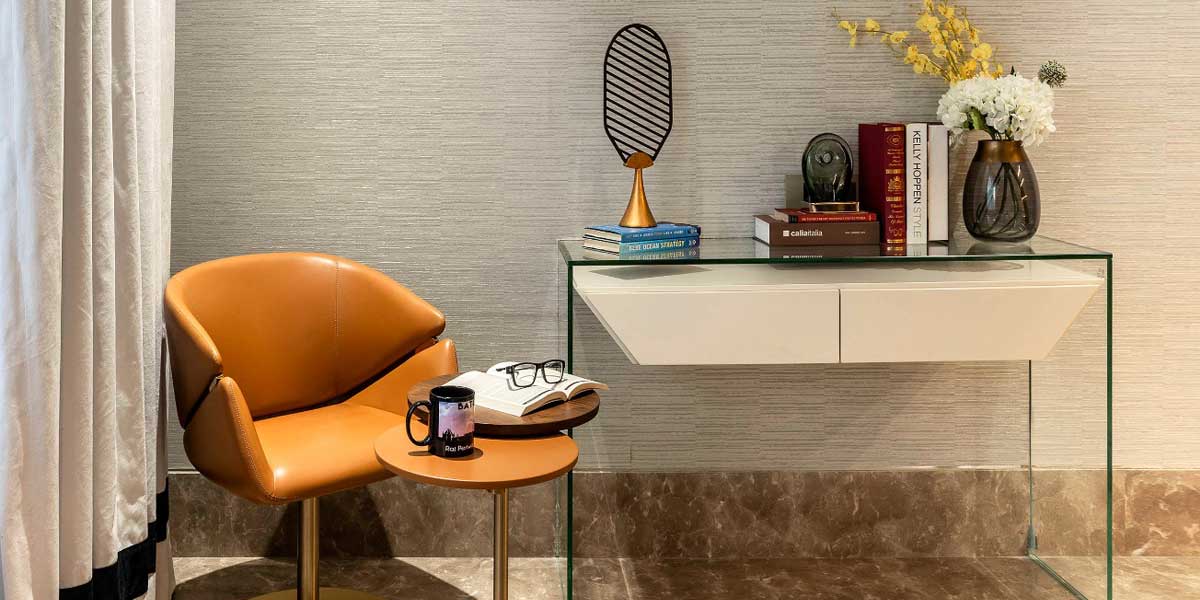 Inspiring reading nooks by Azure Interiors
15 Nov 2021 CW Team
Every room needs a quiet nook for when one wants to sit curled up and spend some time reading or browsing on the phone. Azure Interiors conceives these spaces as cosy, welcoming and inspiring spots with interesting design features, colour palettes and chic furniture pieces. And accessorises them perfectly to evoke a captivating look.
A sleek and cosy nook
A glass top sleek table and a modern lounge chair make for a cosy contemporary and inviting reading nook. Some books and beautiful décor pieces enhance the look of the space. A coffee table in the same shade as that of the chair complete the interiors and compliment the floor and the wall.
A moody reading nook
A moody combination of black, white and red colours, with gold highlights, and lots of textures creates a glamorous space that grabs instant attention. A stylish cylindrical coffee table with an ornate design makes for the centre piece of the room. A indoor plant brings freshness to the space.
Warm and welcoming nook
A winged back chair in a subtle colour offers a warm welcome while the display on the side with eye-catching accessories is a sure-fire attraction. Sitting next to a shelf with modern chic décor items this nook offers an open look on the backdrop of dark curtains. The wing chair complimenting the textured wooden flooring stands apart in the space.
Nature inspired reading nook
Set on a pristine white palette this reading nook has a cosy pouf chair set in a corner of the room. An indoor plant and nature inspired artwork on the walls in pastel shades add a charming look to the nook. A small coffee table compliments the space and hosts tiny décor pieces adding character to the space.
No fuss classy nook
A classy combination between a study and a reading nook crafted on marble clad walls. Simple shelfs above the wooden console clad with décor items and books create a clean and modern design. The backlight marble walls make for a bright space.
Also read:
https://www.constructionworld.in/latest-construction-news/real-estate-news/interiors/exquisite-bathrooms-by-essentia-environments/30646
https://www.constructionworld.in/latest-construction-news/real-estate-news/interiors/rustic-bedrooms-by-sanjyt-syngh/30059

You have 2 FREE Article(s) left
Access Unlimited Content with

Subscription