Sophisticated corporate space by Azure Interiors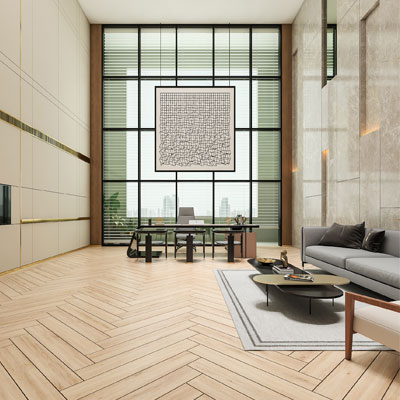 Sophisticated corporate space by Azure Interiors
14 Oct 2021 CW Team
The stunning double-height space of the director's cabin of a corporate office enhances its spatial volume with imaginative and refined features like vertical lines, repeating patterns on the walls and a charming spiral staircase in the corner. These design features both highlight the seamless interiors of the column-free space, as well as break its monotony.
The expansive glass curtain wall adds to the feeling of spaciousness by letting in natural sunlight into the room. Opposite the glass curtain wall is the entrance door highlighted with slim profile metal frame and fabric glass. The rest of the wall is finished in veneer with magnetic track up to the ceiling.
The other two walls act as backdrop to the room. One has Italian marble cladding with vertical grooves and horizontal niches in between that cast indirect light on the wall. The other wall is finished in PU paint with gold metal detailing, which carries forward the theme of modern luxury. The restroom doors and TV panel are flushed for overall illusion of a gently floating, seamless and relaxed space.
The spiral staircase, with access to a restroom on the upper floor, breaks the monotony with its form. While the chevron wooden flooring lends a dynamic and distinctive feature to the space. The thoughtfully designed working table, with brown leather and PU finish adds another design dimension to the space.
The balcony behind the glass curtain wall is done up in a vibrant style with patterned tile flooring, vintage furniture and beautiful potted plants.
Also read:
https://www.constructionworld.in/latest-construction-news/real-estate-news/interiors/inspired-by-the-rise-of-the-suburbs---office-luxuria-by-kdnd-studio/28908
https://www.constructionworld.in/latest-construction-news/real-estate-news/interiors/home-office-designs-for-the-new-work-from-home-normal/28527
You have 2 FREE Article(s) left
Access Unlimited Content with

Subscription