The KariGhars, delivering opulent interiors with every project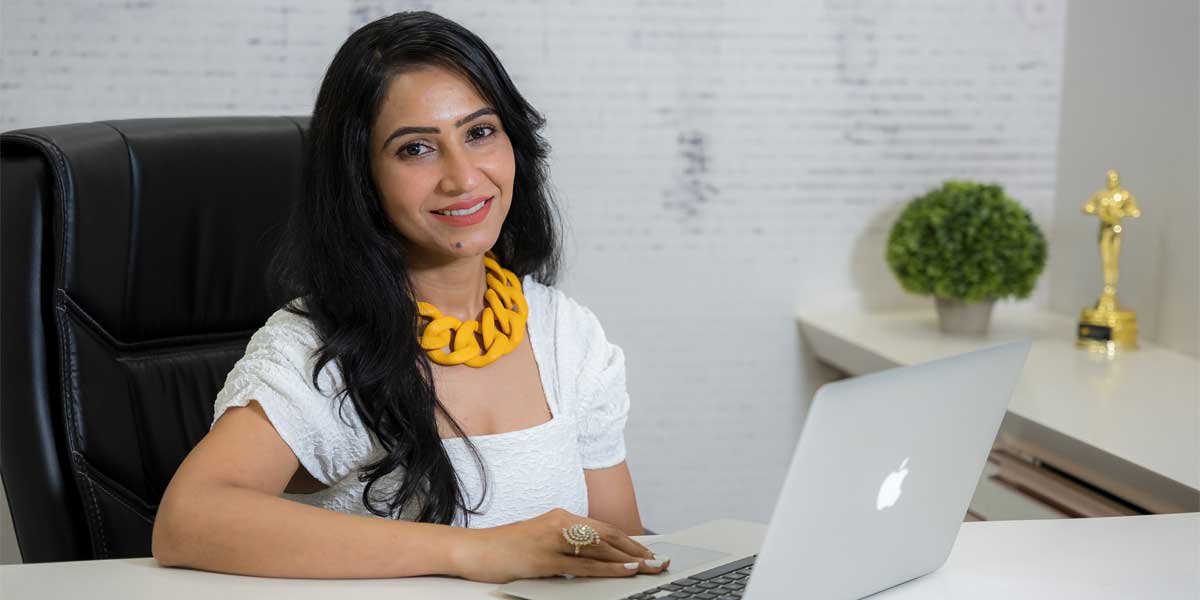 The KariGhars, delivering opulent interiors with every project
31 Jul 2021 CW Team
Aashita Chadha, Co-founder & CFO, The KariGhars, found her true calling in the field of interior deisgn. A graduate in engineering, she worked in reputed firms but kept in touch with her creative side. A keen learner and driven by passion in creativity, Aashita always wanted to dip her toes into a field that involved the use of creativity and emphasized the power of thought. Dotted with guidance and inspiration, her cumulative journey has been influenced by a lot of peers and stalwarts of the interior design and architectural industry.
For her immense contribution in the field of Interior Design, she and her firm have been felicitated with a plethora of awards namely, 'Most Creative Interior Designing firm in Bangalore, 'Company of the Year Award by Silicon India', The Best Interior Design Services Award 2011 for Residential projects in Bangalore received from Dr. Shashi Tharoor', 'Entrepreneurship Excellence Awards 2012' and the list is endless.
CW Design Build spoke to Aashita about her vision, design philosophy, inspiration and more.
What is your vision for The KariGhars?
"The KariGhars" was a byproduct of two exasperated individuals- me and my husband, Abhishek Chadha, by the lack of cohesiveness in the interior design industry. Being true outsiders coming into the foray of interior designing gave us the privilege of having both an objective and a subjective view of the overall points that we wanted to address. 'The KariGhars' has grown exponentially as time has passed, but our vision has remained unchanged. Apart from consistently delivering opulent interiors for all our clients, the underlying aim of the firm is to make the interior designing of our client's homes as smooth as possible. We are aware of the fact that trusting an outsider with one's vision is scary, but we aspire to deliver dream homes for our clients no matter the cost by extending empathy and understanding.
What inspired you to take the leap of establishing your design firm?
I have always had a penchant for creative pursuits in life since childhood. Activities like embroidery, crochet, and calligraphy have always called out to me. I love working with my hands to create something beautiful. I used to work in the IT industry initially. We were genuinely exasperated with the experience of creating our home. I had never even thought of venturing into the field of interior design but it was my boss at the IT firm who gave me the much-needed push to believe in myself and start 'The KariGhars'. Being the Co-founder of the company, I came up with the unique name for the firm. I personally believe that an impeccable part of the whole design process are the artisans, carpenters and masons, all categorized under skilled labor, i.e., 'The KariGhars'. Hence, taking in all the contributions made by them, I coined the name that depicted proximity with the ethnic Indian roots. Even though Abhishek is the principal designer, I contribute towards the basic design ideology.
How has your design philosophy changed over time, especially in the light of the pandemic? What changes have you made in your work protocol due to the pandemic?
Our design philosophy has always centered on delivering high-tech, innovative, and luxurious interiors to all our clients. However, there have been considerable disruptions in this industry ever since the pandemic started. Small businesses have come to a grinding halt, and their financial wellbeing has also been significantly impacted. But when it comes to our industry, it demands constant conversations with clients and within the design team in order to gauge and fulfill all the client requirements. Owing to this global health crisis, we have opted for more modern and alternative methods over the conventional time-consuming techniques. By accommodating the needs and wants of the clients, our notion is to aid in short-span deliveries with utmost professional results.
How do you approach design to accommodate aesthetic and functionality in residential and commercial projects?
At The KariGhars, we staunchly believe in innovation and experimentation. With the help of research and client brief, we amalgamate different design philosophies with each other with the agenda of catering to superior outcomes. Being a firm believer in balance, we ensure that equal importance is given to form and function in all our projects. Going over each design with a fine-tooth comb allows us to create the perfect residence customized for each client. There is more to design than simple theory - each building created must speak for itself. Making homes is a boon, but it needs to be accessible as well. The KariGhars reiterate time and again that one needs to be in the client's shoes in order to deliver their dream homes - the scale of balance between form and function will differ majorly between projects. But as interior designers, it is our job and responsibility to strike that balance for our work to speak for itself.
How do you incorporate sustainability in your work?
There is a common misconception that luxurious homes can not be sustainable. On the contrary, we at The KariGhars are incredibly concerned about our carbon footprint. We practice extreme measures to ensure that all the homes that we design are eco-friendly. Fabricating a sustainable home is not easy as there are so many factors that go into it, like planning, choice of material, and reducing energy consumption. It is high time that the world addresses the delicate status of the environment, and we take steps to ensure that our projects are well planned and executed. It is the need of the hour to curb carbon emissions. If architecture and interior design are done extravagantly without thinking about the consequences, it will have a disastrous monumental impact on nature. By opting for green materials, researching sustainable practices, and planning out every move made, we at The KariGhars are trying to address the need of the hour at our total capacity.
Tell us about your working style as a couple, especially in context of creative decisions and differences.
Abhishek and I have similar working styles in terms of the aesthetics used. We have a cohesive design philosophy as we both like contemporary, minimalist, and luxurious spaces. However, the only point of difference between our styles is that I am more experimental with colors, shades, and textures while he is more conservative, choosing to stick with browns, champagnes, and neutrals.
Which of your projects till date have been the most innovative and experimental and how?
The project that comes to mind when discussing the most innovative space designed by The KariGhars is PLH Villa 32. The needs of the clients were very different from what we usually cater to. As they came from the Bermuda Triangle, they wanted to have some tropical touches in their home while also acquiring an affinity towards classical Indian touches. The clients also called for an open space where they could meditate and relax. However, the best part about undertaking this project was that we were given total creative freedom with an empty canvas to paint as per our will.
How would you define your style of design? How do you ensure that your projects bear your signature?
My design style is relatively simple - it is all about contemporary, luxurious minimalism where we use a lot of fancy lighting and mirrors to deliver top-notch interiors.
Tell us about the major challenges you face as a young design firm in the industry.
There are no textbooks which state how an interior design firm must be managed. The resources are limited as to how to juggle multiple high-end projects at a time. But the major challenge we have faced is a limited budget. The challenge is pretty easy to overcome, but it does need a lot of manpower and resources on the firm's end.
What changes have you perceived in your clients (in terms of demands, awareness, aesthetics, etc.)?
In a post-COVID world, clients' needs have changed to reflect habitual changes and the change in society. They now look towards having very comfortable and self-sustainable spaces. The demand for work-from-home spaces has also skyrocketed in recent times. Clients are also calling for automated spaces and home gardens where they can unwind and relax.
Tell us about the projects you are working on currently.
Ironically, the projects we are currently working on are on the extremes. The first one is the Kessaku house which is very modern, contemporary, and luxurious. On the other hand, the second home is the Svasa house, which calls for amalgamation and integration of elements inspired by local nuances and regalness of Rajasthan's heritage and cultural influences, which is not our forte pushing us out of our comfort zones. However, we are looking forward to learning and growing with our clients.
What advice would you like to give to aspiring architects/designers?
Architecture is one of the most hectic majors in modern-day society. It needs and calls for 100% of a student's focus. However, the real world and the academic world differ enormously. One of the most prominent challenges a young architect or designer faces is that they will not garner much appreciation as their career takes off. Every successful architect or designer has gone through a series of rejections, but it is a part of being in the creative industry. Lastly, a new professional needs to explore more design styles and venture out of their comfort zone in order to accommodate their client's needs.