Two greenfield expressways to be ready by 2022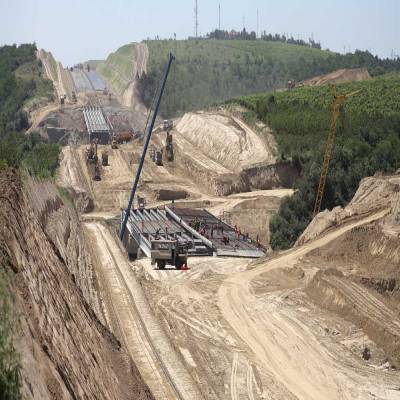 Two greenfield expressways to be ready by 2022
Dec 16 2020,12:12 PM CW Staff
Work on three greenfield expressways—the 300 km Ambala-Kotputli, the 1,350 km Delhi-Mumbai stretch, and the 1,000 km Amritsar-Jamnagar stretch—is gaining momentum again, after facing a Covid-induced slowdown. The roads ministry aims to complete the first two by March 2022, as reported by senior road ministry officials. These two projects will see an investment of Rs 1 lakh crore, while the third greenfield expressway between Amritsar and Jamnagar will receive an investment of Rs 25,000 crore and is to be completed by March 2023.
The three expressways will be access-controlled and part of an economic corridor. After completion, the expressways will give an economic boost to the region, said a senior road ministry official.
The Delhi-Mumbai expressway will possibly be completed first, said, ministry officials. Work has started and in full swing, and the ministry has been hopeful that the 300 km first stretch of the Delhi-Mumbai expressway will be ready by December 2021, said Highways Secretary Giridhar Aramane.
Majority of the land acquisition has been completed for the Delhi-Mumbai expressway, added Aramane.
Division of work into packages
The 1,350 km Delhi-Mumbai expressway has been split up into 44 packages. Out of the 44, work has already been awarded in 38 packages by the ministry.
The 10 packages in the Ambala-Kotputli expressway have also been awarded, while 26 out of 33 packages of the Amritsar-Jamnagar expressway have been awarded. An official of the National Highways Authority of India (NHAI) said the remaining packages are to be awarded in January.
All three projects are being implemented by the NHAI.
The three expressways are a segment of the highways ministry's ambitious scheme of building 22 greenfield expressways at a budget of Rs 3.10 lakh crore.
The response from private highways developers, however, continues to be lukewarm, despite paced-up work.
Only 13 packages of the Delhi-Mumbai expressway project out of 44 have been awarded under the Hybrid Annuity Model (HAM), a Public-Private Partnership (PPP) where 40% of the capital is paid by the government during the construction period while the remaining 60% is invested by the developers.
The remaining packages have been awarded under the Engineering Procurement Construction (EPC) mode, where the entire project cost is funded by the government. Eight out of 10 packages have been awarded under the EPC mode on the Ambala-Kotputli expressway, while all 26 packages have been awarded under the EPC mode on the Amritsar-Jamnagar expressway.
Also read: NHAI aims to construct 23 new highways by 2025