Tata Motors, Tata Power inaugurate largest solar carport in India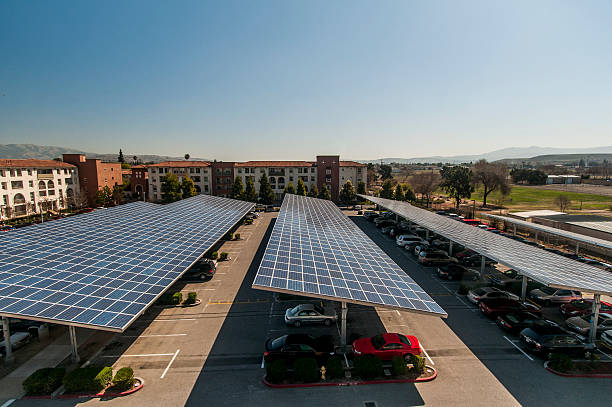 Tata Motors, Tata Power inaugurate largest solar carport in India
Jun 21 2021,05:06 PM CW Team
With an aim to promote green manufacturing, Tata Motors and Tata Power inaugurated India's largest grid-synchronised, behind-the-metre solar carport at the Tata Motors car plant in Chikhali Pune.
Tata Power's 6.2 MWp solar carport will generate 86.4 lakh kWh of electricity annually. It is estimated to reduce 7,000 tonnes of carbon emissions every year and 1.6 lakh tonnes over its lifecycle.
The 30,000 sq m solar carport will not only generate green power, but will also provide covered parking for finished cars in the solar plant. Tata's net-zero carbon goal for 2039, Tata Motors has entered into the power purchase agreement (PPA) with Tata Motors on August 31, 2020.
Despite the Covid pandemic challenges, both companies have successfully managed to develop the massive solar carport infrastructure within 9.5 months.
Tata Motors is committed to using 100% renewable power and has taken several steps towards achieving the goal by increasing the quantity of renewable energy used in its operations. In FY20, the company generated 88.71 million kWh of renewable energy, which is more than 21% of its total power consumption as compared to 16% in FY19.
It has helped to prevent carbon dioxide emissions equal to 72,739 metric tonnes. The company further aims to source renewable energy more rigorously to achieve 100% renewable energy by 2030.
Tata Power has successfully executed multiple large solar solutions like the world's largest rooftop of 16 MW at Radhasoami Satsang Beas (RSSB), 2.67 MW at Cochin International Airport, the world's largest cricket stadium, Cricket Club of India (CCI) of 820.8 kWp solar capacity, installation of the solar vertical farm of 120 kW at Dell Technologies in Bengaluru, and 1.4 MW floating solar at Tata Chemicals in Nellore.
Additionally, Tata Power is carrying out an extensive pan India residential rooftop program to make people aware of the benefits of savings by solar power.
---
Also read: India's open access solar installations in Q1 2021 at 419 MW
Also read: Govt mandates registry of solar manufacturers under ALMM
Opinion Poll
Question : How can India stem inflationary trends likely from the currently all-time-high steel prices?