Technology for alternative fuel firing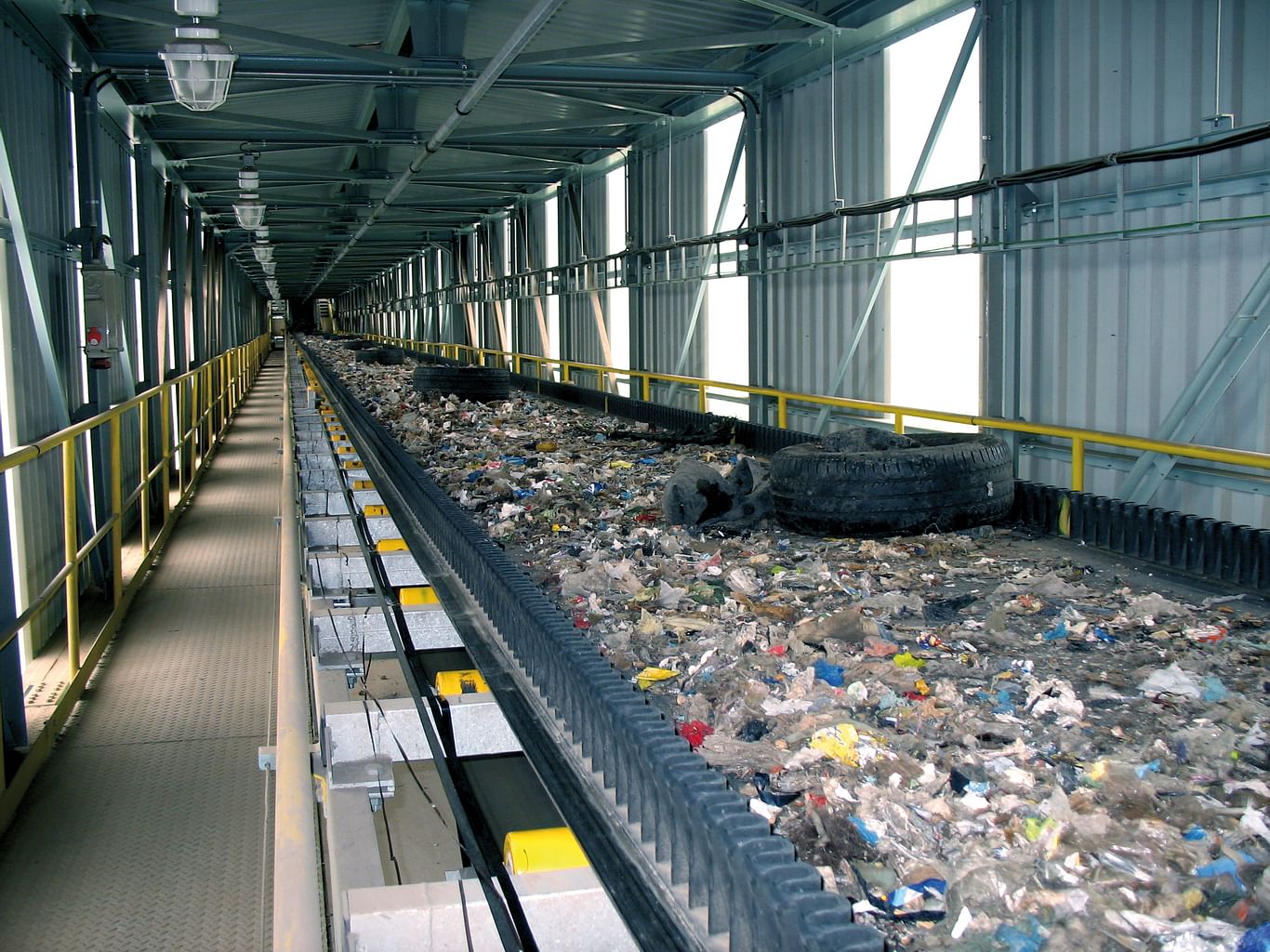 Technology for alternative fuel firing
22 Dec 2020 CW Team
Use of low-grade alternative fuels such as waste coal, tyres, sewage sludge, and biomass fuels in pre-calciners is a feasible option since combustion in pre-calciner takes place at a lower temperature. Gopika Krishnakumar explains.
India is the second largest cement producer in the world and accounted for over 8% of the global installed capacity as of 2019 with an overall cement production capacity of around 545 MT in FY20. The Indian cement industry is swiftly developing due to the increasing demand of construction sectors, be it housing, commercial, or industrial.
Cement manufacturing being a high energy consuming and heavy polluting process accounts for at least 8% of the total emission of greenhouse gases. At the same time, energy-related expenses in the cement sector, mostly on fossil fuels and electricity, account for 30% to 40% of the industry's cash costs.
Historically, the primary fuel used in cement industry is coal. Recent increases of coal prices in the Indian market again made the cement industry vulnerable to fuel cost. Since then, petroleum coke has been successfully used as fuel and the use alternative fuels in cement kilns is now common and increasing. Although fossil fuels such as coal, petroleum, natural gas, etc. can provide all the energy the world needs for the time being, their finite nature, high prices and most importantly, their damaging effect on the environment underscore the need to develop alternative fuels.
Today's cement industry becomes more challenging for the following main factors: the lowest production cost and minimum environmental impact. Beyond the cost-reduction benefits of alternative fuels, use of these fuels can contribute greatly to the environmentally sound disposal of waste and to the mitigation of greenhouse-gas emissions (GHG). Therefore, key cement players have started to consider alternative fuels as a lever to improve their contribution to sustainable development and as a key component of corporate social responsibility.
This is certainly a win-win option for both cement industry and the society at large. There is, hence, an urgent need to implement appropriate policies and practices in favour of co-processing in the country so that it can contribute reasonably towards the waste management needs of the country and help industry in substituting alternative resources in the cement manufacturing process. This would require substantial capacity building in the relevant stakeholder community – particularly the policy makers, authorities, waste generators, facility providers and the cement plants.
Alternative Fuel options available
The range of alternative fuels is extremely wide. Use of low-grade alternative fuels such as waste coal, tyres, sewage sludge, and biomass fuels (such as wood products, agricultural waste, etc.) in pre-calciners is a feasible option since combustion in pre-calciner takes place at a lower temperature. The major alternative fuel available to use in India would be MSW (Municipal Solid Waste).
Here are some other alternative fuel options:
• Sewage sludge: In several countries, sewage sludge is used in cement production. The sludge is usually co-fired with coal in pre-dried form. Pre-dried sludge is easier to store, transport and feed. However, it has a high content of SiO2, Al2O3 and Fe2O3 which could affect the quality of cement if excess amounts are used.
• Used Tyres: Combustion of whole tyres requires long residence times to obtain complete conversion. In some cement installations, tyres are fired whole, mostly in the rotary kiln. More commonly, they are shredded in a slashing process, producing tyre chunks or chips, and co-fired with coal in the pre-calciner. They cannot, however, be finely comminuted economically. FLSmidth offers HOTDISC® Combustion Device for high efficient firing of used tyres.
• Agricultural Biomass: A largely untapped renewable energy source, the type of biomass utilised by cement plants is highly variable, and is based on the crops that are locally grown/available. For e.g., rice husk, hazelnut shells, coconut husks, corn stover, coffee pods, and palm nut shells are among the many varieties of biomass currently being burned in cement kilns. Biomass fuels are considered carbon neutral because the carbon released during combustion is taken out of the atmosphere by the species during the growth phase.
Major challenges of using agricultural biomass residues include the relatively low calorific value which can cause flame instability, and availability since most of the agricultural residues are seasonal (not available all year round). The flame instability problems could be overcome with lower substitution rates and ability to adjust air flow and flame shape.
Other major alternative fuels include waste oil, liquid waste, plastic, meat and bone meal, etc.
Benefits of using alternative fuels in cement production
Cement producers are striving to lower their production costs. One effective method of achieving this end is the use of alternative fuels.
The reduction in emissions to the atmosphere and the positive environmental impact it holds is a major benefit of Alternative Fuel firing. In pre-calciners where kiln exhaust gases pass through, the NOx emissions are much reduced due to re-burn reactions. Also, there is an increased net global reduction in CO2 emissions when waste is combusted in the cement kiln systems as opposed to dedicated incinerators, resulting a reduction in penalties.
Key considerations and challenges for co-processing alternative fuels
The potential benefits of burning alternative fuels at cement plants are numerous. However, the contrary is possible where poor planning results in higher emissions or when they are not put to their best use with best practices.
Alternative fuels used in cement manufacturing have different characteristics compared to the conventional fuels. Switching fuels present several challenges that must be addressed in-order to achieve successful application. The type of fuel used can introduce some material components which can interfere with the chemistry of the cement materials as well as affect the operation of the system. The use of a type of fuel is hence subject to the constraints imposed by any effect on cement quality, refractory life, gas and material flow or potential emissions to the atmosphere.
Poor heat distribution, unstable pre-calciner operation, blockages in the preheater cyclones, build-ups in the kiln riser ducts, higher emissions and dusty kilns are some of the major challenges.
FLSmidth alternative fuel firing technology
Introducing alternative fuels has an impact across the plant. The materials can have totally different characteristics from fossil fuels. They can be sticky, fluffy, moist, and fluctuating in size and quality or you may need to switch between different types of fuel with very different characteristic as it is governed by availability. They will burn differently, have a different reaction in the kiln and may require you to take other actions to ensure consistent clinker quality. There are a lot of variables at play – which is why you need an experienced partner on your side.
With over 25 years of direct alternative fuels experience and more than 130 years in the cement industry, FLSmidth® offers a range of products to enable cement manufacturers to increase their substitution of alternative fuels.
JETFLEX® Burner
Cement kilns have several characteristics which make them ideal installations for disposal of waste through co-processing in an environmentally sound manner:
• High temperatures
• Long residence time
• Oxidising atmosphere
• High thermal inertia
• Alkaline environment
• Ash retention in clinker

FLSmidth's JETFLEX® Burner is a highly flexible kiln burner, designed to produce the best flame shape and lowest NOx emissions for various fuel types and operating conditions. It fires rotary kilns with pulverised coal or coke, oil, natural gas, or any mixture of these fuels. Alternative fuel firing of plastic chips, wood chips and sewage sludge can also occur through the same common fuel channel to improve heat and power consumption and minimise cold airflow entering from the fuel transport.
JETFLEX® PLUS Burner
For optimum combustion flexibility, our JETFLEX PLUS Burner offers superior combustion of cost-effective grade fuels, complete flame-forming control and increased fuel retention time. The two design features that characterise the JETFLEX PLUS Burner model are individually rotatable jet air nozzles and a retractable centre pipe for alternative fuel firing.
The individual rotatable nozzles also enable fuel lift configuration. This is used with solid alternative fuels to increase fuel retention time in the flame. The result is less fuel drop-out, improved combustion, and improved clinker quality. The swirler is the main mechanism for shaping the flame during start-up and daily operation.
The JETFLEX PLUS burner offers retraction of the swirler and central duct. In combination with the axial air nozzles, this enables a significant drop in fuel velocity in front of the burner. This feature strongly increases the fuel retention time in the flame and enables early ignition of low grade fuels. In combination with the fuel lift configuration as noted above, spillage to the charge is minimised. This allows the burner to contribute to superior flame and clinker quality control as well as a high alternative fuel substitution.
HOTDISC® Combustion Device
The HOTDISC solution allows cement producers to substitute coal or other fossil fuels with a wide range of alternative fuels. The HOTDISC is a flagship solution for FLSmidth'sMission Zero that helps cement producers take an important step toward zero-emission cement plants by 2030. Launched in 2004 and over 35 installations worldwide, the HOTDISC Combustion Devices has already firmly established itself as an attractive technology to accelerate cement plants' transition toward alternative fuels.
From wet powders to solid waste up to 1.2 metres in diameter, our HOTDISC Combustion Device can burn them all. The waste to energy process eliminates the need for expensive shredding and gives you the flexibility to select the most economical choice from a wide range of alternative fuel options. The HOTDISC Combustion Device is designed to achieve a calciner fuel substitution rate of up to 80%, although results vary significantly depending on specific plant conditions.
As an integrated part of your kiln system, the HOTDISC Combustion Device is added onto the calciner and functions as a slow-moving disc furnace. When alternative fuel, preheated raw meal and tertiary air are fed into the HOTDISC, it produces combustion gases, partly calcined meal and combustion residues. These are then processed in the calciner alongside the other streams entering it. The result is calcined meal ready for the kiln and well-controlled emissions.
Alternative fuels are introduced onto the slowly rotating disc and they start to burn in fully-oxidising conditions when they meet the hot tertiary air. The burning fuel is transported approximately 270° on the disc until it reaches the scraper, where the remaining ash and partly calcined materials are discharged into the riser duct. Heavy combustion residues fall into the kiln inlet, while lighter fragments and combustion gases move up into the calciner.
HOTDISC-S® is a recently developed version of HOTDISC specifically to cater the needs of customers with SLC type calciners, hence enabling them to achieve Alternative Fuel firing. Two of these devices have been commissioned globally and running successfully.